Government peace negotiators have reached out to their counterparts in the National Democratic Front and scheduled meetings to discuss conditions set by President Rodrigo Duterte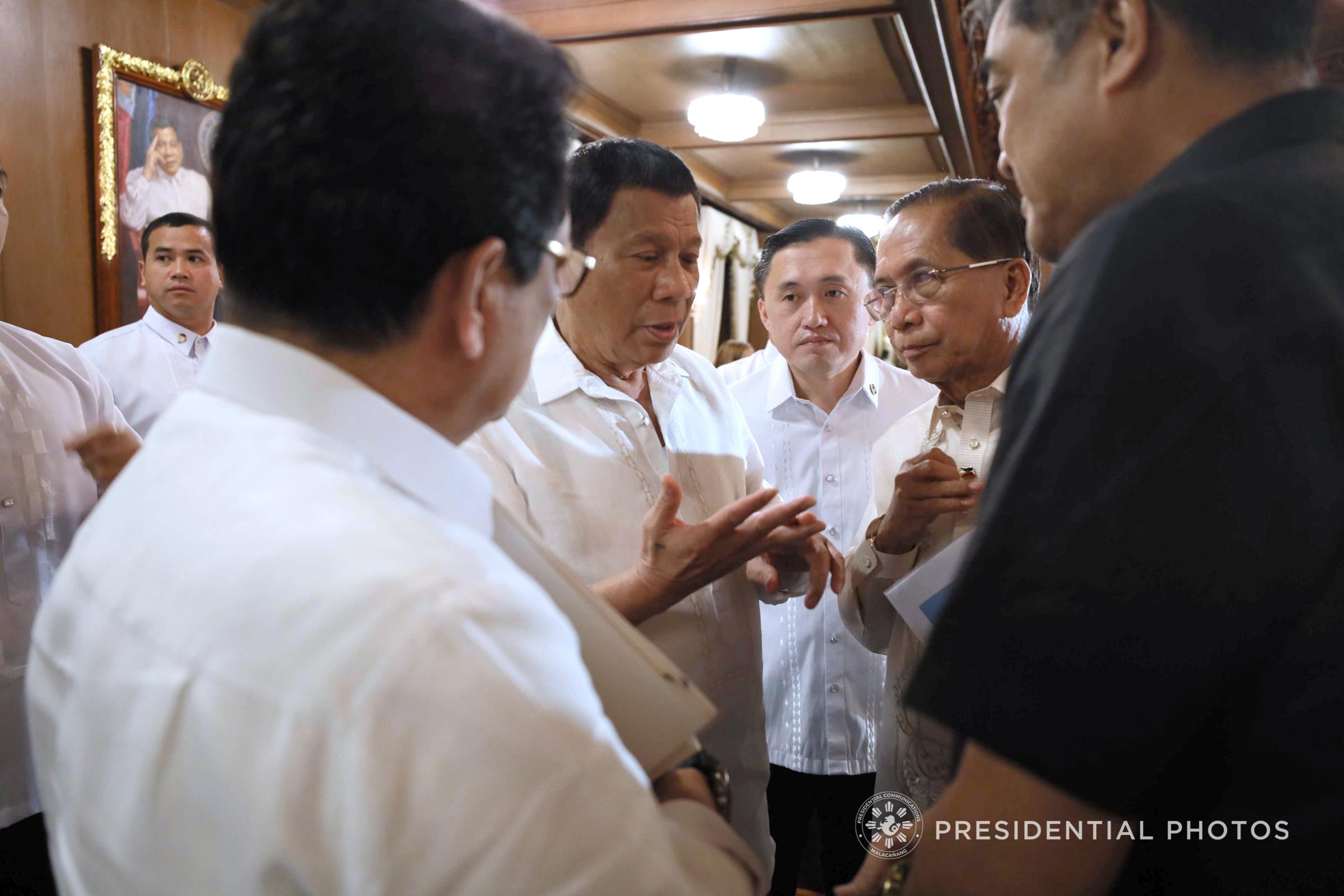 MANILA, Philippines – The government panel negotiating peace with communist rebels has contacted their counterparts in the National Democratic Front (NDF), beginning work for the possible resumption of talks. 
Government negotiator Hernani Braganza told Rappler he had spoken with NDF chief negotiator Fidel Agcaoili, who, he said, welcomed the pronouncements of President Rodrigo Duterte to resume the talks. (READ: Joma to Duterte: We are ready to resume peace talks ASAP)
"We are now in comunnication with them. Okay naman sila (They are okay)," Braganza told Rappler on Thursday, April 5. "We are texting." 
The NDF represents the Communist Party of the Philippines and its armed wing New People's Army in talks with the government. They are responsible for Asia's longest running communist insurgency. 
What are the first steps in resuming talks? The panel is scheduled to meet on Friday, April 6, to discuss how they are going to move forward with the "conditions" set by Duterte, which include a bilateral ceasefire agreement. 
"There will be a panel meeting tomorrow. Pag-uusapan ang (We will discuss) preparatory measures. We have to move based on the instructions of the President," Braganza said. 
Braganza was assigned to discuss the details with Agcaoili. "We're happy with the developments to resume the peace negotiatons. The President's statement – 'Let's give it a last chance' – is definitely a welcome development," he said.
"Our job is to resume the talks. I'm being dispatched to talk to Agcaoili on how to resume the formal talks," he said.
The panels have been seeking to finalize agreement on the most contentious issue in the peace talks; the Comprehensive Agreement on Socio-economic Reforms (CASER).
The panels seek to address the root cause of the armed conflict by amending government policies on agrarian reform and national industrialization. 
When can talks resume? "The sooner, the better…. It's better if we can start informal meetings to discuss extensively the agenda," said Braganza. But a lot of work is still needed for both panels to formally return to the negotiating table. 
On Friday, the government panel will meet to discuss the "agenda," apparently referring to the "conditions" set by Duterte in resuming the talks. 
Duterte demanded for the rebels to agree to a bilateral ceasefire and to stop collecting revolutionary taxes.
Defense Secretary Delfin Lorenzana also enumerated these other conditions from Duterte: no coalition in government with them, no attacks on government forces and civilians, no destruction of properties, no expansion and recruitment, and no roaming around with firearms. (READ: Lorenzana sets conditions for joint ceasefire with communist rebels)
Braganza said he doesn't think these are preconditions. "Both parties agree that there are no preconditions. There is a difference between conditions and the agenda. Ceasefire has always been a part of the agenda. These are not preconditions," Braganza said.
"Assuming it is considered a condition, there is no problem with that. These are part of the protracted negotitions. As long as both parties are open, it is a welcome development," he said.
When can we expect ceasefire declarations? It will take time. But Braganza is confident that both sides will work on this. "Mukhang eager ang dalawang partido (Both parties appear to be eager)."
"As of now there are no formal talks. The negotiations were cancelled. Our job is to resume talks formally. Once the talks resume, that is the time we can formally agree on a ceasefire," Braganza said.
When talks resume, Braganza said the government panel will recommend that they will hold more informal meetings in the Philippines to fast-track discussions. – Rappler.com