One of them is an undersecretary, whom the President did not name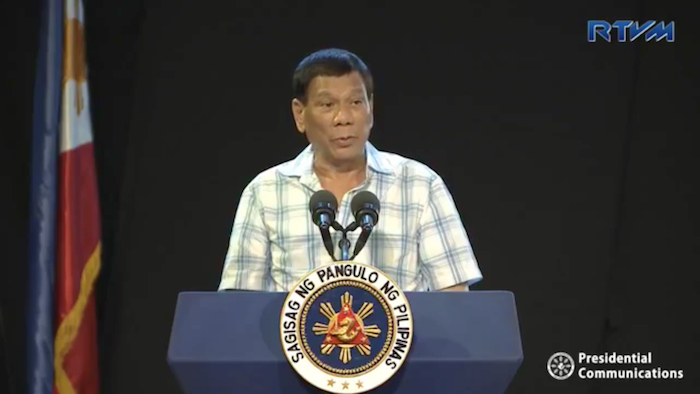 MANILA, Philippines – President Rodrigo Duterte on Saturday, April 21, said that he has fired two more government officials due to corruption.
"The other day, I fired two – one [is an] undersecretary," Duterte said in a speech at the 24th Annual Convention of the National Federation of Motorcycle Clubs of the Philippines in Legazpi City, Albay.
He did not name the said officials.
Duterte said these officials supposedly made applicants or clients return to their agencies multiple times. 
"That is why, 'yung pabalik nang pabalik sa opisina, 'yan ang dahilan, 'yung finire-out ko," he added. (That is why, those who made people return to their offices many times, that's the reason I fired them.)
Duterte admitted he doesn't have the evidence "pero kung magbalik 'yung tao, may affidavit ako (but if the person comes back, I'll have an affidavit.)"
"I mean, independently of the knowledge of the complainant, wala naman talaga ako doon sa harap mo e. Pero tiningnan ko 'yung record, mag-apply, magbalik 6 times, 7 times, 8 times," he added. 
(I mean, independent of the knowledge of the complainant – I was not in the presence of the complainant. But I looked at the record, and I saw the [victim] applying and returning 6 times, 7 times, 8 times.)
He also reminded government officials to be polite to the Filipinos they serve.
"If it's a behavior or attitude on certain matters or before the public, I would always say, 'Be courteous to your employers,' kasi sila ang nagbayad ng sweldo natin (because they are the ones paying our salaries)," Duterte said.
"We are workers of government, and we are mandated to serve the public," he stressed. "Then you have to be courteous and protect the money of the people."
He then told the audience to use the 8888 hotline for their complaints against government officials or agencies.
Duterte has fired many officials before due to allegations of corruption.
He once warned government officials in 2016, "I shouldn't hear anything about corruption, [not] even a whiff or whisper, I will fire you or place you somewhere." – Michael Bueza/Rappler.com