Retired Court of Appeals Associate Justice Normandie Pizarro, who was accused of 'selling' cases, justifies his gambling as an 'indiscretion committed by a dying man'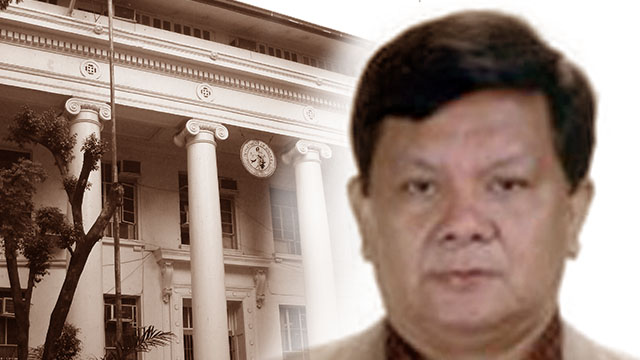 MANILA, Philippines – The Supreme Court (SC) en banc found retired Court of Appeals (CA) Associate Justice Normandie Pizarro guilty of conduct unbecoming of a member of the judiciary over instances of gambling in a casino, and fined him P100,000.
The decision penned by SC Associate Justice Samuel Martires with concurrences from 11 justices is a disappointing end to Pizarro's career in the judiciary, which had been tainted by accusations of corruption.
In an anonymous letter, Pizarro was accused of being the "most corrupt justice in the Philippines." He allegedly "sold" cases to support his supposed gambling addiction.
It was also stated in the letter that Pizarro, "together with his mistress and her whole family, made several travels abroad to shop and to gamble in casinos."
The accusations of corruption and an illicit affair were dismissed due to insufficient evidence.
Controversial cases
Pizarro retired last February, a year ahead of his mandatory retirement. He left the CA with a controversial acquittal of former Palawan governor Joel Reyes in the Gerry Ortega murder case.
It was a decision called "preposterous and premature" by his co-justices, and one that "stinks," according to Solicitor General Jose Calida.
Pizarro was also the justice who penned the ruling which acquitted Janet Lim Napoles in her serious illegal detention case in May 2017.
He also penned the ruling that nullified a Hawaii court decision which had granted $2 billion worth of damages to Martial Law victims. In January this year, he affirmed that decision.
Pizarro told the SC en banc that it was unfair to accuse him of corruption when "all of the few administrative cases filed against him did not involve corruption; and that he was absolved in all."
'Indiscretion of a dying man'
The anonymous complainant showed photos of Pizarro sitting at a casino table.
Pizarro said he was only accompanying a friend, and they only played "in a parlor game fashion without big stakes." He also confessed to playing at the casino in 2009.
"He maintained, however, that such was an indiscretion committed by a dying man because, prior to this, he had learned that he had terminal cancer," said the SC in its decision.
The SC fined Pizarro for violating Presidential Decree No. 1869, which prohibits government officials from playing at casinos. The SC also said Pizarro violated Canons 2 and 4 of the New Code of Judicial Conduct on the integrity and propriety of judges and justices.
"Considering, however, that this is the respondent justice's first transgression, and further bearing in mind his immediate admission of his indiscretion as well as the number of years he has been in government service, the Court finds the imposition of a fine in the amount of P100,000.00 sufficient in this case," the SC said.
Martires had 11 concurrences. Chief Justice Maria Lourdes Sereno is on leave, and Associate Justice Lucas Bersamin did not take part "due to close relations to Justice Pizarro."
Associate Justice Marvic Leonen dissented. Leonen would have wanted to dismiss Pizarro from service as well as forfeit his retirement and accrued leave benefits. – Rappler.com