Presidential Spokesperson Harry Roque stresses that Sister Patricia Fox 'violated the terms and conditions' of her missionary visa in the Philippines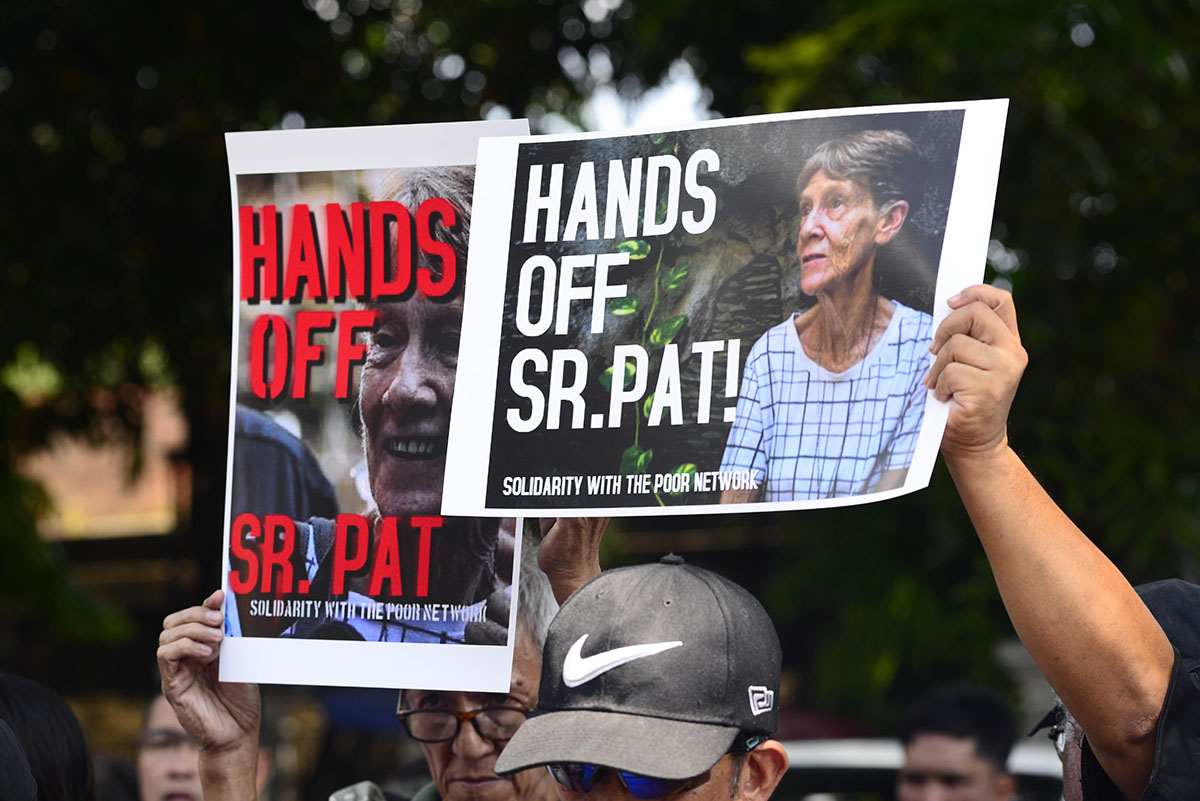 MANILA, Philippines – Malacañang on Wednesday, April 25, backed the Bureau of Immigration (BI) order for Australian nun Sister Patricia Fox to leave the Philippines because she supposedly engaged in political activities. 
"We stand by the Bureau of Immigration's order to forfeit Sister Patricia Fox's privilege of holding a missionary visa and to leave the Philippines," said Presidential Spokesperson Harry Roque.
"Investigation has been conducted and was determined that the Australian missionary violated the terms and conditions of her visa. Consequently, the same must be forfeited," Roque said in a statement.
Roque cited the BI that said "this was a visa forfeiture order, not a decision on the deportation case" that is pending with the agency.
"We forfeited her privilege of holding a missionary visa because of her activities which are in violation of the terms and conditions of her visa," Roque said.
The BI on Wednesday announced its decision to forfeit Fox's missionary visa, which was originally set to expire on September 5.  
The BI accused Fox of engaging in "partisan political activities." 
Reacting to the order to forfeit Fox's visa, youth group Anakbayan denounced the Duterte administration as a "tyrannical, power-hungry regime."
"Sister Pat's pending deportation has nothing to do with national sovereignty especially when Duterte himself calls Chinese imperialists militarizing the West Philippine Sea his best friend. This has everything to do with the thug-life rule of a tyrant who cannot stomach any form of criticism," said Anakbayan national secretary general Einstein Recedes. 
Bayan Muna Representative Carlos Zarate earlier said that Fox, while supporting human rights movements, was not engaging in partisan activities. 
"Hindi pakikialam ang pagsasalita para sa karapatang pantao. Of course it's different 'pag sinabi mong, 'Iboto mo si Juan dela Cruz.' Pero kapagka nagsalita ka na merong isang, halimbawa, pinatay na magsasaka, pinatay na Lumad, ay hindi masama 'yon. It's not partisan," Zarate explained.
(It's not interference when you speak for human rights. Of course it's different if you say, "Vote for Juan dela Cruz." But if you speak out when, for example, a farmer or Lumad is killed, that is not bad. It's not partisan.) – Rappler.com