Presidential Spokesperson Harry Roque says this is 'a position that he personally crafted,' and that 'shows really his experience in governance'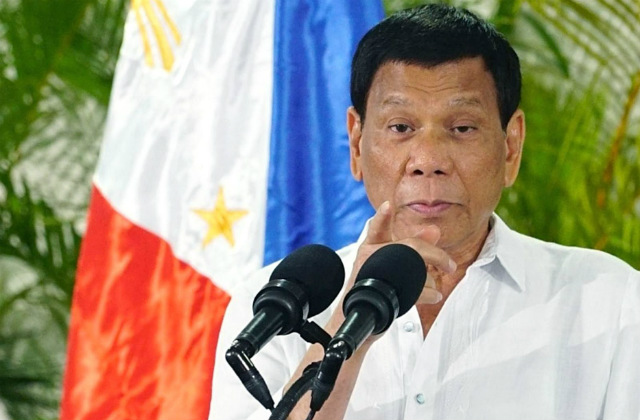 MANILA, Philippines – President Rodrigo Duterte will personally announce the Philippines' position on the Kuwait crisis upon his return to Davao City from a regional summit in Singapore, his spokesman said Friday, April 27. 
Duterte has not made any statement on Kuwait since the Gulf state on Wednesday, April 25, expelled Philippine Ambassador Renato Villa. The ambassador was declared persona non grata due to the Philippine embassy's allegedly illegal rescues of abused overseas Filipino workers (OFWs) in Kuwait. (READ: OFW rescue video that angered Kuwait came from DFA)
Duterte "will announce the Philippine position personally during his arrival statement" in Davao City this weekend, said Presidential Spokesperson Harry Roque in a press conference in Singapore on Friday evening.
Asked if Duterte will reveal it in his meeting with the Filipino community in Singapore on Saturday, April 28, Roque said, "He wants to announce it on Philippine soil."
"It's a very important announcement so it should be the President," said Labor Secretary Silvestre Bello III in another media briefing earlier on Friday.
Bello refused to detail Duterte's reaction to Kuwait's order for Villa to leave, but said, "He was surprised." After all, following Duterte's meeting with the Kuwaiti ambassador in Davao City, "Everything appeared to be all right." 
'He made up his mind'
Duterte is now in Singapore the Association of Southeast Asian Nations (ASEAN) Summit. He is expected to leave Singapore on Saturday evening.
In his press conference on Friday, Roque was also asked how Duterte came up with a course of action considering that Kuwait has not given the requested clarifications.
Roque answered: "I have to say that the President, being a lawyer with 30 years of executive experience, certainly had a very different reaction to the controversy. It was a course of action that was not specifically recommended by anyone."
"He made up his mind, and I appreciate it. It shows really his experience in governance, and there's wisdom, I guess, even in his number of years in leadership, as well as in his age. But he will announce it," Roque said.
"I have to say it's a position that he personally crafted." – Rappler.com