Some of them have been contractual workers for decades; some are students who want fair labor practices when they finally work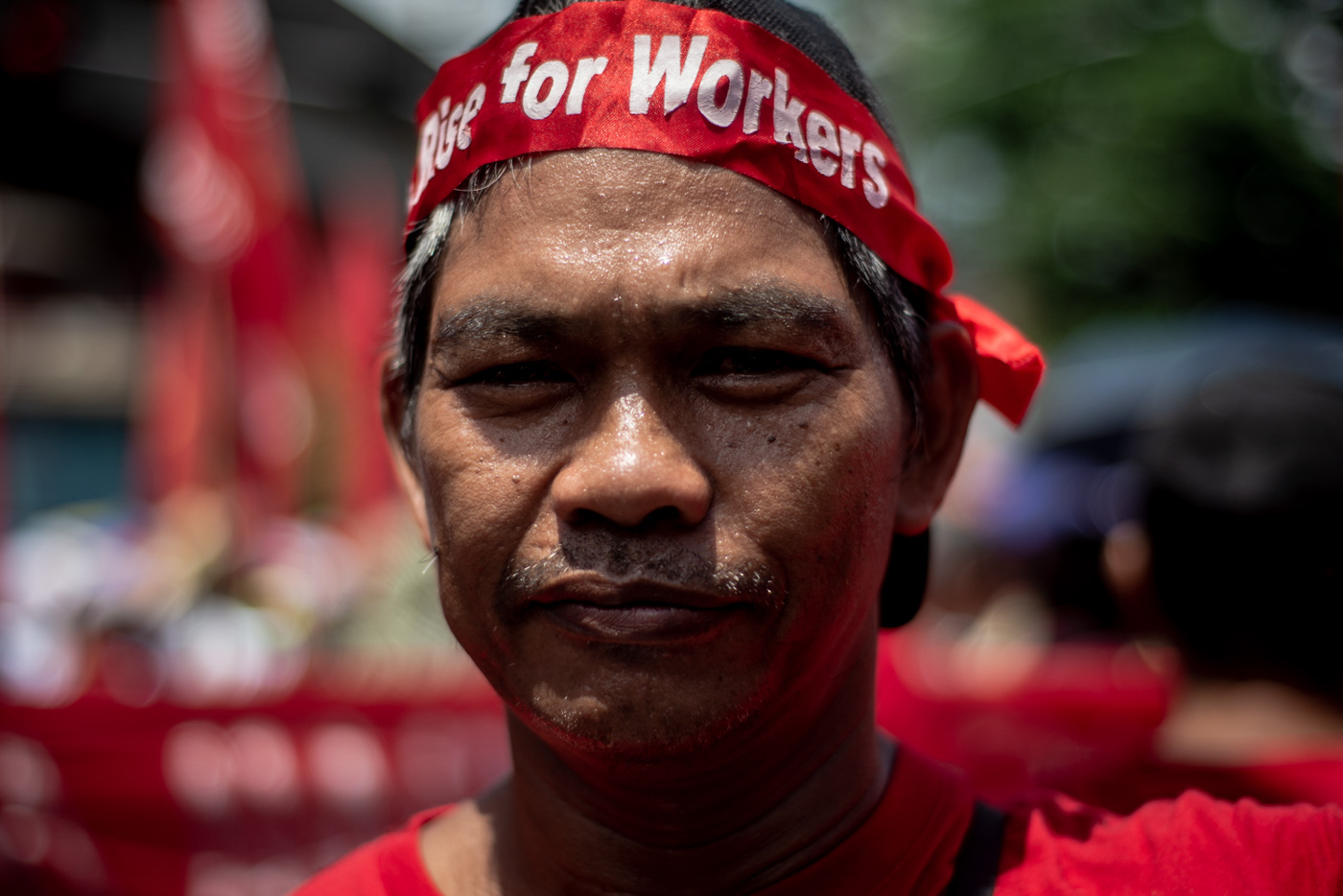 MANILA, Philippines – Leonel Adrales has been helping build 35-story buildings for a construction company in Manila for nearly 30 years. 
But throughout his decades of loyalty and service, not once has he been offered regular employment. Instead, for every building project, he and his peers are given contracts to sign, agreeing to a daily minimum wage of P512, even P457 until very recently.
With this amount, Adrales affords to put food on the table every day for his 9 children. But that's it –he says he can no longer pay for his children's education after spending the big chunk of his salary on basic necessities. In fact, 7 of his children have stopped going to school, making them equally vulnerable to lack of job opportunities in the future. 
This is the common plight of thousands of Filipinos who marched to Mendiola, Manila, on the commemoration of Labor Day on Tuesday, May 1. Along with members of labor groups and activists, they appealed to government for better pay, better working conditions, and the end of contractualization even after news broke that President Rodrigo Duterte had signed an executive order to end "endo." 
According to them, the EO the President signed was not the one prepared by labor groups, thus keeping the status quo.  
"The EO that was signed definitely is an EO for the employers, not for the workers," Rene Magtubo, Nagkaisa labor coalition spokesperson, told Rappler. "We will not waver, we will continue to fight to give justice to workers affected by the widespread contractualization of labor." 
For 20-year old Ash Mercado, the EO could have been life-changing as she has been working in a food company's factory for two years already with no benefits, bonuses, even leaves of absence. With a meager take-home pay of P356 pesos every day, Mercado still has to borrow money or pawn her things just to support her parents and 5 siblings.
She added that although they were recently offered "regularity," it was only between the the workers and an agency, and not the company itself. This is a common scheme used by companies to hide their illegal practices. 
"We still don't have employer-employee relationship with the company. We will still not experience 13th month pay, we still don't have SSS, or Philhealth—nothing has changed at all," Mercado said in Filipino. (READ: 'Walang bago': Makabayan lawmakers unimpressed with Duterte EO on endo)
"It's just the agencies getting richer and richer, while us workers are only getting poorer. This is too much already – we have to speak up," she added.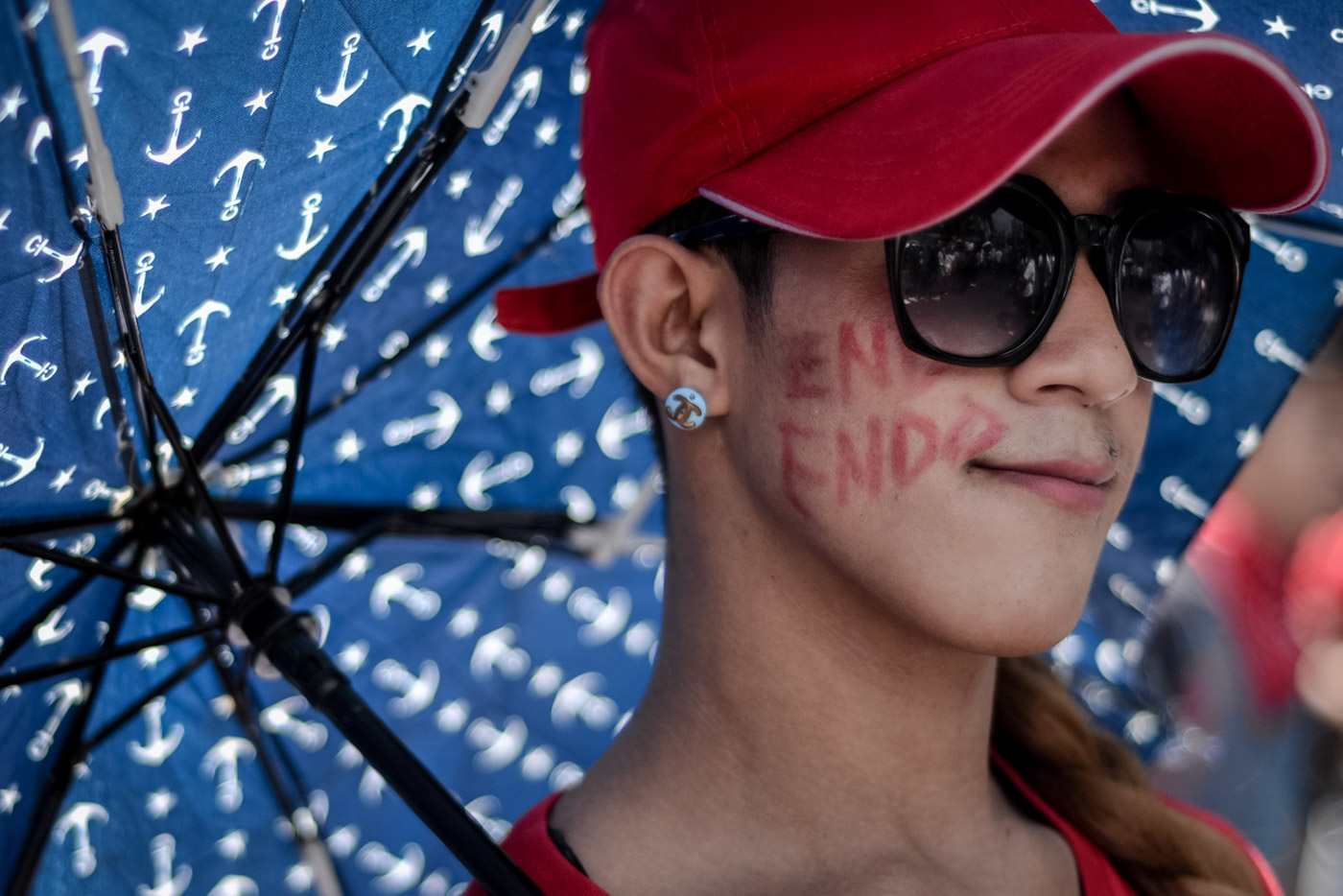 According to Philippine Statistics Authority, around 25% of Filipino workers have "elementary occupations" or jobs that require "simple and routine tasks which may require the use of handheld tools and considerable physical effort," like the construction and factory work of Adrales and Mercado.
They too composed the majority of the crowd in the Labor Day rally. 
Bookkeeper Rox Fernandez was just one of the few workers in the crowd who earned more than the minimum wage. But this does not mean she enjoys the benefits of a regular employee. 
Fernandez, 33, has been working for 3 years as a bookeeper at the National Anti-Poverty Commission, a government agency.
Although she enjoys better pay than most, Fernandez reiterates that there are many others in the agency who receive much less, and that this practice is prevalent in all other government agencies as well. 
"What we're fighting for here is [the rights] of our utility workers, and drivers [in government agencies] who receive lower salaries, and are still contractual," she said in Filipino. 
"What we're asking for is permanent positions, and that House Bill 7415 be passed as soon as possible, which should impose that contractual workers like us be given permanent positions, for as long we have worked for 6 months or more," she said.  
Future workers 
Others present in the rally were students who wished to express their support for the rights of Filipino workers.
Holding a banner that calls for a national minimum wage, University of the Philippines student Gabby Lucero said she felt it was important to stand in solidarity with workers on Labor Day as she too could possibly be in the same position as theirs a few years from now. 
"We want to ask for results from Duterte's failed promise of ending contractualization," she said. "As a student, this is one of the things I will face after I graduate. I too will be in the same working conditions," she added in a mix of English and Filipino.
Medical student Leonel Javier, who just got off his shift at the Philippine General Hospital, joined the waiving of flags around the burning effigy of a "Devil Duterte" or "Dutertemonyo." 
Javier said a big part of the Filipinos' sickness come from "the sickness of our society," which includes contractualization and low minimum wage.
He said he encounters many patients who cannot even afford to buy a syringe, what more actual medicine, because of their meager salaries. 
"Definitely [with minimum wage] they can only think about the food they will eat every day. They will not have enough to spend for when their child needs medical care or is hospitalized," he said. 
"Today really is a large battle of just surviving. And we want a future with a more sensible way of living…. You cannot heal a person and let them suffer in the same environment that they got sick in," Javier said. "We want a future that's not just hopeful that this will change, but [a future in which] we use our angers and frustrations to actually overthrow the administration that causes this suffering." – Rappler.com