Opposition senators say the government should listen to Filipinos' voices and instead focus on solving gut issues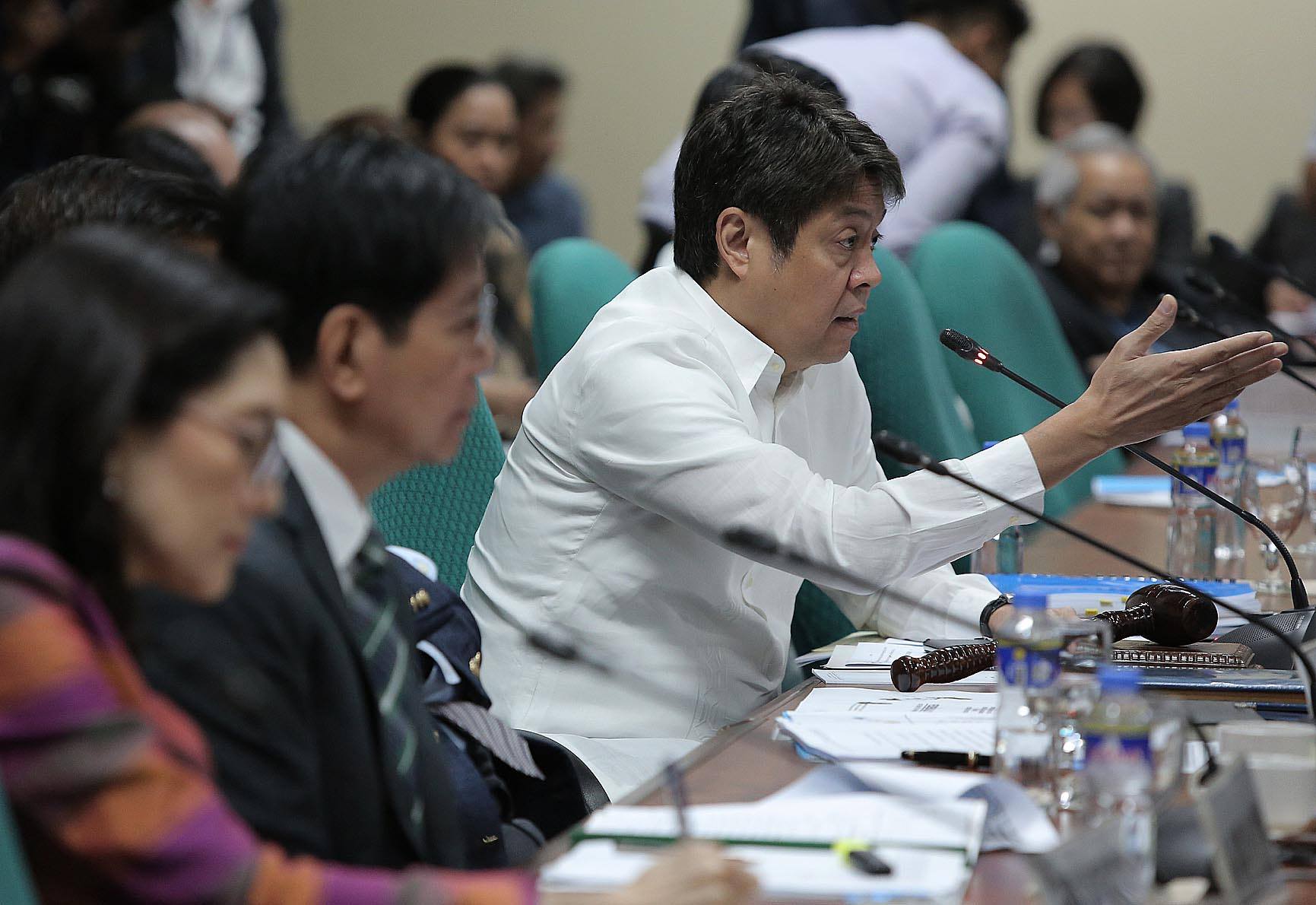 MANILA, Philippines – Administration senators said an information drive is needed after a recent poll showed majority of Filipinos are against charter change and federalism.
A Pulse Asia survey conducted from March 23 to 28 showed that around 64% are against amending the 1987 Constitution, 23% are in favor of changing it now, while 32% believe it should not be touched "but it may be amended sometime in the future."
Senate President Aquilino Pimentel III, party mate of President Rodrigo Duterte and staunch advocate of federalism, said PDP-Laban would continue its campaign.
He also expressed his own interpretation of the survey that more than half of the respondents are in favor of federalism, if one adds the 23% in favor and the 31% who said it may be amended in the future.
"Review the Pulse Asia survey interpretation because the result for 'do not amend now but okay to amend later' can also be counted as in favor of amending the consti. Magiging (It will be) more than 50%…. But I acknowledge that people still need to know more about federalism as the word has remained a new and still unfamiliar concept to them," Pimentel told reporters.
Senate Majority Leader Vicente Sotto III said the proponents should conduct a "massive information dissemination campaign," as he admitted he himself is not knowledgeable on how to shift to federalism.
"Many of us including myself am not well-versed on how a shift to federalism can be smoothly done," Sotto said.
Senator Juan Miguel Zubiri shared the same sentiment, adding that the survey is an "eye-opener." He said the government should allay the people's fears about charter change.
"That means government must step up its propaganda on the benefits of shifting to a federal system. There is the concept that what people fear most is change so without addressing the uncertainties of shifting to a different system, then there will continue to be resistance from the people," Zubiri said.
He also suggested that "piecemeal amendments" be introduced, instead of overhauling the whole constitution, as that would likely be more acceptable.
"I find these survey numbers an eye-opener to tweak the information campaign or at the very least propose piecemeal amendments to the charter that will give greater autonomy both financially and politically to local government units (LGUs). That would be more palatable to my colleagues and that would be more effective in amending the constitution rather than not improving our outdated charter," Zubiri said.
Senator Nancy Binay, for her part, said the government should listen to the people. Instead of pushing for federalism, added Binay, it would be better to enhance and strengthen the Local Government Code.
"The right thing is to lend our ears to what the people say and think about it…. I believe that full implementation of the Local Government Code is needed, to fully recognize decentralization of powers and increasing the capacity of LGUs to govern and generate taxes," she said.
Opposition
Minority senators, meanwhile, said the results show that Filipinos do not see charter change as a solution to gut issues, such as hunger and poverty.
Senate Minority Leader Franklin Drilon urged Congress "to heed the will of the people by prioritizing legislation that would address poverty and unemployment."
"The survey must serve as a wake-up call for the administration and the proponents of federalism in Congress that what the people want is a real solution to the problems that confront them daily," Drilon said.
"This is what Congress should prioritize, not term extension to justify a shift to a federal system," he added.
Senator Francis Pangilinan, who heads the Senate hearings on cha-cha, said this is the same sentiment he got while conducting consultation hearings in various provinces.
"Ang pinakamalinaw na sinasabi ng ating mga mamamayan ay hindi sapat ang kanilang kaalaman tungkol sa kasalukuyang Saligang Batas. Dahil dito, hindi sila makabuo ng maayos na pasya tungkol sa cha-cha dahil hindi malinaw sa kanila kung ano ba ito," Pangilinan said.
(The clearest sentiment from our people is that they do not have enough knowledge of our current constitution. Because of that, they cannot make an informed decision about cha-cha.)
"Parang alam din ng mga mamamayan na pinupuwersa ang federalism ng DILG (Department of the Interior and Local Government) sa mga lokal na komunidad para alisan sila ng karapatang pumili ng mga kandidato sa 2019 na eleksyon," he added.
(It seems the people also know that federalism is being forced by the DILG on local communities to remove their right to vote in the 2019 elections.)
Pangilinan said there should be an intensified education drive so Filipinos could make informed decisions on charter change. – Rappler.com