(3rd UPDATE) Angara's son, Senator Sonny Angara, says his father died 'from an apparent heart attack'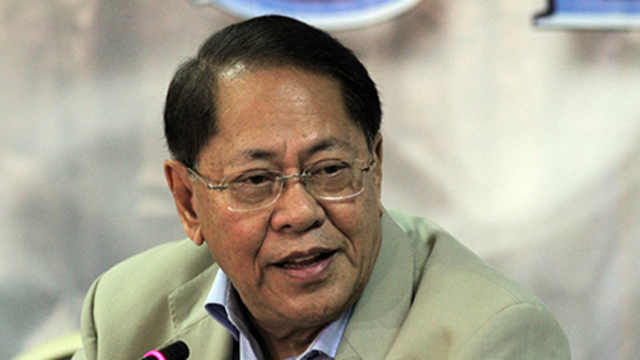 MANILA, Philippines (3rd UPDATE) – Former Senate president Edgardo Angara died on Sunday, May 13. He was 83.
Angara's son, Senator Sonny Angara, confirmed his father's death.
"Sad to say my father, former senator Edgardo Javier Angara, passed on from this life this morning at the age of 83, from an apparent heart attack," said the younger Angara in a post on Twitter.
Sad to say my father frmr Sen Edgardo Javier Angara passed on from this life this morning at the age of 83, from an apparent heart attack

— Sonny Angara (@sonnyangara) May 13, 2018
Angara's wake will be held at chapels 6 to 9 of the Heritage Memorial Park in Taguig City until Friday, May 18, and is open to the public. His remains will be flown to his hometown of Baler, Aurora on Saturday, May 19. (READ: Gov't officials pay tribute to ex-Senate president Edgardo Angara)
Life of public service
In May 2017, Angara had been appointed by President Rodrigo Duterte as special envoy to the European Union.
The former Senate president began his political career when he was elected in Quezon as a delegate to the 1971 Constitutional Convention.
Angara eventually became "the longest serving senator in the post-EDSA Senate," states a brief biography sent to media by his son's office.
He was a senator from 1987 to 1998, and served as Senate president from 1993 to 1995, during the administration of President Fidel Ramos.
In the 8th Congress from 1987 to 1992, he headed the Congressional Commission on Education.
He pushed for the passage of laws on the Free High School Act, Commission on Higher Education (CHED), Technical Education and Skills Development Authority (TESDA), the National Health Insurance Act (PhilHealth), Senior Citizens Act, the Agriculture and Fisheries Modernization Act (AFMA), the Renewable Energy Act, and the Procurement Reform Act.
He also authored the laws creating the National Museum and the National Commission for Culture and the Arts (NCCA), among others.
In 1998, Angara ran for vice president but lost to Gloria Macapagal Arroyo.
Under the administration of President Joseph Estrada, Angara became agriculture secretary from 1999 to 2001, and then executive secretary in 2001.
Esteemed lawyer, UP president
In 1972, Angara and his law classmates founded the ACCRA Law Offices.
He became president of the Philippine Bar Association in 1975, president of the Integrated Bar of the Philippines in 1979, and founding president of the Association of Southeast Asian Nations (ASEAN) Law Association in 1980.
From 1981 to 1987, Angara served as president of the University of the Philippines (UP).
"Through his initiative, the general education program was strengthened, a 7-year honors medical curriculum installed, the arts and basic science energized, and a multi-campus university organization was put in place," states the release.
"He is best remembered for defending the state university's tradition of dissent, and obtaining fiscal autonomy. His efforts contributed to upholding its reputation for academic excellence as the country's premiere educational center."
The UP President Edgardo J. Angara Fellowship is "the largest single grant available to UP professors" today.
Angara also received international recognition for his achievements in foreign policy and education. He was the first Southeast Asian to win Spain's Premio Casa Asia in 2010, and also won France's Commandeur dans l'ordre des Palmes medal as well as Japan's Cordon of the Rising Sun. 
Angara's interment will be on Tuesday, May 22, in Baler, Aurora, the office of Senator Sonny Angara announced. Public viewing in Baler starts Saturday, May 19. – Rappler.com