(UPDATED) 'Pang-diplomat talaga, which I can never be one, ever,' says President Rodrigo Duterte of the late Edgardo Angara, his former special envoy to the EU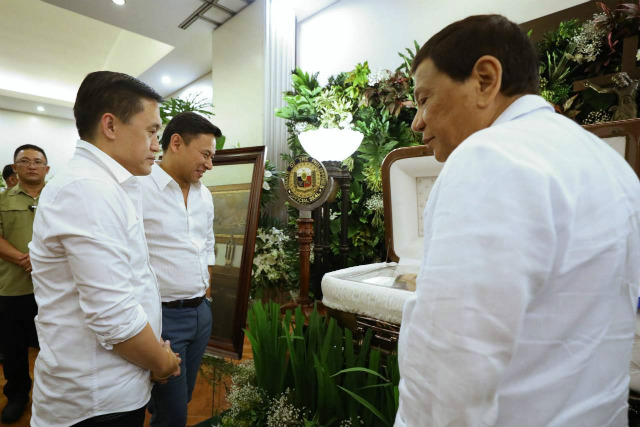 MANILA, Philippines (UPDATED) – President Rodrigo Duterte on Tuesday, May 15, visited the wake of former Senate president Edgardo Angara, his special envoy to the European Union who, he said, was a "very humble and very quiet person" fit to be a diplomat. 
In an interview with reporters in the wee hours of Tuesday, Duterte said Angara defended his mouth before the EU, which he has repeatedly lambasted for criticizing his bloody anti-drug campaign.
"Siya 'yung tagapagtanggol sa bunganga ko. Hindi kami nagkakaintindihan ng mga puti eh  (He was the defender of my mouth before the EU. The white guys and I couldn't understand each other)," Duterte told reporters after visiting Angara's wake.
Duterte recalled that Angara was in Malacañang around 3 days ago, before the Chief Executive left for Davao City. Duterte said he and Angara also met many times in his nearly two years as president.
Duterte added: "The late Senator Angara was a very humble and very quiet person. Pang-diplomat talaga (He was really fit to be a diplomat), which I can never be one, ever." 
Angara, 83, died "from an apparent heart attack" on Sunday, May 13, said his son, Senator Juan Edgardo Angara. (LOOK: Former Senate president Edgardo Angara's last hours in Tagaytay)
In a separate statement on Angara's death, Foreign Secretary Alan Peter Cayetano hailed Angara's role in boosting the Philippines' ties with the EU.  
Cayetano credited Angara for helping preserve the Philippines' GSP+ status, the trade incentive from the EU that the country enjoys. 
"His discussions with European parliamentarians played an important role in preserving our GSP+ status with the European Union, providing special status for our exporters of designated products," Cayetano said.
'True friend of the EU'
EU Ambassador to the Philippines Franz Jessen mourned Angara's death as well.
"I am saddened to hear that Senator Ed Angara, a statesman and a good friend, has passed away. My thoughts and prayers are with his family. Ed was a great patriot and a true friend of the EU," Jessen said.
Angara was part of a Philippine delegation that flew to Brussels in September 2017 to explain the Philippines' anti-drug campaign, which imperiled trade incentives from Europe.
Without fanfare back home, Angara and Trade Secretary Ramon Lopez addressed the Committee on International Trade of the European Parliament on September 25, 2017.
In a sober voice, Angara told the EU parliamentarians: "We need each other. We ought not to separate or divorce."
EU officials viewed the presence of Angara and Lopez as part of "damage control." (READ: Behind the scenes, PH scrambles to mend EU ties) 
"The appointment of Mr Angara as special envoy is a positive sign," said a European official source back then. "He knows what he is doing."
Angara's interment has been moved to Tuesday, May 22, in Baler, Aurora, the office of Senator Sonny Angara announced on Friday. Public viewing in Baler starts Saturday, May 19. – Rappler.com