It has been 4 months since arrest warrants were issued against the Chinese, and none of them have been caught yet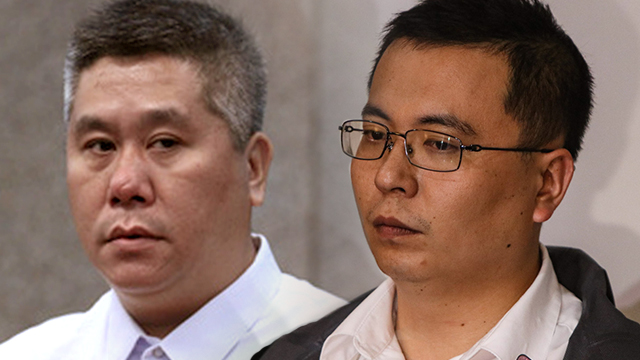 MANILA, Philippines – Pre-marking of evidence in the P6.4-billion shabu shipment case is set to start on Thursday, May 24, at the Manila Regional Trial Court (RTC) Branch 46, but this will have to proceed without most of the accused to account for.
Four months since arrest warrants were issued against the Chinese middlemen, a Filipino consignee, and Taiwanese nationals, none of them have been caught. The personalities are charged of importation of illegal drugs worth P6.4 billion from China to the Manila port in May 2017.
Chen Ju Long also known as Richard Chen or Richard Tan

Kenneth Dong

Li Guang Feng a.k.a. "Manny Li"

Chen Rong Huan

Teejay A. Marcellana (Filipino consignee)

Jhu Ming Jhun (Taiwanese)

Chen Rong Huan (Taiwanese)
Only customs broker Mark Taguba and alleged shipment consignee Eirene Mae Tatad have been arrested and are in jail.
Manila RTC Branch 46 confirmed that a return warrant for the Chinese businessmen, Taiwanese nationals, and Marcellana – also an alleged consignee – had not been submitted to the court. Chen/Tan was ordered arrested February 22, while the rest were ordered arrested on January 30.
Under the rules of court, the law enforcement officers tasked to serve the warrant must report to the court within 10 days, either with a return warrant, or to explain why the warrant has not yet been served. No such report has been submitted to the court either.
"From my understanding, we are exerting efforts to locate and arrest them," said Deputy Director Ferdinand Lavin, spokesperson of the National Bureau of Investigation (NBI).
It was NBI agents who arrested Taguba and Tatad.
A Hold Departure Order (HDO) was issued by the court in April to prevent the 4 Chinese businessmen and two Taiwanese nationals from leaving the country.
Personalities
Chen or Tan is the alleged owner of the Philippine Hongfei Logistics Group of Companies Incorporated, the importer of the drug shipment. Chen supposedly used Kenneth Dong as his link to Bureau of Customs (BOC) broker Mark Taguba.
Resigned justice secretary Vitaliano Aguirre II said before there were reports of Chen/Tan trying to bribe Bureau of Immigration officials to allow him to flee the Philippines.
Senator Richard Gordon said Chen/Tan was the one "ultimately responsible" for the smuggling of shabu. Taguba added he is a "consolidator" in China, with companies allegedly going to him so the shipping fee would be divided among many senders.
Dong was allegedly the middleman of Chen/Tan, and was linked to resigned Davao City vice mayor Paolo Duterte, President Rodrigo Duterte's son. Dong told a Senate investigation that he and the younger Duterte were only acquaintances.
After that hearing, Dong was hastily arrested by the NBI over a long-standing warrant for rape. In November, the rape case was junked and Dong was allowed to walk free.
Li also acted as a middleman between Dong and Hongfei Logistics.
According to the NBI complaint, Tatad allowed Taguba to use the name of her firm EMT Trading as importer of the shipment. EMT was the one which paid the taxes and duties of the drug shipment. Tatad said she did not know the shipment contained drugs. – Rappler.com