(3rd UPDATE) The scheduled departure of Emmanuel Amalilio for Manila encounters obstacles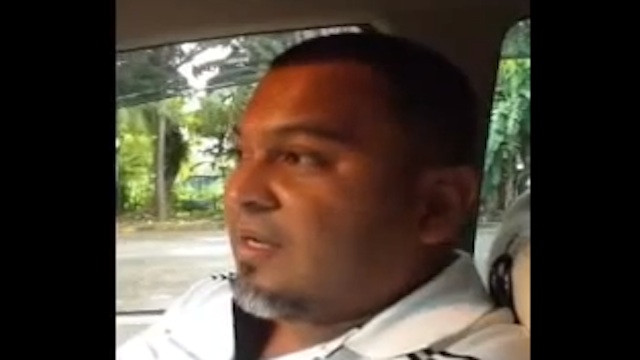 MANILA, Philippines (3rd UPDATE) – The Malaysian Police stopped on Friday, January 25, the departure of Aman Futures Group founder Manuel Amalilio for Manila, according to a senior government source.
The source told Rappler that Amalilio was already at the Kota Kinabalu airport with agents of the National Bureau of Investigation, ready to depart for Manila at 6:10 pm Friday. But members of the Malaysian Police Commission stopped Amalilio from departing, the same source told Rappler.
The Malaysian police asked the NBI to let go of Amalilio, the source added. The reason for this was not immediately clear.
Interior and Local Government Secretary Mar Roxas was supposed to meet Amalilio at the NAIA-3 airport Friday night. In a text message to Rappler, Roxas' media officer Babes Suva said: "Amalilio's arrival postponed to next week. Some papers just need to be fixed on the part of the Malaysian government."
It was the NBI agents who eventually departed for Manila — without Amalilio.
Roxas' office later issued a statement saying that Malaysian authorities indeed prevented Amalilio from boarding the Manila-bound Cebu Pacific plane in Kota Kinabalu. "The reason for this remains unclear," the statement added.
The main suspect in the P12-B pyramid scam was arrested in the Sabah capital on Wednesday, January 23, by Malaysian intelligence. His arrest was immediately announced by Justice Secretary Leila de Lima, who sent an NBI team to Kota Kinabalu.
Amalilio was turned over to the NBI team Thursday, January 24.
The money scam, which was exposed late last year, duped about 15,000 investors from Visayas and Mindanao.
Aman Futures offered investors 30 to 80% return on investments over 8 to 20 days. The potential for huge profits enticed thousands, initially in Pagadian CIty and later on in Lanao del Sur, Zamboanga, and Cebu City.
Key investors, including Pagadian City Mayor Samuel Co, have been charged with estafa over the scam. More than 11,000 complaints have been filed against Aman Futures so far.
Aman Futures Group Phils. Inc. started operating in February 2012 in wet markets – with vendors and tricycle drivers as initial investors.
When Aman Futures registered with the Securities and Exchange Commission on June 22, 2012, transactions began to increase. The huge number of transactions was recorded until the first week of September, when problems began to surface.
Amalilio left the country around November, and has been monitored in Sabah since. – Rappler.com
Related stories: