The Department of Agriculture has not been asked to scrap its rice self-sufficiency targets, says Presidential Spokesperson Harry Roque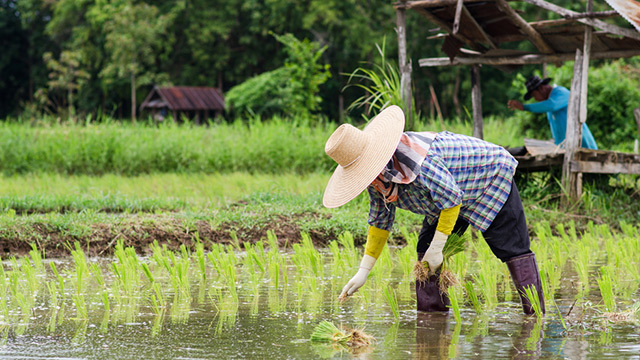 MANILA, Philippines – Presidential Spokesperson Harry Roque clarified that the Philippines is still working towards 100% rice self-sufficiency despite President Rodrigo Duterte's remarks the previous day.
"We will forever aim to be rice-sufficient. All administrations want to be rice-sufficient," said Roque on Thursday, June 14, during a Malacañang press briefing.
On Wednesday, June 13, Duterte said he does not believe the country can achieve this goal, and that Agriculture Secretary Manny Piñol's target to make this happen by the end of 2018 is just a "story."
"I do not believe that we can be rice-sufficient. 'Yung sinabi ni Piñol na at the year's end, istorya man lang 'yun (What Piñol said, 'at the year's end,' that's just a story)," said Duterte during a Malacañang event.

Roque said he does not know what basis the Chief Executive had for declaring rice self-sufficiency impossible.
The spokesperson then claimed that the President only meant that he isn't confident rice self-sufficiency can be reached this year, but that it remains a long-term goal of the administration.
"The President believes it will not happen this year, so we will continue to strive to be self-sufficient in rice, although the reality is it hasn't happened yet," said Roque.
The Department of Agriculture's rice production targets will supposedly not change because of Duterte's remarks.
"I don't think so. Secretary Piñol would still meet his target and I think the President would want to be proven false in this instance," said the spokesman. (READ: [OPINION] The alarming depletion of NFA rice under Duterte's watch)
Duterte had said that because rice self-sufficiency can't be reached, the Philippines will have to resort to importation "in the next how many years."
This contradicts his stance the year before in which he discouraged rice importation in order to protect local rice farmers. – Rappler.com
Farmer planting rice photo from Shutterstock