President Rodrigo Duterte, in an attempt to explain his controversial remarks, says he was deriding only the God of his critics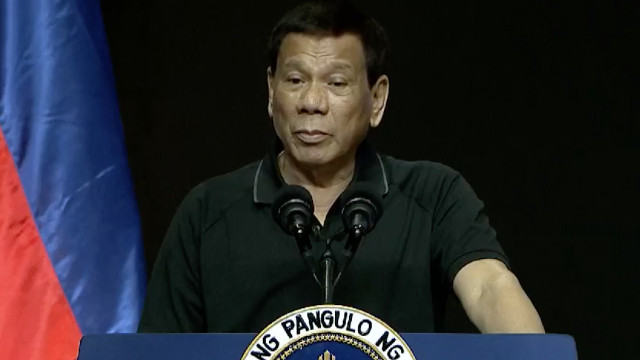 MANILA, Philippines – President Rodrigo Duterte bristled at the intense criticism over his calling God "stupid," slamming the opposition for "riding" on the wave of outrage.
In an apparent bid to clarify his controversial remark, Duterte said he was deriding the God of his critics and that he has his own "perfect" God who "makes sense."
"Wala akong sinabi na torpe ang ginoo ko (I said nothing about my God being stupid). Sabi ko (I said), 'Your God is not my God because your God is stupid. Mine has a lot of common sense,'" said Duterte on Monday, June 25.
"If I choose not to believe in any God, what's the fucking thing about it?" he added.
He claimed that his tirade against God and the Bible's creation story stemmed from his outrage over Australian nun Sister Patricia Fox who he had ordered investigated for engaging in political acts. However, Duterte had made no mention of Fox during his June 22 speech at a summit.
The President also blasted the opposition and his other critics for using the controversy against him. Politicians who have spoken out include Senator Panfilo Lacson, Senator Risa Hontiveros, and Senator Antonio Trillanes IV. (READ: 'One evil man': Senators hit Duterte over 'stupid God' remark)
"Kayong mga tao diyan, huwag muna kayo sumakay (All of you there, don't ride on this)…. Kindly review the tapes. Mas bright ho ako sa inyo (I'm brighter than you)," he said.
Duterte also said he would apologize for his words against God only if his critics explain their God is "perfect."
"Now tell me if it is a perfect God. I will kneel down, stretch my hand, and ask for forgiveness. Tell me if it is a very poignant story of the history of mankind or it is really a stupid one," said the President, himself a Catholic.
If in his last speech he blasted the creation story, on Monday he slammed the Last Supper in the New Testament, where Jesus shared a meal with the Apostles before his crucifixion.
"Even itong (this) Last Supper, who are the idiots there? Basta ginawa na lang santo ang mga itong nasa painting (They just made the people in the painting saints), San Isidro, San Pablo, Saint Jude, Santo Rodrigo, kung sino na lang (whoever)," he said, eliciting laughter from his audience.
In the past, Duterte jokingly referred to himself as a saint, saying that he would start his own religion, "Iglesia ni Duterte." – Rappler.com