(4th UPDATE) The army is reportedly conducting a 'big operation' in Barangay San Roque, Santa Rita town, when a team of the Samar Provincial Police goes into the area without coordinating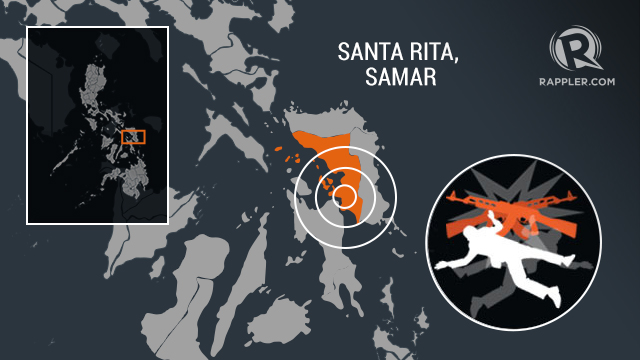 SAMAR, Philippines (4th UPDATE) – Six policemen were killed and 9 others were wounded in what was believed to be a "misencounter" with the Army in Santa Rita*, Samar, on Monday morning, June 25. 
Sources from the provincial police, however, claimed that what happened at 9:27 am in Sitio Lunoy, Barangay San Roque*, was an "ambush," perpetrated by members of the Army's 87th Infantry Battalion.
The police said they were conducting "minor combat operations" in the area.  
Military sources, meanwhile, said the army had a "big operation," and the police team went into the area without coordination. The team was composed of elements of the Eastern Visayas police deployed to augment the Samar Provincial Police Office. 
The initial list from the police showed that 7 cops were killed – 6 identified, and one undentified – and 6 other cops were wounded. Police later updated the figures to say 6 cops were killed and 9 more were hurt in the incident.
On Tuesday afternoon, June 26, the Philippine Nation Police finally confirmed the list of those killed and wounded that was leaked to the local media on Monday.  
Killed in action: 
PO1 Wyndell Noromor 
PO1 Edwin P Ebrado 
PO1 Phil J Rey Mendigo 
PO1 Rowel Reyes 
PO1 Julie Escalo 
PO1 Julius Suarez 
Wounded in action: 
PO1 Elmer F Pan 
PO1 Cris Angelo A Pialago 
PO1 Romulo C Cordero 
PO1 Joenel C Gonzaga 
PO1 Rey C Barbosa 
PO1 Jaime Galoy 
PO1 Romel Bagunas 
PO1 Jan Mark Adones 
PO1 Roden Goden 
– Jazmin Bonifacio/Rappler.com 
(Editor's Note: This report has been updated to reflect the exact site of the encounter, based on succeeding reports from the local police. On Monday, June 25, initial reports from the ground said the incident happened in Barangay Santa Rosa in Villareal town. Subsequent report from the police said the encounter was in Barangay San Roque, Santa Rita town, south of Villareal.)