President Rodrigo Duterte says he'll rethink his order only if the Supreme Court rules it is illegal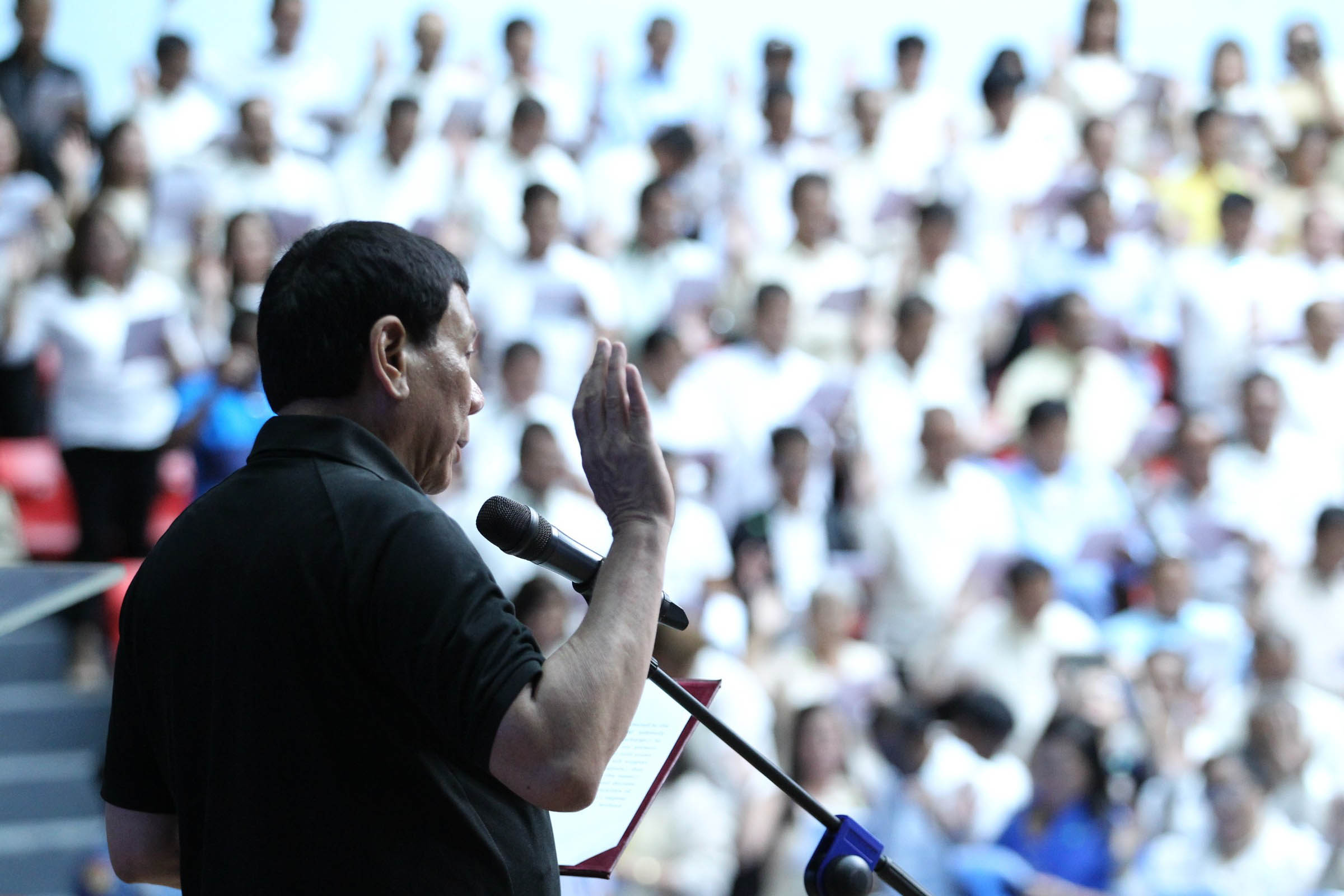 MANILA, Philippines – President Rodrigo Duterte said he only ordered the Philippine National Police (PNP) to "frisk" tambays (loiterers), not "arrest" them.
He made this clarification more than a week after giving the "order" and after police had already detained thousands of loiterers.
"Sabi ko, istambay is just to frisk them. Even in America that is allowed. Tingnan mo, maaresto ka, kakapkapan ka talaga," he said on Monday, June 25, at the oath-taking ceremony of barangay captains in Cagayan de Oro City.
(As for loiterers, I said, just frisk them. Even in America that is allowed. You'll see, if you get arrested, they will really search you.)
The police, however, have already arrested thousands of loiterers for allegedly violating local ordinances on curfews, smoking in public, drinking in public, and public nudity.
The exact words of Duterte's order on June 13 are: "My directive is 'pag mag-istambay-istambay sabihin 'nyo, 'Umuwi kayo. 'Pag 'di kayo umuwi, ihatid ko kayo do'n sa opisina ni ano do'n, Pasig.' Ako na ang bahala, ilagay mo lang diyan. Talian mo 'yung kamay pati bin – ihulog mo diyan sa ano."
(My directive is if there's someone who's loitering, tell them, "Go home. If you don't go home, I will bring you to the office of – there in Pasig." Leave it up to me. Just put them there. Tie their hands together even the – drop them at –)
Duterte's exact words referring to loiterers in a September 2017 speech were: "Tignan 'nyo may maglakad pa ba na – eh ngayon, sabi ko sa pulis, 'Pikapin mo.'" (See if there's anyone walking around – now, I told the police, "Pick them up.")
He had also said on June 22 that if loiterers do not go home as ordered by police, they can be "arrested."
The President asked the Supreme Court to weigh in on the legality of his order, saying that until he hears from the SC, his instructions are legal.
"'Pag sinabi ng Supreme Court (If the Supreme Court says so), then okay. Give us guidance on how to do it or, better still, supervise us on how to do it," said Duterte.
His order on tambays, he repeated, stems from his role as "parent of the nation," which gives the state the right to act as parent or guardian of neglected or abused citizens.
The roundup of tambays has been questioned by lawmakers as a policy that could open "a floodgate of abuses."
One alleged tambay arrested, Genesis Argoncillo, died in detention due to "multiple blunt force trauma."
Duterte appeared not to know about police action on tambays when he said on June 22 that no arrests of loiterers were being made. – Rappler.com