In his second year in office, President Rodrigo Duterte draws flak for insisting that rehabilitating poor drug addicts is useless. Meanwhile, economic managers downplay inflation.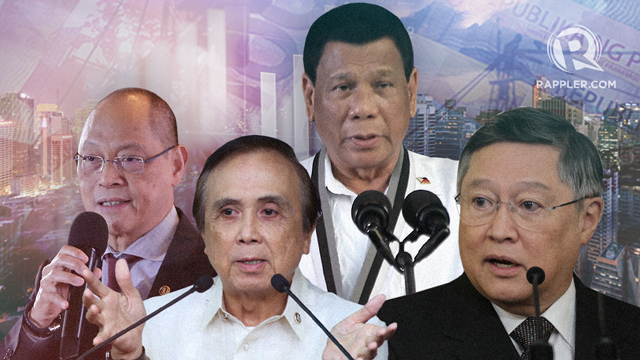 MANILA, Philippines – President Rodrigo Duterte, together with his economic team, is tasked with uplifting the lives of the poor. 
However, the President and his men have been heard on a number of occasions downplaying the poor's needs. Duterte even went on to directly link the poor to various social problems and crimes.
Drugs and poverty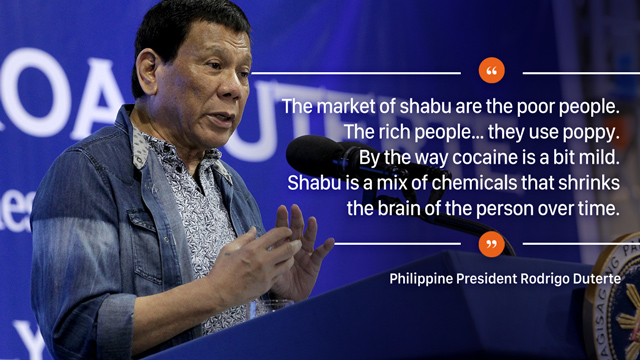 Duterte said the poor were "subsidizing" the illegal drugs industry because they are the target market.
"Kayo[ng mahihirap] ang nagbubuhay ng shabu," Duterte said in a speech on October 19, 2017. (You, the poor, keep the shabu industry alive.)
"The market of shabu are the poor people. The rich people, they use poppy. By the way, cocaine is a bit mild. Shabu is a mix of chemicals that shrinks the brain of the person over time," he added.
Duterte even went on to conclude that rehabilitation is useless because "when the brain has shrunk, it stays shrunk."
He also said that to solve the country's drug problems, the government has to "start with the tentacles, then the organs and the body itself."
"Mahirap ka, you're poor. Well, I'm sorry. When I took my oath of office, I said I will enforce equally," Duterte said.

Duterte vs interest groups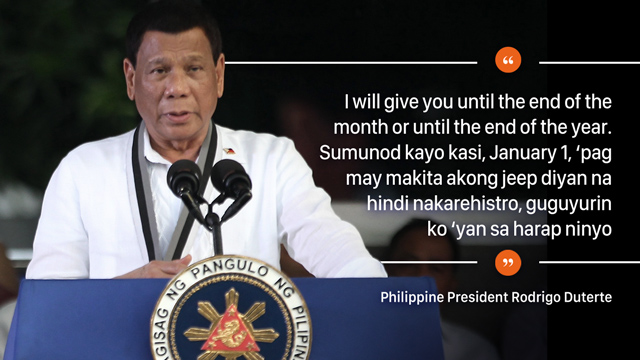 Various transport groups and jeepney drivers opposed the government's move to modernize jeepneys. Groups said e-jeepneys are too expensive and low-interest loans from banks will still not be enough.
Despite groups launching consecutive protests and strikes, Duterte dismissed their concerns.
"I will give you until the end of the month or until the end of the year. Sumunod kayo kasi, January 1, 'pag may makita akong jeep diyan na hindi nakarehistro, guguyurin ko 'yan sa harap ninyo.
 (You follow because by January 1, if I still see an unregistered jeep, I will have it dragged away before you)," he threatened.
Meanwhile, urban poor group Kalipunan ng Damayang Mahihirap (Kadamay) also earned the ire of the President.
Duterte threatened to order the elite Special Action Force (SAF) of the police against Kadamay members if they continued their bid to take over government housing units.
"I will give you until noon tomorrow. Umalis kayo (You get out) and I will order the SAF to go in," said an incensed Duterte on Thursday, June 14, during the oath-taking of Calabarzon barangay captains.
"I gave a warning. I told the police, take it back. If you want a fight, I told the police to give you a fight. If needed, you kill to implement what is legal…. I don't care," he said in Filipino.
"Pagka lumaban kayo at namatay kayo, problema ninyo 'yan. Wala ako (If you fight and you die, that's not my problem)," added Duterte.
Diokno fiasco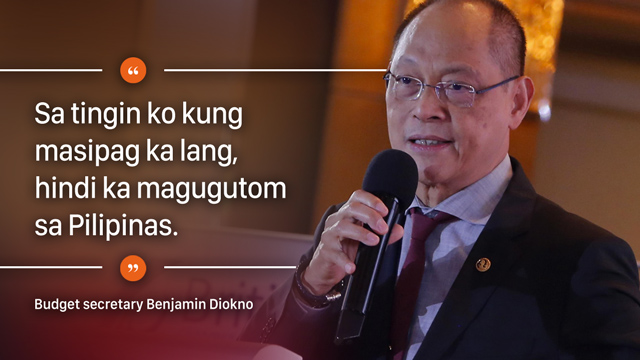 Just a day after Labor Day, Budget Secretary Benjamin Diokno said Filipino workers only need to work hard to not go hungry.
"Alam mo, sa tingin ko kung masipag ka lang, hindi ka magugutom sa Pilipinas. Kung masipag ka lang," he said in a press briefing on Wednesday, May 2.
(You know, I think if you're hardworking, you won't go hungry in the Philippines. If you'll just be hardworking.)
Diokno made the comment after he was asked whether the government can absorb Overseas Filipino workers (OFWs) who will come home because of the diplomatic row between the Philippines and Kuwait.
Downplaying inflation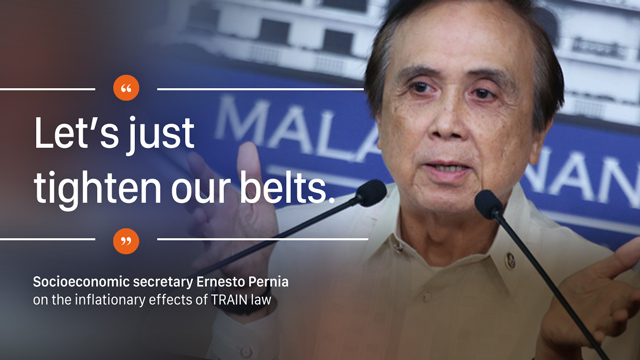 Economic managers stood firm that the inflationary effects of the first package of the Tax Reform for Acceleration and Inclusion (TRAIN) law are within the manageable range despite various groups denouncing the measure. (READ: Despite higher inflation, economic managers reject TRAIN law)
"Let's just tighten our belts," Socioeconomic Secretary Ernesto Pernia said on May 17.
"Since it's already there, let's live with it. It's a short-term pain for a long-term gain," he added.
He also said that people will get used to the elevated prices.
Dioko even asserted that Filipinos should not complain too much about the rising prices of oil.
"Remember, we had $135 per barrel under GMA (Gloria Macapagal Arroyo), so I think we should be less of a crybaby," Diokno said on May 30.
"We are promising you world class infrastructure. Do you want us to stop doing that? Traffic congestion is causing P3.5 billion daily. Do you want us to stop doing that?" Diokno added.
The budget chief said the poorest Filipinos who "do not pay taxes" actually benefit more from the tax reform: "Look at the poorest 10%. You think they pay taxes? And how much do they get from the government? Free education, free healthcare, CCT (Conditional Cash Transfers), etc." 
He added: "A big part of the population do not pay taxes. Hindi naman kayo nag-benefit sa tax cut (you did not benefit from the tax cut) because you are not paying taxes in the first place," Diokno said.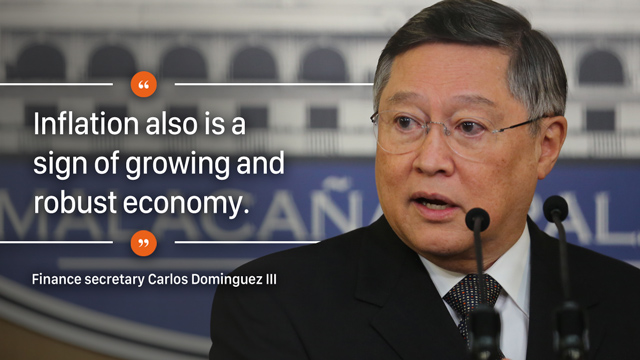 Meanwhile, Finance Secretary Sonny Dominguez insisted that inflation is "absolutely" under control, despite hitting a 5-year high.
In an interview with Bloomberg TV, Dominguez said "inflation is also a sign of [a] growing and robust economy."
The average headline inflation as of May clocked in at 4.1%, slightly higher than the government target of 2% to 4%. – Rappler.com