Negotiations will commence with another Chinese group – Power Construction Corporation of China or PowerChina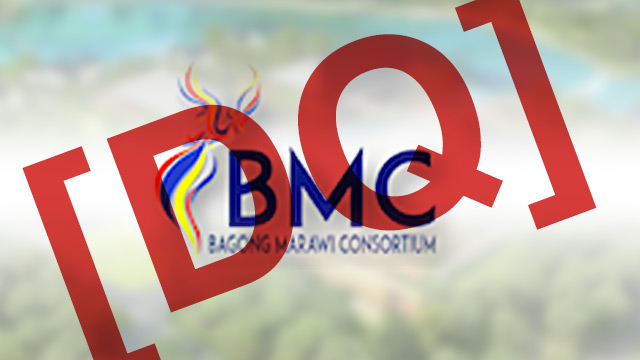 MANILA, Philippines – The Chinese-led Bangon Marawi Consortium (BMC) tapped for the P17.2-billion rehabilitation of Marawi City was disqualified after failing to show financial capacity to complete the project. 
Marawi rehabilitation chief Eduardo del Rosario said the consortium was officially disqualified on Wednesday, June 27, when the deadline for the legal and financial requirements lapsed.
"Yes, we had an unsuccessful negotiation with Bangon Marawi Consortium. We will immediately negotiate with [PowerChina] as the next in line, based on our previous selection process conducted," Del Rosario told Rappler.
"[Bangon Marawi Consortium] could not produce the documents that we were requiring [from] them. The deadline was 5 pm today," he said on Wednesday. (READ: As China builders face scrutiny, further delays hit Marawi rehabilitation)
Negotiations will commence with another Chinese group – Power Construction Corporation of China or PowerChina. Del Rosario said the first task would be to make sure it complies with legal and financial requirements.
It appeared that the Chinese companies in BMC abandoned the Filipino partner companies. They failed to contribute to the "available funds" that the consortium was supposed to show in order to prove financial capacity to fulfill the contract.
Del Rosario said the Filipino companies were able to provide only less than P1 billion, which fell short of the P4.5-billion initial capitalization requirement.
"They relied on the Chinese companies," said Del Rosario. "Hindi ko nga maintindihan bakit ganyan nangyari sa grupo na ito (I don't understand what happened to this group)."
The Chinese companies also neglected to comply with other legal requirements, said Del Rosario. They submitted legal papers written in Chinese, ignoring repeated requests to furnish the government with English translations. (LIST: Tasks for China consortium in P17.2-B Marawi rehab)
The disqualification comes after the project was hit with controversy. Rappler earlier reported that two of the Chinese firms in the group were formerly blacklisted by the World Bank.
Del Rosario said the designs the government negotiated with BMC would be used as basis for succeeding negotiations with the next group of potential developers. 
It's better to start over, said Del Rosario. "Ang masama, natuloy at hindi natapos (It would have been worse if we started the project and it won't be completed)," he added. – Rappler.com