In the two years Duterte's been in office, controversial has become the new normal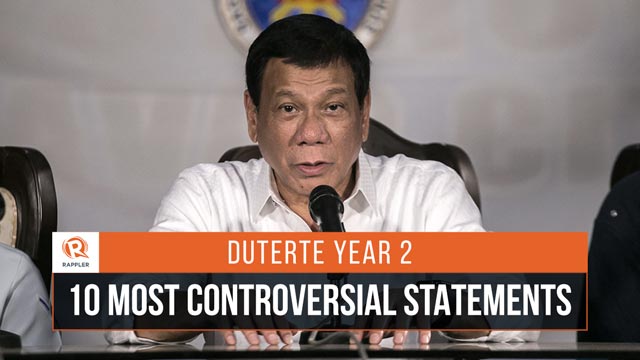 MANILA, Philippines – There are many ways to describe the words President Rodrigo Duterte utters at any given time – colorful, at best; vulgar, at worst. In the two years he's been in office, controversial has become the new normal. 
Here are some of the statements that incensed, shocked, polarized, and sent the nation into a dizzying frenzy.
After recent tirades against priests and the Church's "hypocrisy," President Rodrigo Duterte cursed God and called God "stupid" for the concept of "original sin" in the Bible's creation story on June 22, 2018. 
2. Duterte jokes he'll show De Lima 'sex video' to Pope Francis
On November 28, 2017, Duterte expressed dismay over Pope Francis' decision to gift Senator Leila de Lima a rosary. Then, he quipped if the Pope saw Senator Leila de Lima's "video," he might change his mind about the lady senator.
3. "Shoot women in the vagina"
Addressing a group of former rebels in Malacañang on February 7, 2018, Duterte said he ordered soldiers not to kill female rebels but to shoot them in the vagina instead so that they would become "useless." 
4. Duterte kisses OFW from South Korea
Duterte ended his meeting with the Filipino community in South Korea on June 3, 2018 by kissing an overseas Filipino worker on the lips – a move that drew cheers from the audience but disgust from some netizens.
5. Duterte jokes about '42 virgins' as tourism 'come on'
During his India trip on January 26, 2018, Duterte joked that if Muslim extremists can lure followers with the promise of "42 virgins" in heaven, he would like to lure tourists to the Philippines with virgins as well.
6. "I believe in women's competence, but not in all aspects"
In a speech in Davao City on May 24, 2018, Duterte said that female excellence does not apply to all aspects of life.
7. "Use pills, but not condoms"
Upon arriving from Kuwait on February 13, 2018, Duterte suggested the use of contraceptives such as pills and injectables instead of condoms to address the population boom because "hindi masarap."
8. Duterte threatens to slap UN rapporteur if she probes drug war
On November 9, 2017, Duterte threatened to slap United Nations special rapporteur Agnes Callamard if she investigated him for the extrajudicial killings being linked to his war on drugs.
9. "PH economy in the doldrums"
In a speech on June 22, 2018, Duterte said he was brainstorming with his Cabinet on how to generate income for the government, and if he can't stop jueteng, at least 'money gets around.' 
10. "Why not make Philippines a province of China?"
In a speech last February 19, 2018. Philippine President Rodrigo Duterte jokingly suggested to China that it make the Philippines part of its territory, as a province.
Is there anything else we missed? Let us know in the comments below. – Rappler.com