(3RD UPDATE) The new law aims to address hunger and undernutrition among children aged 3 up to those in Grade 6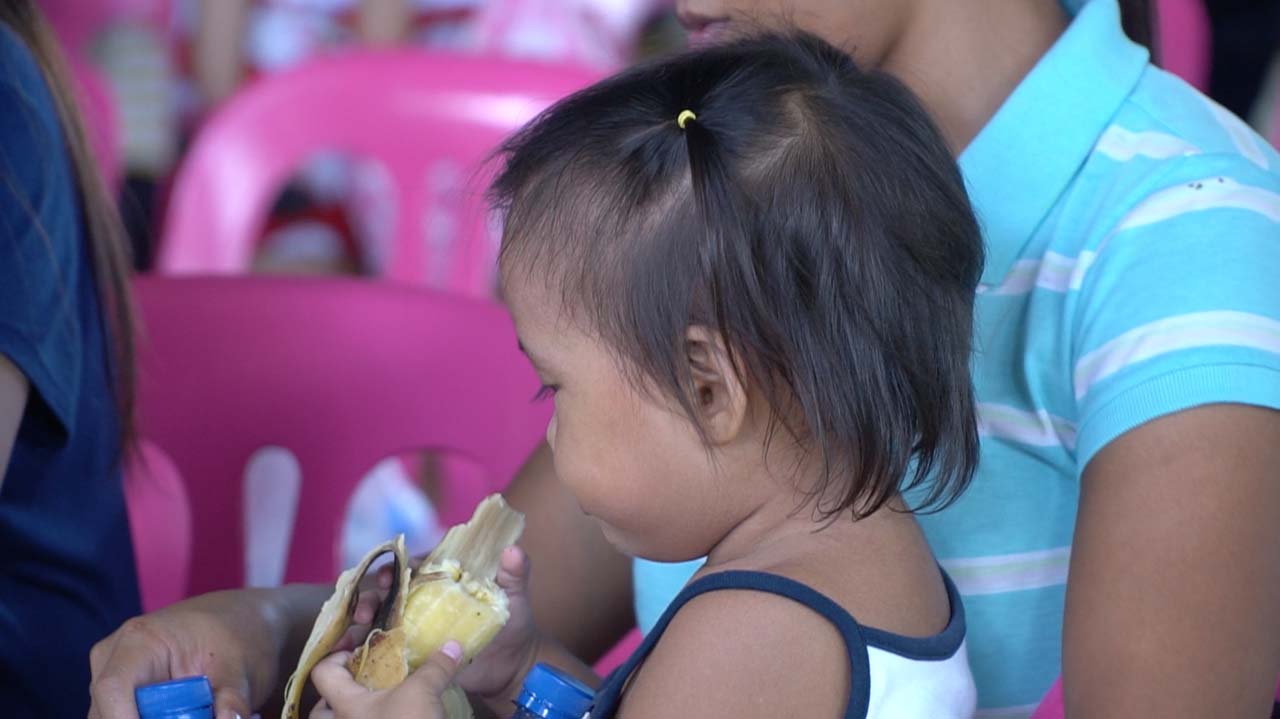 MANILA, Philippines (3rd UPDATE) – President Rodrigo Duterte signed into law the establishment of a national feeding program for undernourished children in public day care centers, kindergarten, and elementary school. 
Republic Act No. 11037 or the Masustansyang Pagkain Para sa Batang Pilipino Act, was signed last June 20. 
It orders national government agencies to implement a program with 3 components:
Supplemental Feeding Program for Day Care Children – Undernourished children ages 3 to 5 in day care centers are to be given at least one fortified meal (meal with improved nutritional quality based on government standards) for a period of at least 120 days in a year. This will be implemented by the Department of Social Welfare and Development and local government units (LGUs).
School-based Feeding Program – Undernourished children from kindergarten to Grade 6 are to be given at least one fortified meal for at least 120 days in a year. This will be implemented by the Department of Education.
Milk Feeding Program – Fresh milk and fresh milk-based food products should be included in the fortified meals and cycle menu. This should be done in coordination with the Department of Agriculture, Philippine Carabao Center, and the Cooperative Development Authority.
The law states that the program must prioritize LGUs, public day care centers, and elementary schools that have the highest prevalence of undernutrition and nutrient-deficiency among children aged 3 up to those in Grade 6. (READ: PH 'not performing well' in fight vs different forms of malnutrition)
Priority can also be given to those with the capability and facilities to implement the feeding program. LGUs which can come up with the counterpart resources will also be given priority. (READ: Malabon winning the battle against malnutrition)
The national government is also tasked with creating a 5-year implementation plan. The law creates a National Nutrition Information System that enables the government to identify the individuals, groups, and localities with the highest levels of hunger and undernutrition.
Senator Paolo Benigno Aquino IV, the principal sponsor and co-author of the measure in the Senate, said it would have a significant impact on the fight against undernutrition.
"Napakalaking tulong nito para mabigyan ng sapat na nutrisyon ang ating mga estudyante upang sila'y lumaking malusog at matalino," Aquino said in a statement on Tuesday.
(This will greatly help in our bid to provide proper nutrition to our students so that they will grow up healthy and smart.)
Aquino also said local farmers would have more income, as the supplies for the feeding program would be sourced from them. 
Senator Grace Poe, one of the main authors of the measure, said on Wednesday, July 4, that  she would ensure that the law has enough funding.
"This is an acknowledgment of the stark reality that adequate food and good nutrition are paramount to a child's ability to grow healthy and to succeed academically. When we feed them well, we don't only nourish the young's body, but the mind as well," she said.
Poe added that the law will also help families cope with rising food prices. – Rappler.com