Penalizing libel 'infringes against the constitutionally-protected fundamental rights of citizens'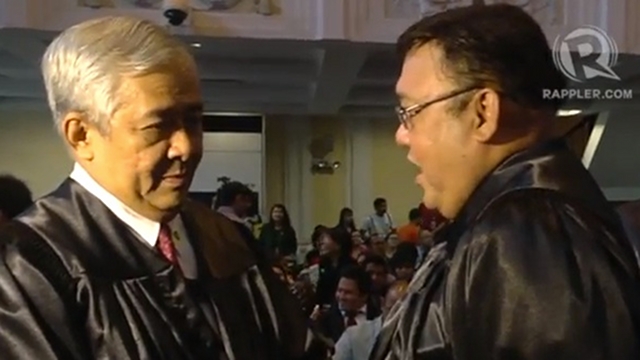 MANILA, Philippines – Saying it's time "to bury libel once and for all," one of the petitioners in the case against the Cybercrime Prevention Act of 2012 filed a second amended petition on Wednesday, January 30, asking the Supreme Court to strike down all provisions criminalizing libel.
Lawyer Harry Roque had previously asked the SC to nullify Article 355 of the Revised Penal Code which specifed the penalties for libel.
Article 355 states that, "A libel committed by means of writing, printing, lithography, engraving, radio, phonograph, painting, theatrical exhibition, cinematographic exhibition, or any similar means, shall be punished by prision correccional in its minimum and medium periods or a fine ranging from 200 to 6,000 pesos, or both, in addition to the civil action which may be brought by the offended party."
In the second amended complaint, Roque asked the SC to also declare as unconstitutonal Articles 353, 354, 361 and 362. Article 353 defines libel while Article 354 specifies the exceptions to the liability for making libelous comments.
These exceptions include private communication and a "fair and true report" made in good faith. 
Article 361 states that when the subject of the libelous material is proven true, those charged with libel may be acquitted, while Article 362 says that the exceptions in Article 354 will not apply if malice in making libelous remarks is found.
Roque said these provisions should be nullified "for infringing against constitutionally-protected fundamental rights of citizens." 
Roque filed the second amended petition on behalf of Davao-based broadcaster Alexander Adonis, who was jailed for libel in 2007 due to a case filed by then Davao 1st district Rep Prospero Nograles.
It was filed a day after the SC finished its oral arguments on the cybercrime law, which penalizes online libel.
Sec 4(c) 4 of the law defines libel as "the unlawful or prohibited acts of libel as defined in Article 355 of the Revised Penal Code, as amended, committed through a computer system or any other similar means which may be devised in the future."
At least 15 petitions against the cybercrime law have said this provision violates the right to freedom of expression.
The government has defended its legality, however, saying that libel is already a criminal act under the Revised Penal Code. Solicitor General Francis Jardeleza said in the oral arguments on January 29 that even if the cybercrime law is declared unconstitutional, online libel will still be punishable because of the  existing provisions in the Revised Penal Code.
Article 360 of the Revised Penal code states that "Any person who shall publish, exhibit, or cause the publication or exhibition of any defamation in writing or by similar means," can be sued for libel.
The government said "other means" include using the computer system. – Rappler.com