'I hate gambling,' says President Rodrigo Duterte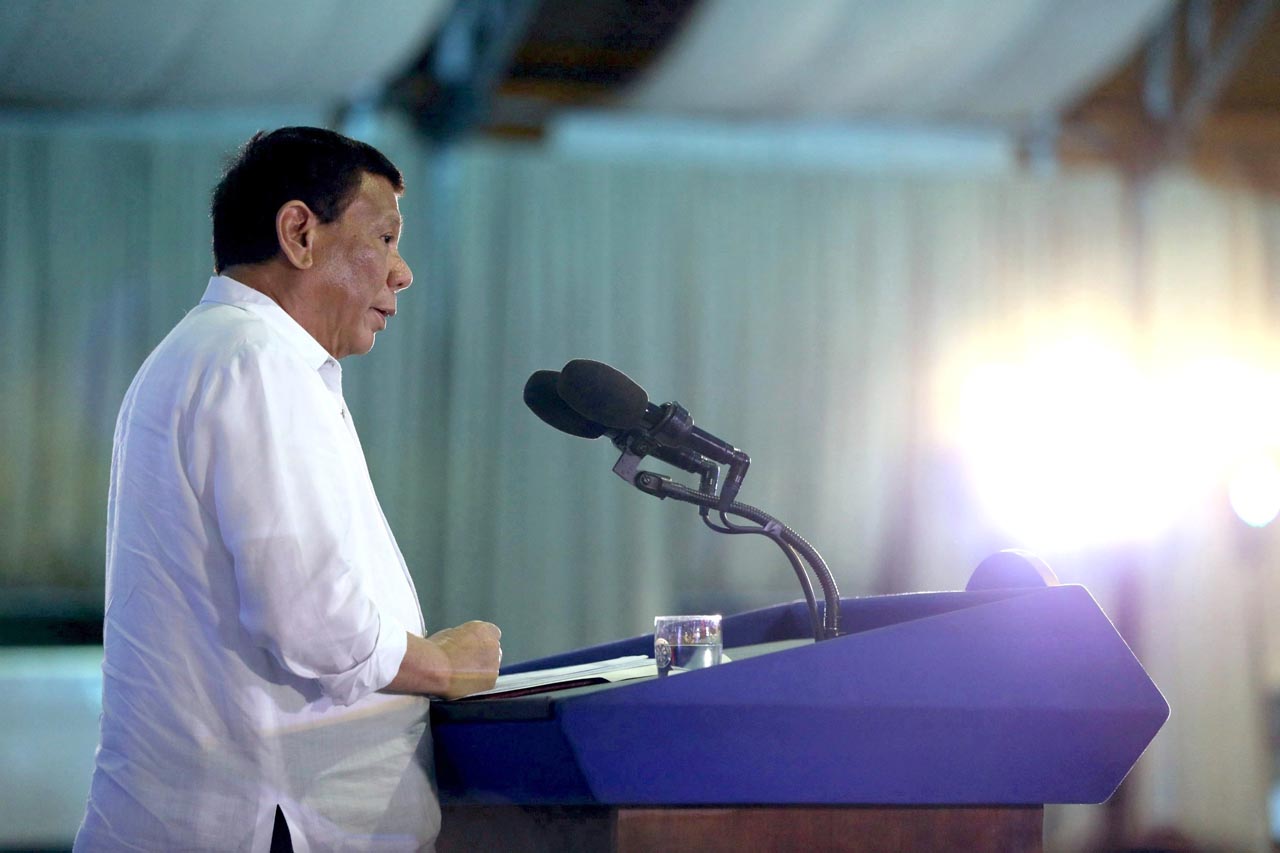 MANILA, Philippines – President Rodrigo Duterte said the government will stop issuing licenses for new casinos, after he fired Nayong Pilipino Foundation (NPF) officials for entering into a lease contract with a Chinese casino operator.
"There will be no casinos outside of what was existing," Duterte said on during the police service anniversary at the Philippine National Police headquarters on Wednesday, August 8.
"I'm not granting anything if it's gambling. I don't want. Better look for something enticing to wager war [on] money," he added.
The President made the remarks about gambling after he reminded the police and the public that he recently fired the entire NPF board and management for entering into a lease contract with Chinese casino operator Landing Resorts Philippines Development Corp (LRPDC).
'Flawed' deal
LRPDC secured a provisional license to operate a casino from the Philippine Amusement and Gaming Corporation (Pagcor) last July. It was set to build a resort-casino called NayonLanding in NPF land in Entertainment City, Parañaque City. NPF said it would promote Philippine tourism.
But Duterte, according to Malacañang, found the deal "flawed" as it allows LRPDC to pay for the lease at an inordinately low price and because there was no public bidding for the NPF theme park developer.
In his Wednesday speech, Duterte said he found the supposed lease deal too long.
"You don't give a gambling license franchises for 75 years. The child is born today, 75 years later, he is that old, there will still be gambling in this city," said the President.
"I will not allow it. I hate gambling. I do not want it," he added.
DOJ review 
Presidential Spokesman Harry Roque said on Wednesday that Duterte has ordered Justice Secretary Menardo Guevarra to review the NayonLanding lease deal.
In March 2017, Pagcor announced a 5-year moratorium  on new casinos in Metro Manila to give existing casino operators "breathing space" to mature their market. 
There are about 18 casinos in Metro Manila, 3 operated and owned by Pagcor. Okada Manila in Pasay City is the latest addition to the list.
Pagcor chairperson Andrea Domingo said her office plans to implement a policy limiting the number of casinos to one per city or per province. – Rappler.com