'How can those who were unjustly detained, tortured, and murdered move on when there is...not acceptance and recognition of wrongdoing on their part?' asks Senator Francis Pangilinan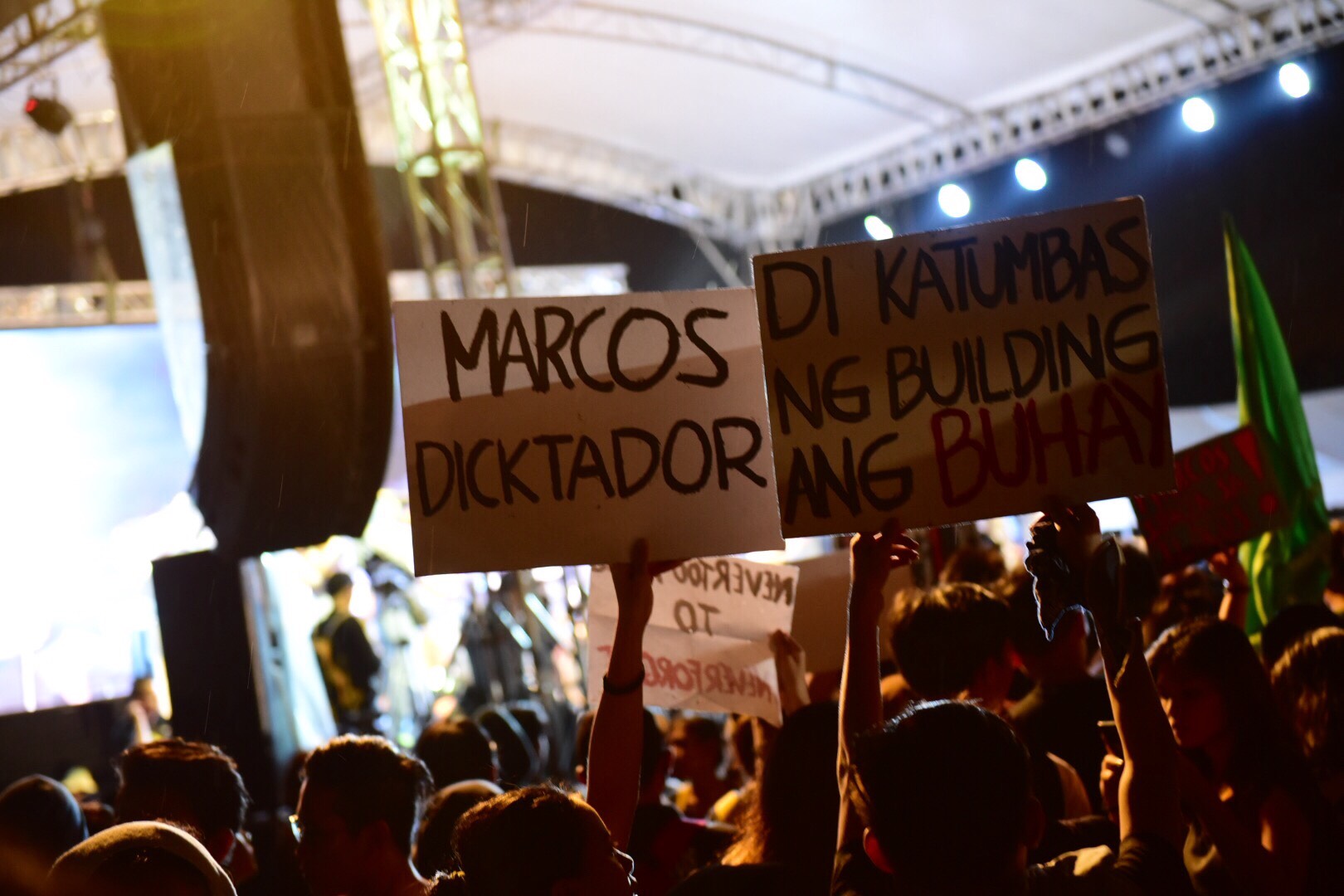 MANILA, Philippines – The opposition refused to accept Ilocos Norte Governor Imee Marcos' statement that the nation should "move on" from the abuses during Martial Law.
On Wednesday, August 22, several members of the opposition reacted to Imee's message to the critics of her late father, ex-president Ferdinand Marcos, on Ninoy Aquino Day.
The late senator Benigno "Ninoy" Aquino Jr, the elder Marcos' fiercest critic, was assassinated on August 21, 1983 at the Manila International Airport after his political exile in the United States.
"The millennials have moved on, and I think people at my age should also move on as well," said Imee in a press conference in Cebu.
But opposition members argued that Imee and the rest of her family remain remorseless about the abuses committed during Martial Law.
Marcos' 21-year rule was marred by killings, torture, disappearances, media oppression, and corruption. (READ: Martial Law, the dark chapter in Philippine history)
Read below the opposition members' response to the late strongman's daughter:
Senator Francis Pangilinan:
"How can those who were unjustly detained, tortured, and murdered move on when there is not remorse, not any act of atonement, not acceptance and recognition of wrongdoing on their part? How can the Filipino people move on when the Marcos family continue to deny the billions of dollars in unexplained wealth that ran our economy to the ground and earned the late dictator the title world's greatest thief?"
Senator Paolo Benigno Aquino IV:
"Mahirap maka-get over 'pag walang closure, lalo na 'pag pinamumukha sa publiko na walang kasalanan ang salarin. Klaro naman sa kasaysayan kung sino ang nagnakaw, nag-torture, at pumatay. Napakadaling sabihing mag-move on na lang, pero sa mga nasawi, napakahirap nito."
(It's hard to get over it without closure, especially if the public is made to believe the culprit is innocent. It's clear in history who stole from, tortured, and killed people. It's easy to say "move on," but for the dead, it's very difficult.)
Akbayan Youth chairperson JC Tejano:
"Hindi kami magmu-move on hangga't hindi kayo nananagot. Hindi makakalimot ang taumbayan. Kaming millennials ay biktima rin ng martial law. Hanggang ngayon, pasan namin ang utang ng pamilya ninyo, na siyang ginamit ninyo para sa inyong mga kampanya at luho. Lalabanan namin ang lahat ng pagtatangka ng mga Marcos na makabalik sa Malacañang!"
(We will not move on until you have been held accountable. The people will not forget. We, millenials, are also victims of martial law. Until now, we bear the debts of your family, which you used for your campaigns and luxury. We will fight against any attempt of the Marcoses to return to Malacañang!)
Samahan ng Progresibong Kabataan:
"We may not have been alive during that time, but policies passed during his time such as the Education Act of 1982 which hinders our right to education still affect us. The foreign debt incurred during his administration that our generation and the generations after us will have to pay also continue to affect how inaccessible basic social services are to ordinary Filipino people. There is no moving on until justice has been served. There is also no moving on in that we will never forget the damage martial law has done. She has no right no claim what our stand is on the issue. Not in our name, Imee Marcos."
– Rappler.com