(5th UPDATE) This is the second explosion to hit the province in less than a week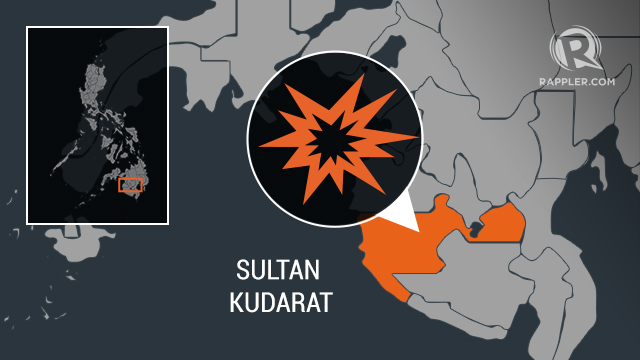 MANILA, Philippines (5th UPDATE) – Another deadly explosion rocked the municipality of Isulan in Sultan Kudarat on Sunday, September 2.
At least two people were killed in the blast, while 12 others were injured.
The first fatality was identified on Sunday as 18-year-old Jan Mark Lupa. On Monday, September 3, Philippine National Police (PNP) spokesman Senior Superintendent Benigno Durana said the second fatality was a 15-year-old girl.
Of the 12 that were injured, 4 were seriously wounded while 8 others suffered less severe injuries.
According to the initial police report relayed to Rappler by the Sultan Kudarat Provincial Police Office, the explosion occurred at around 7:30 pm near the Novo Building at the Isulan town proper in Barangay Kalawag 2.
In a statement on Sunday evening, the Philippine National Police (PNP) condemned the incident.
"We are saddened by the casualties brought about by this cowardly act perpetrated by people hell-bent on their nefarious goals without regard for the lives of civilians," PNP chief Director General Oscar Albayalde said in a text message to reporters.
Albayalde also ordered cops in the area to intensify security efforts, on top of their full alert status which was declared across the entire island region of Mindanao.
Just 5 days ago, on August 28, an improvised explosive device rocked Isulan as it celebrated its Hamungaya Festival. Three people were killed in that blast, including a 7-year-old boy.
After the August 28 explosion, Executive Secretary Salvador Medialdea said extending martial law in Mindanao is an option.
Albayalde is open to a martial law extension and House Speaker Gloria Macapagal Arroyo supports it as well, but Vice President Leni Robredo opposes it and Defense Secretary Delfin Lorenzana does not recommend it, for now.
President Rodrigo Duterte declared martial law in Mindanao on May 23, 2017, due to the Marawi siege. It has already been extended twice – first until December 31, 2017, and then until December 31, 2018. – Rappler.com