The agreements signed between Philippine and Israeli companies and business groups represent $82.9 million in possible investments. Six of the deals are security-related.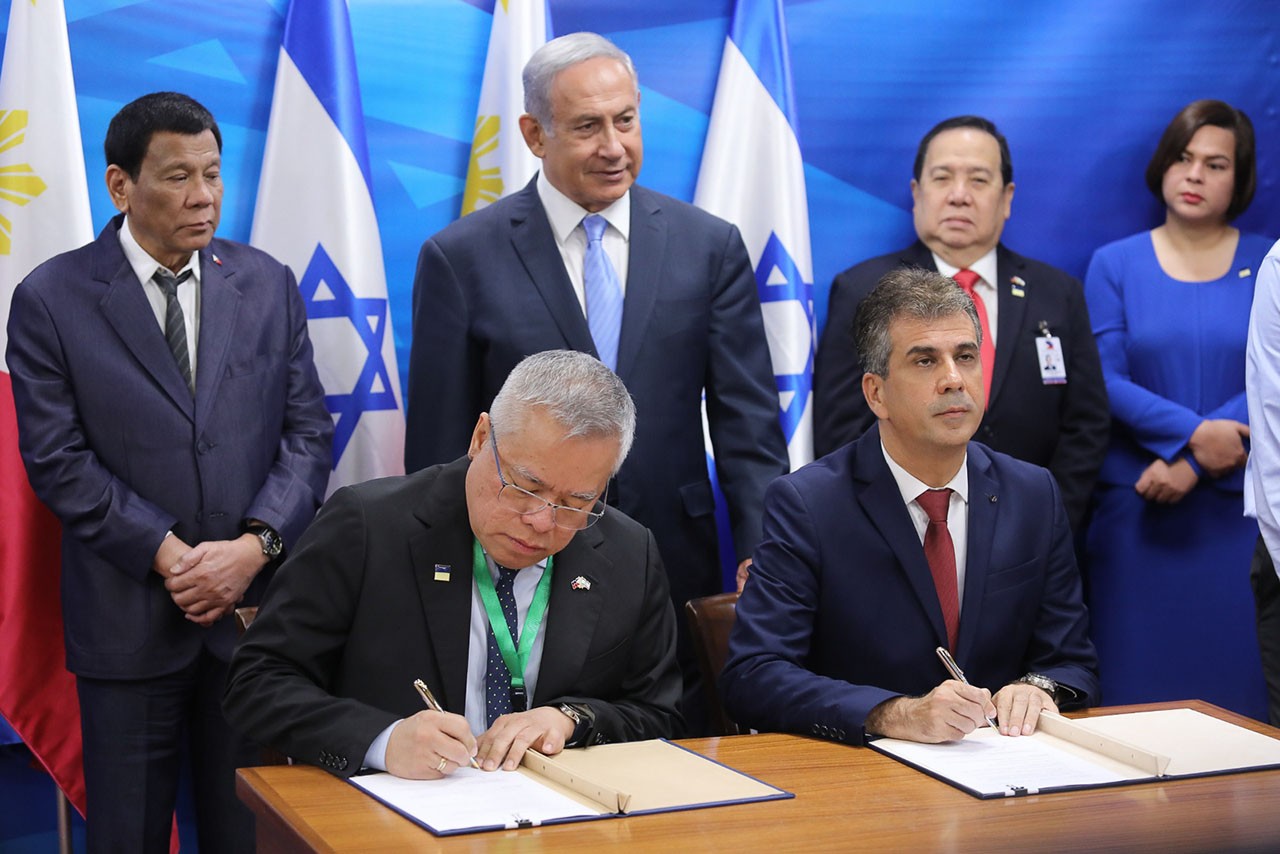 MANILA, Philippines – Israeli and Philippine business groups and companies, including one Philippine government corporation,  signed 21 deals during President Rodrigo Duterte's visit to Jerusalem, 6 of them related to weapons manufacturing, cybersecurity, or intelligence.
In total, the 21 signed documents represent possible investments worth $82.9 million or P4.43 billion*, said Malacañang. If the companies make good on their commitments, some 790 additional jobs would be generated for Filipinos.
The security-related agreements include the possible construction of a $10-million facility by Israeli small arms manufacturer EMTAN Karmiel Ltd in the Philippines and a $50-million manufacturing deal with Israeli weapons system provider Silver Shadow Advanced Security Systems.
The 6 agreements are as follows, as provided by a list from Malacañang:
MOA between Stone of David Corporation and Gaia Automotive Industries Ltd – Marketing and promotion of "tactical vehicles," technology transfer
MOA between Stone of David Corporation and MCTECH RF Technologies Ltd – Development of military and intelligence products and hardware 
MOU between Integrated Computer Systems, Inc and Verint Systems Ltd – Explore collaborations on security, intelligence data mining, and information technology
MOU between AMA Education Systems (AMAES) and HackerU – Develop cybersecurity-related certification courses in the Philippines
MOU between Armscor Global Defense, Inc and EMTAN Karmiel Ltd – EMTAN to transfer know-how and technology to Armscor so that Armscor can create a weapons manufacturing facility in the Philippines, under license from EMTAN. This project has an estimated cost of $10 million and is projected to generate 200 jobs.
LOI of Silver Shadow Advanced Security Systems and Rayo Illuminar Corporation – Explore opportunities in the manufacturing and refurbishment of small arms and ammunition, together with local partner Rayo Illuminar Corporation. This project is estimated to cost $50 million and is expected to create 160 jobs by 2019.
Real estate, food, shipping
The 21 documents, according to nature of the agreement, include 3 memoranda of agreement (MOA), 11 memoranda of understanding (MOU), and 7 letters of intent (LOI). 
One of the deals involve the Subic Bay Metropolitan Authority (SBMA), a government-owned and controlled corporation.
Below are the 15 other documents signed between Israeli and Philippines companies or business groups:
MOA between Century Properties, Inc and Globe Invest Ltd – joint venture agreement on energy, agriculture, and urban farming; prefabricated houses; wate desalination; real estate.
MOU between Century Pacific Food, Inc and Kvuzat Yavne – Distribution of Century canned tuna products within Israeli and Palestinian National Authority
MOU between the Philippine Center for Entrepreneurship (PCE) -7Go Negosyo and Israel-Philippines Chamber of Commerce/Israel Chamber of Commerce – Develop and undertake initiatives related to the Kapatid Mentor ME Program
MOU between the Philippine Chamber of Commerce and Industry (PCCI) and the Federation of Israeli Chambers of Commerce – Exchange information on commerce, industry market updates, and identification of business and trade opportunities
MOU between the PCCI-National Capital Region and Jerusalem Chamber of Commerce (JCC) – Promote, strengthen, and expand trade, economic, scientific, and technological cooperation and exchange information on commerce, manufacturing, pharmaceutical industry, health and wellness, real estate, information communication technology, and renewable energy
MOU between Subic Bay Metropolitan Authority (SBMA) and Eilat Port Company Ltd – Promote an "all-water route" between Port of Subic Bay and Eilat Port in Israel for trade and investment
MOU between Le Soleil Shipping Agencies, Inc and ZIM Integrated Shipping Services Ltd – Provide additional ships or vessels to service the country's local and international shipping requirements.
MOU between KEREM IT Solutions and Carbyne Ltd – The selling of each other's products in their respective countries.
MOU between KEREM IT Solutions and SuperCom –  The selling of each other's products in their respective countries.
LOI of Amdocs Philippines, Ltd – Expand software development and support services in the Philippines as the company's hub in Asia-Pacific
LOI of TrueLogic Online Solutions, Inc – Expand software operations, systems development, and support services. This venture has an estimated cost of $500,000 and is projected to generate 100 jobs by 2019.
LOI of MIMA TECH and I GilanGroup – Expand operations in the field of agriculture and wastewater and sewerage treatment projects. This project is estimated to cost $20 million and expected to generate 300 jobs by 2019.
LOI of FlyEast Philippines – Expand Philippine operations on tourism development. This project is estimated to cost  $400,000 and is expected to create 30 jobs by 2019.
LOI of FoodLab Capital – Build a FoodTech Acceleration Center within the Cagayan Special Economic Zone and Freeport (CSEZFP) to service the food industry locators of the Cagayan Economic Zone Authority (CEZA). This project is projected to cost $1 million.
LOI of Assuta Medical Center and I-DEA Ventures Group Inc – Build a "state-of-the-art" medical center CSEZFP for the medical needs of the locators of the CEZA. Also expected to cost $1 million. 
Duterte had a chance to meet with representatives of some of the Philippine and Israeli businesses and groups hoping to partner for future ventures. The forum, where Duterte gave a speech, was held on Tuesday, September 4, at a hotel in Jerusalem.
Not all Israeli businessmen were happy about Duterte's visit, however. Mino Negrin, CEO of water filteration company NUFilteration Ltd, decided to boycott the forum to protest Duterte's presence.
After the gathering, Duterte and top security officials witnessed a disaster response demonstration at the headquarters of Magen David Adom, Israel's version of Red Cross.
The Philippine officials were also shown an array of Israeli disaster and emergency response equipment. – Rappler.com
*$1 = P 53.6