Senator Antonio Trillanes IV warns President Rodrigo Duterte not to drag his ailing mother into their fight: 'Kung may problema siya sa akin, stick with me dahil kaya ko ito eh'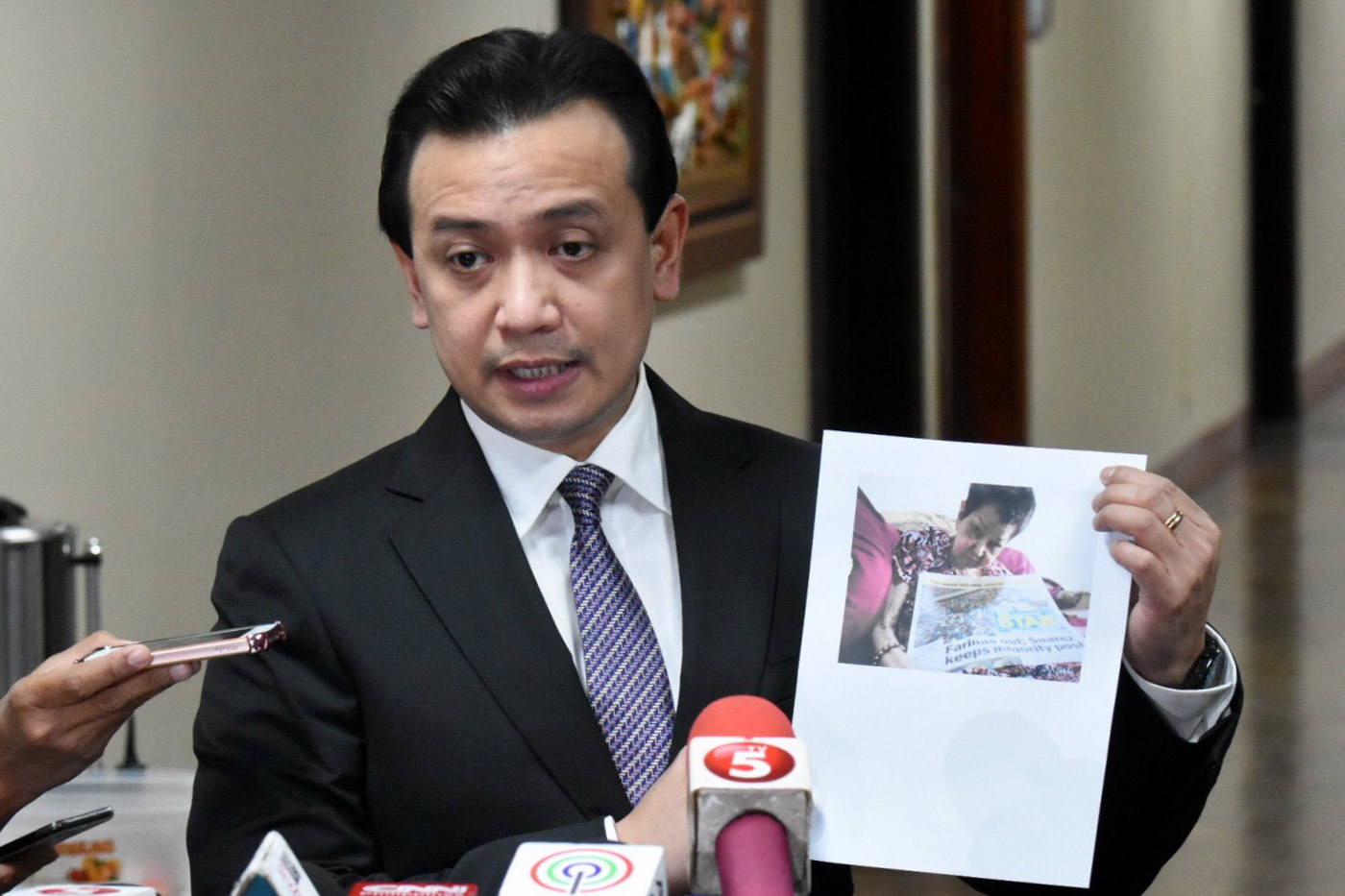 MANILA, Philippines – Opposition senator Antonio Trillanes IV on Tuesday, September 11, denied President Rodrigo Duterte's accusations as he warned the Chief Executive not to involve his ailing mother.
Duterte, in a live interview with Chief Presidential Counsel Salvador Panelo, alleged at least 3 things implying Trillanes is corrupt:
that he sold Scarborough Shoal to China
that his mother was a supplier for the Navy
that he has many "secret" houses.
Of all three, Trillanes was evidently irked the most by the corruption allegations against his 84-year-old mother Estelita, whom he said is suffering from Advanced Parkinson's Disease.
"Alam ng kababayan natin how low that low was… Kung may problema siya sa akin, stick with me dahil kaya ko ito eh. Pero ida-drag mo yung nanay ko dyan, personal yan. Huwag ka pumunta dyan, 'di gawain 'yan ng tunay na lalaki," Trillanes said in a press conference held right after Duterte's interview.
(The public knows how low that low was… If he has a problem with me, stick with me because I can fight for myself. But to drag my mother, that's personal. Don't go there, that is not the act of a real man.)
Allegations: Asked if his mother was ever a Navy supplier, Trillanes said he would not know as he was still in high school when his father was still in the Philippine Navy. Trillanes said his father retired from the service in 1988 and died in 1998.
"Walang kaso, yun lang kailangan nating malaman. Walang impropriety. Kung mayroon silang kaso, meron yan [lalabas]. Pinalaki kaming maayos ng magulang ko. Kung kurakot sino man sa kanila, malamang kurakot din ako. The fact na hindi, the fact na tumitindig ako sa kurakot na kagaya ni Duterte ay ibig sabihin pinalaki kami nang maayos," Trillanes claimed.
(There was no case, that's what we need to know. There was no impropriety. If they have cases, these would surface. We were raised properly by our parents. If any of them were corrupt, chances are I am also corrupt. But the fact is I'm not. The fact that I'm standing up against a corrupt official like Duterte means we were brought up properly.)
As for his supposed "secret" houses, Trillanes just belittled it, saying it was among the cases filed and then dismissed after the 2003 Oakwood Mutiny.
He also denied Duterte's accusation that it was because of him that the country lost Scarborough Shoal to China. Trillanes, during the Aquino administration, served as a backchannel negotiator between the 2 countries.
Duterte's desperation? For the senator, Duterte is just "desperate." The fact, he said, that the administration had to resort to revoking his amnesty goes to show that they have nothing against him.
"Lahat yan nadismiss. Nasa kapangyarihan si Duterte, ang dami niyang intelligence funds, bakit walang kaso in that regard? Yung AMLC (Anti-Money Laundering Council) nasa kanila. Sa akin maliwang dito, ang dami kong nakalaban na dambuhala sa pulitika, wala sila nakalkal sa akin, kaya nga ito na lang eh. Kailangan na lang gumawa ng paraan," Trillanes said.
(All those cases were dismissed. Duterte is in power. He has many intelligence funds. Why was there no case in that regard? The AMLC is under him. It is clear to me, I have fought against big politicians, but they weren't able to dig something. That's why they had to resort to this maneuvering.)
Duterte earlier issued Proclamation 572, revoking the amnesty granted to Trillanes by former president Benigno Aquino III in 2011. Duterte also ordered the Armed Forces of the Philippines and the Philippine National Police to arrest Trillanes.
Duterte initially ordered the AFP and the Philippine National Police to arrest Trillanes despite the senator's civilian status since 2007, 4 years before he was granted amnesty. 
Duterte and the military, however, later changed their tune and said they would now wait for the decision of the civilian courts. The DOJ also sought arrest warrants for Trillanes from two Makati courts, but failed to get an immediate decision. (READ: TIMELINE: Gov't gaps, retractions in voiding Trillanes amnesty)
Trillanes failed to secure a temporary restraining order from the Supreme Court but said he is "grateful" that the SC recognized his rights and took note of the statement of Duterte and AFP ruling out a warrantless arrest.
Trillanes remains holed up in his Senate office and has been there for a week now upon the advice of lawyers and friends. His camp is still assessing whether or not he would not be arrested given the SC ruling. (LOOK: Inside Trillanes' 'home' in the Senate) – Rappler.com
Follow the developments here: 
Summaries: