This is AI generated summarization, which may have errors. For context, always refer to the full article.
At the United Nations, Foreign Secretary Alan Peter Cayetano says that if given a choice, the Philippines will protect law-abiding citizens instead of criminals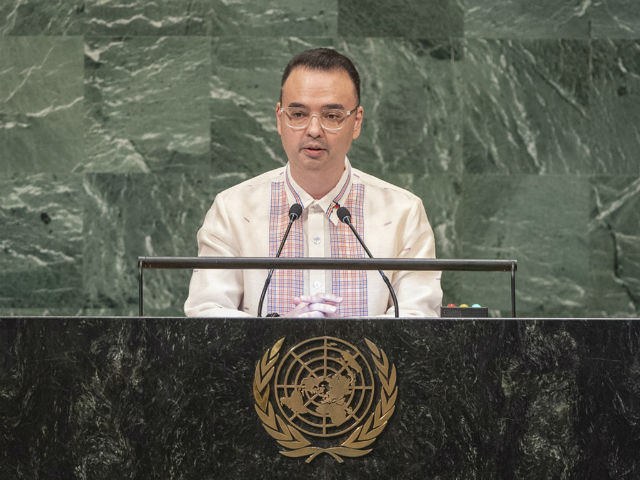 MANILA, Philippines – Justifying President Rodrigo Duterte's bloody drug war, Foreign Secretary Alan Peter Cayetano told the United Nations General Assembly that the Philippine government is "salvaging" its "deteriorating country" from becoming a narco-state.
"As a sovereign and democratic country led by our duly-elected President, we are on track in salvaging our deteriorating country from becoming a narco-state, or a state held hostage by the rich and powerful who ignore the plight of the poor, powerless, and marginalized, or both," said Cayetano at the 73rd session of the UN General Assembly in New York on Saturday, September 29.
He said the Philippines is "uncompromising" on issues of rule of law, as well as just and equitable peace "that leads to order, development, and prosperity, and the protection of each and every human beings' rights."
In the same speech, Cayetano said the Philippine government will choose to protect the lives of law-abiding citizens and law enforcers over the lives of drug lords and criminals.
As Duterte curses at foreigners who supposedly meddle in his drug war, Cayetano said, "We may sometimes differ in how we express ourselves, yet this should not be interpreted as turning our backs on the universal declaration on human rights. On the contrary, we are instituting all of these reforms to be able to protect the rights of every single Filipino."
"Yes, rights of all Filipinos, if that is at all possible," he continued. "But in cases where we have to choose between protecting the rights of law-abiding citizens and law enforcers versus the rights of drug lords and criminals, it is clear we will protect the former. Who wouldn't? Wouldn't you do the same?:
Cayetano's justification of the drug war comes after Duterte himself on Thursday, September 27, admitted to extrajudicial killings (EJKs) in the Philippines. Since the launch of the anti-drug campaign in 2016, more than 27,800 Filipinos have died in both vigilante-style killings and police operations. 
Presidential Spokesperson Harry Roque said Duterte was "not serious" about his EJK remarks, but the Commission on Human Rights said it was not funny. Caloocan Bishop Pablo Virgilio David meanwhile welcomed Duterte's public confession and said the President should repent.
Human rights groups and opposition lawmakers also said the President's admission can be used as evidence to support the complaints filed against him before the International Criminal Court (ICC) over the drug war killings. 
Duterte already ordered the withdrawal of the Philippines from the ICC, but this move has been has been questioned before the Supreme Court. – Rappler.com