The Philippine Navy's BRP Tarlac makes a historic port call to Vladivostok as President Rodrigo Duterte leads a pivot to Russia and China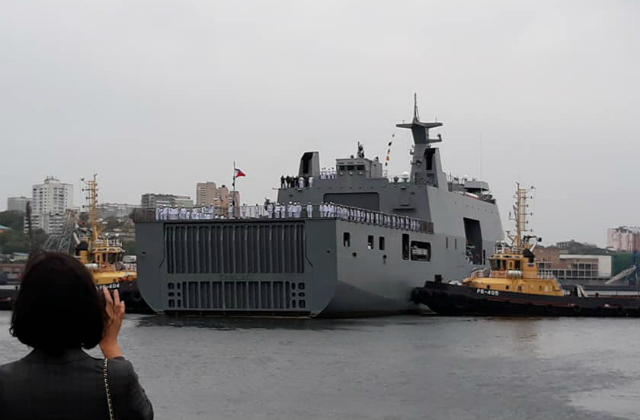 MANILA, Philippines – Philippine Navy vessel BRP Tarlac made a historic port call to Vladivostok, Russia, on Monday, October 1, as the Philippines moves closer to Russia and China under President Rodrigo Duterte. 
BRP Tarlac's port visit to Russia is scheduled from Monday to Saturday, October 6, said the Philippine News Agency (PNA).
The PNA, quoting Philippine Navy spokesperson Commander Jonathan Zata, said the Philippine Navy "will conduct a series of confidence-building activities" with their Russian counterparts.
"We are very much excited about this historic event since this is the first time that a Philippine Navy commissioned vessel is able to visit Vladivostok," Zata said.
He added that this was possible due to Duterte's efforts to modernize the Philippine Navy, as well as the support of other stakeholders.
Duterte has vowed to pivot to Russia and China because he detests the United States' supposed meddling in his bloody anti-drug campaign.
Recently, however, an American official warned the Philippines against buying military equipment from Russia – a comment that angered Duterte again.  
Duterte's renewed anger at the US did not stop Philippine defense officials, on the ground, from engaging with their American counterparts. On September 18, Philippine Defense Secretary Delfin Lorenzana, a former defense attaché to the US, met with US Defense Secretary James Mattis to discuss the fight against the terrorist Islamic State and other issues. – Rappler.com