(3rd UPDATE) The Philippines' representative to the United Nations has agreed to replace Alan Peter Cayetano as the country's top diplomat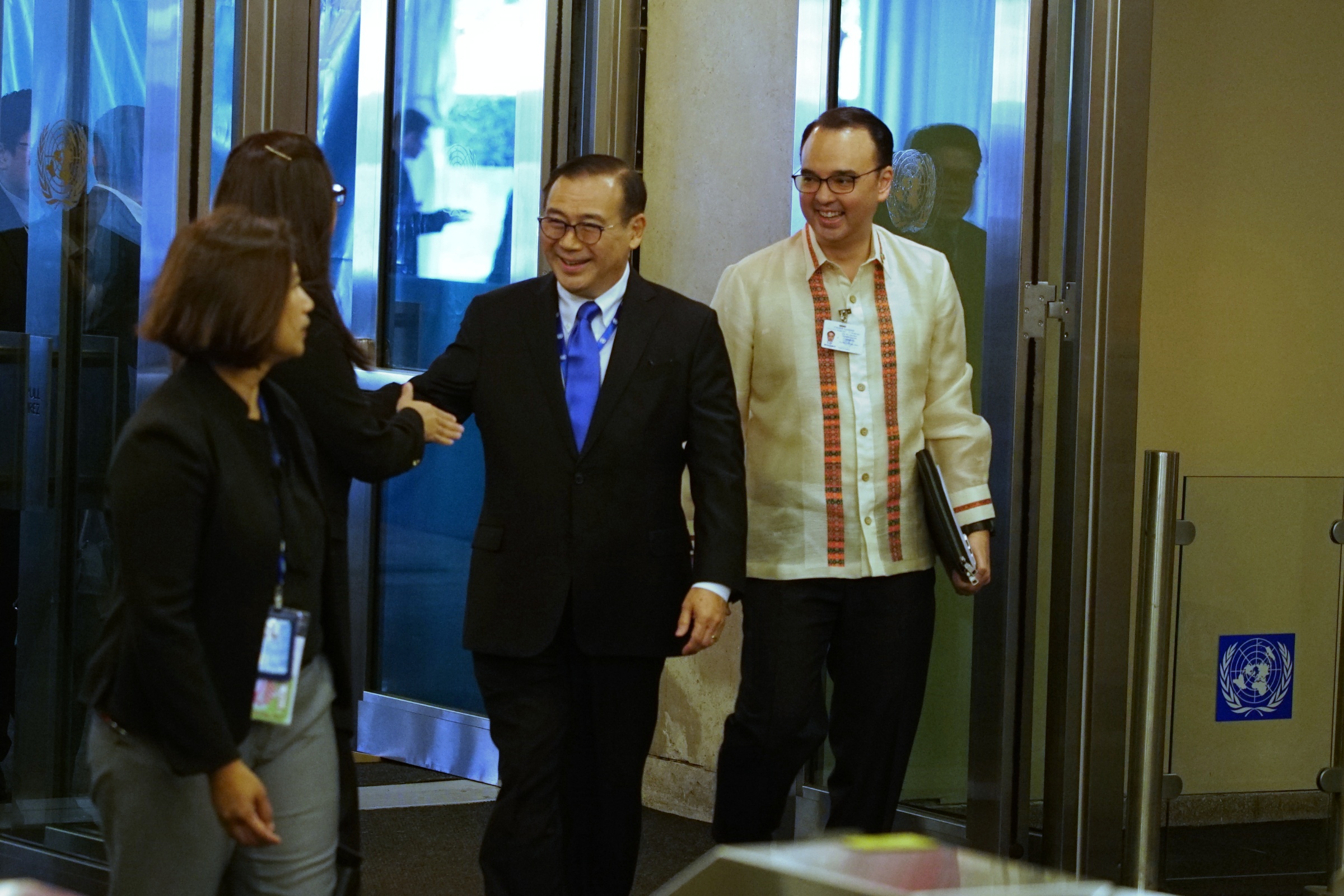 MANILA, Philippines (3rd UPDATE) – President Rodrigo Duterte said Friday morning, October 12, he offered Philippine Permanent Representive to the United Nations Teodoro "Teddyboy" Locsin Jr to be the country's new top diplomat.
During the press briefing upon his arrival from the Asean Leaders' gathering in Bali, Indonesia, Duterte asked his aide Bong Go to call Locsin and get his confirmation.
"I do not even know if he has agreed [to be DFA Secretary]," said Duterte.
On Friday morning, Locsin tweeted that he had accepted the President's offer.
"I was asked I said yes," he said.
Locsin will take the place of Foreign Secretary Alan Peter Cayetano, who is resigning to run for Taguig representative in 2019. 
Locsin, a lawyer and former newspaper publisher and columnist, served as Makati 1st District Representative from 2001 to 2010. Among the laws he co-authored were the Anti-Money Laundering Law, the Anti-Terror Law, the Dual Citizenship Act, the Overseas Voting Act, and the Automated Election Law.
Locsin has been a staunch defender of President Rodrigo Duterte's policies, especially on Twitter, even before he joined his administration.
Some members of the Filipino-American community have raised concerns over his tweets, including some perceived to be defending Nazi tactics like the "Final Solution" to end problems in the Philippines.
Weeks after Locsin's appointment as the country's representative to the UN in 2016, he got into a word war with netizens over his tweets in defense of Duterte's comments drawing parallels between Hitler's annihilation of 3 million Jews and his campaign against drugs.  
Locsin had served the Philippine government in different capacities, starting with the administration of President Corazon Aquino, where he was the chief presidential counsel, spokesperson, and speechwriter. Locsin was also a speechwriter to then presidents Joseph Estrada and Gloria Macapagal Arroyo.
Locsin was the publisher of the defunct Philippines Free Press, and national broadsheets Daily Globe and Today. He was also host and co-anchor of TV shows Teditorial, The Assignment, and Points of View, and co-anchor of radio shows Executive Session and Karambola. 
Locsin obtained his law degree at the Ateneo de Manila University and his Master of Laws at Harvard Law School.  He was twice nominated to the Supreme Court – first in 2009, and for the post of chief justice in 2012.
He is married to Ma Lourdes Barcelon Locsin and has 4 children.
Senators welcome appointment
Senators welcomed the appointment of Locsin, among them, Senator Loren Legarda, chair of the Senate committee on foreign relations, who said he is "fit for the job, honed by his long years of experience in public service, both as a journalist and a public official."
"His stint as Philippine Permanent Representative to the United Nations seemed to have foreshadowed his appointment as the country's top diplomat. I am certain he will not waver in protecting our people and our nation's interests," she said.
Senate President Pro Tempore Ralph Recto said Locsin's appointment is "one of the rare times that 'the best and the brightest' rule in presidential appointments has been followed," Recto said.
"If diplomacy is the ability to tell someone to go to hell in such a way that he looks forward to the trip, Teddy Boy has this skill in abundance. Rarely can you find a man who can quote the classics but can curse like a stevedore.  He will use his formidable knowledge in world affairs and in law in advancing our country's interests and in protecting our countrymen abroad," he added. – Rappler.com