The Philippines and China sign agreements on humanitarian aid, law enforcement, and infrastructure during Chinese Foreign Minister Wang Yi's visit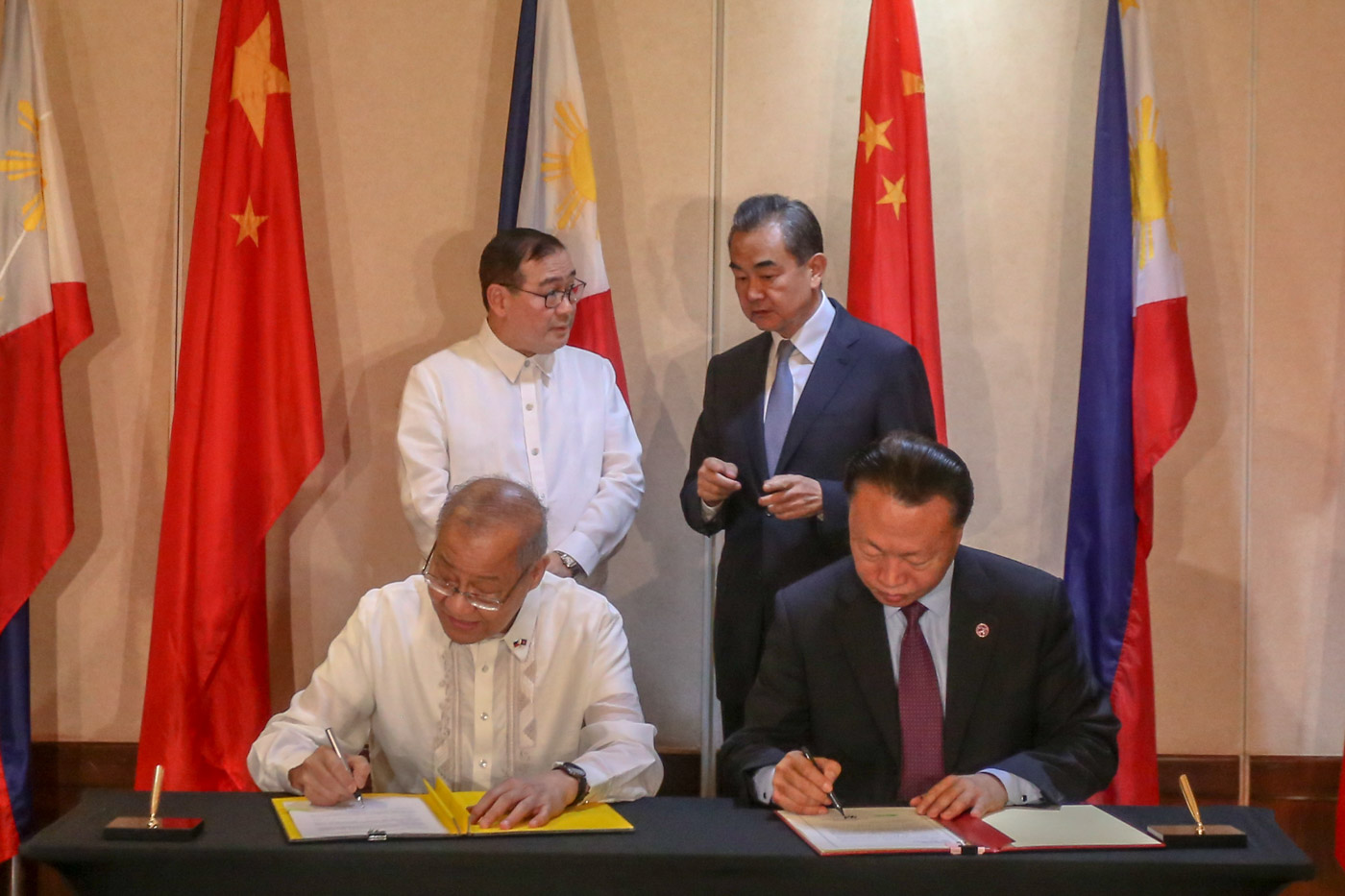 DAVAO CITY, Philippines – China formally turned over millions of dollars in grants to the Philippines during Chinese Foreign Minister Wang Yi's two-day trip to Davao City this week.
The Philippines and China also had an exchange of letters for an infrastructure project.
These agreements were signed by the Philippines and China on Monday, October 29. Wang and his Filipino counterpart, Foreign Secretary Teodoro "Teddyboy" Locsin Jr, witnessed the signing of these agreements.
Philippine Ambassador to China Jose Santiago "Chito" Santa Romana signed two of these agreements, while Philippine disaster chief Ricardo Jalad signed one, on behalf of the Philippines. 
Chinese Ambassador to the Philippines Zhao Jianhua signed all 3 agreements on behalf of China.
Here is the list of agreements signed by the Philippines and China during Wang's trip to Davao:
Formal turnover of a $1-million grant from China to the Philippines, "to support disaster relief, rehabilitation, and recovery programs and projects especially in areas affected by Typhoon Vinta (Tembin) in 2017"
Formal turnover of 50 million Chinese yuan in "law enforcement-related materials and equipment" for the Philippine National Police, the Philippine Drug Enforcement Agency, and the Presidential Security Group under a framework between the Philippines and China signed on October 20, 2016
Exchange of letters on the feasibility study of the Davao River Bridge Project (Bucana)
Wang was in the Philippines from Sunday to Monday, October 28 to 29, for a series of meetings with Filipino Cabinet officials and President Rodrigo Duterte himself. 
In a joint press conference with Locsin, Wang also pushed for joint development of the West Philippine Sea. 
He likewise assured the Philippines that China will strictly follow a proposed code of conduct in the disputed South China Sea, whether or not the document is legally binding. – Rappler.com