Ex-Customs intelligence officer Jimmy Guban, now under state protection, says he will answer 'in detail' any questions lawmakers may still have about the illegal drug shipments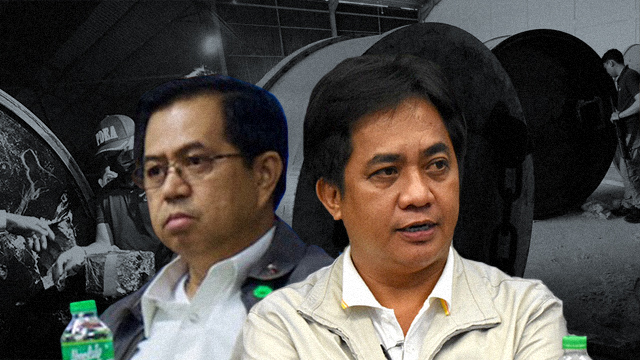 MANILA, Philippines – In a testimony that, he said, revised all his earlier statements, former Customs intelligence officer Jimmy Guban pointed to dismissed cop Eduardo Acierto as responsible for the missing P11-billion and the intercepted P2.4-billion shabu shipments this year.
Reading an affidavit he signed on Tuesday, October 30, Guban said Acierto – Police Senior Superintendent at the time – tapped him to help in both shipments. 
"Between May to June 2018, Colonel Eduardo 'Jojo' Acierto contacted me regarding several importation transactions involving the following: importation of kitchen tissues, importation of pants and clothes, importation of magnetic lifters," Guban said.
READ: Jimmy Guban's affidavit saying that he helped dismissed cop Eduardo Acierto ship in magnetic lifters without knowledge, at least initially, that they contained illegal drugs. @rapplerdotcom pic.twitter.com/FZU75rSxPO

— Rambo Talabong (@rambotalabong) October 30, 2018
He was referring to the shipment of magnetic lifters which arrived at the Manila International Container Port (MICP) on July 11, then released and brought to a warehouse in General Mariano Alvarez, Cavite, on July 14.
They were found later on August 9, days after the Bureau of Customs and the Philippine Drug Enforcement Agency (PDEA) busted an abandoned magnetic lifters shipment which contained 355 kilograms (kg) of shabu worth P2.4 billion on August 7. (TIMELINE: The search for P11-B shabu 'smuggled' into PH)
The P11-billion shipment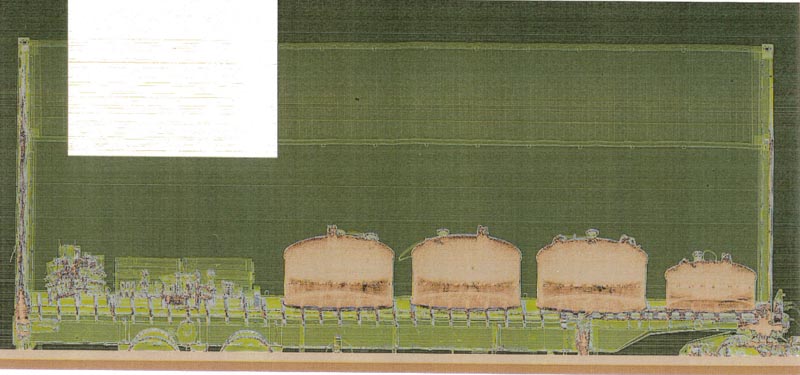 Guban said he "extended him (Acierto) the assistance he needed."
Consistent with his earlier testimonies, he found SMYD Trading as the consignee for the items Acierto wanted to be shipped.
His new testimony was silent on whether he paid SMYD to receive the shipment.
Guban also did not mention in his new testimony whether he knew beforehand that the lifters contained illegal drugs, but he had earlier told the  Senate and House investigating panels investigating that Acierto did not inform him in advance.
Once the items were brought to the warehouse in Cavite, Guban said Acierto coursed cash through him to pay off the "brokers/facilitators" of the shipments. (READ: Patterns emerge in 2017, 2018 shabu probes)
He did not specify how much the money he passed on and for what purpose.
The smaller big shipment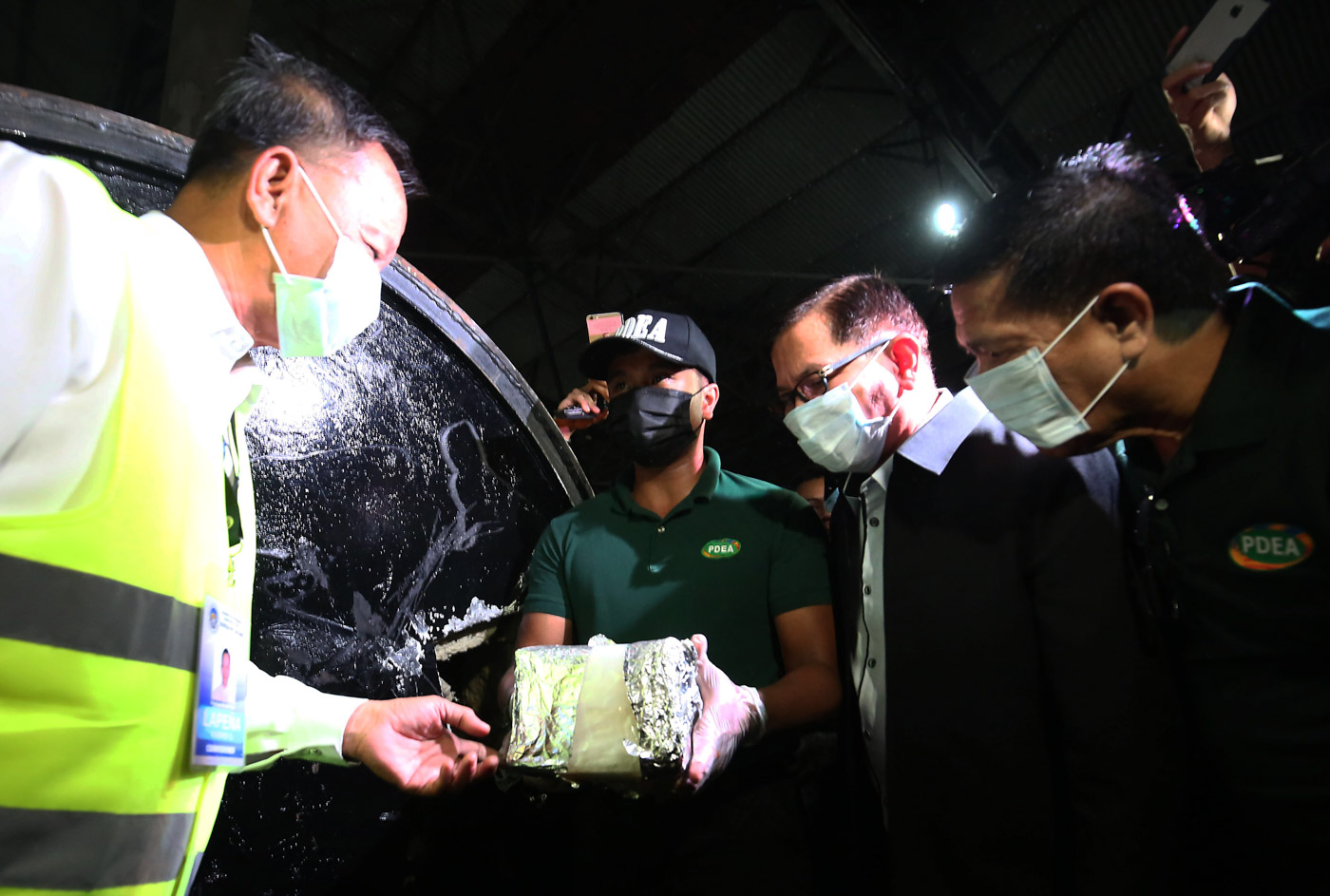 While Acierto asked him to help out in the importation of the lifters, Guban recalled that he was also asked to check whether "Vecaba Trading" was an accredited Customs importer or consignee. It wasn't.
When Guban told Acierto of the importer's accreditation, Guban said Acierto asked for his help in clearing goods that were consigned to this company and currently inside the MICP.
"In response to this request, I told Colonel Acierto that it was possible to work on the release of these goods provided that it shall be properly declared just like the [SMYD shipment]," Guban recalled.
At the time, Acierto apparently did not tell Guban that the shipment contained magnetic lifters like the 4 he had asked to be shipped into the country.
Guban claimed he was surprised when Acierto suddenly "confided" to him that "the goods covered…are actually illegal drugs, particularly, shabu."
Guban apparently warned Acierto that the BOC would seize the shipment, despite their close relations.
"I immediately responded that it was not possible to do and I declared to Colonel Acierto that we from the Bureau of Customs would cause the apprehension of these drugs," Guban claimed.
Just role playing?
Guban claimed that his "sincere will and intention" convinced Acierto that the BOC would apprehend his abandoned shipment.
Without saying why, Guban recalled that he had advised Acierto to meet with then PDEA Metro Manila top agent Ismael Fajardo on the matter. Fajardo would later become PDEA deputy chief, then later sacked for allegedly keeping knowledge about the shipments from his boss PDEA chief Aaron Aquino.
Guban said that with his own team, they "conducted the operation for the apprehension of these illegal drugs."
"In the meantime, Colonel Acierto was providing staggered or piecemeal information as a tip or tips until we were able to locate the illegal drugs inside the [MICP]," Guban recalled.
Guban said he was surprised to see that when they finally tracked down the shipment, he saw the same lifters that he had helped Acierto ship into the country.
"The last detail that Colonel Acierto gave us about this operation was how the drugs will be taken out from these two magnetic lifters," Guban said.
Gaps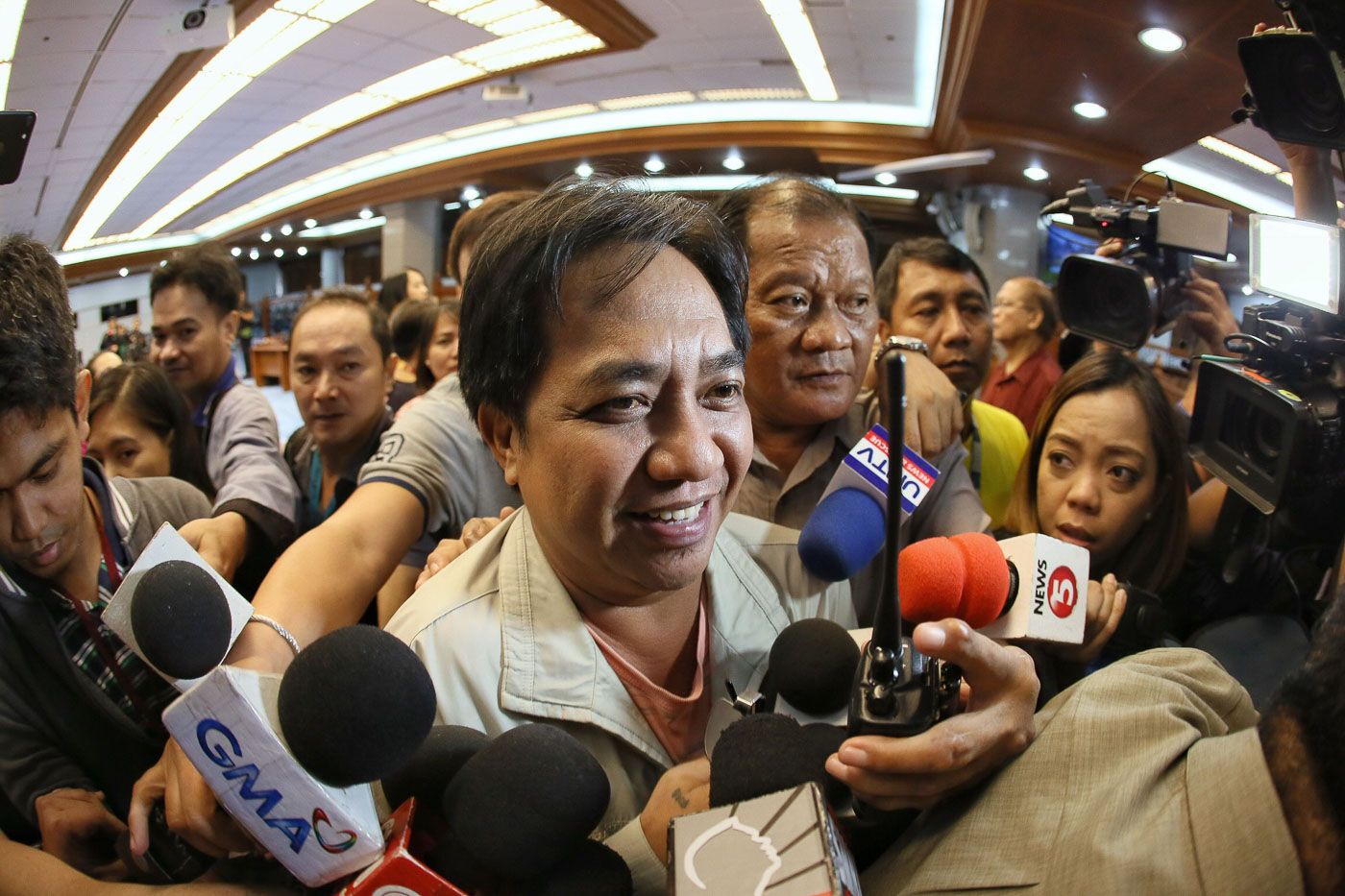 Despite the revealing statement, Guban did not tell all.
He was particularly silent about his questionable actions in locking in the deal with SMYD Trading for the shipment.
He did not mention looking for alleged fall guy Joel Maritana, whom he supposedly paid P2,000 just to sign an affidavit saying that it was Maritana and not Guban who was behind the facilitation of the shipment.
Guban was also accused of threatening SMYD Trading owner Marina Signapan for not following a supposed narrative that cleared him.
As for the other suspects, Guban did not mention anything about Chinese-looking personalities who allegedly picked up the shabu in the magnetic lifters in the Cavite warehouse on July 15.
Guban also did not mention his alleged involvement in faking an identification card for "Vedasto Cabral Baraqulel" to use the unaccredited Vecaba Trading for the smaller shipment. This didn't fit into his current narrative of only learning about the shipment once it arrived at the MICP.
The former intel officer was then mum on his admission that he received at least P10,000 from Acierto before he helped facilitate the shipment.
To address these contradictions, Guban said he would continue responding to questions from the Senate and House investigating panels.
"I open myself for more questions and inquiry regarding the subject of this investigation and that of the House of Representatives and will answer them as much as I can in detail, or reiterate and or clarify if necessary, the details," Guban promised.
For now, it appeared that the coast is clear for Guban as the Department of Justice approved his admission into its witness protection program,  for as long as he would share all he knew about the controversial drug shipments. – Rappler.com
Read related stories here: