The New York-based organization made the call after the Central Visayas police chief said hitmen in EJKs might be retired or active cops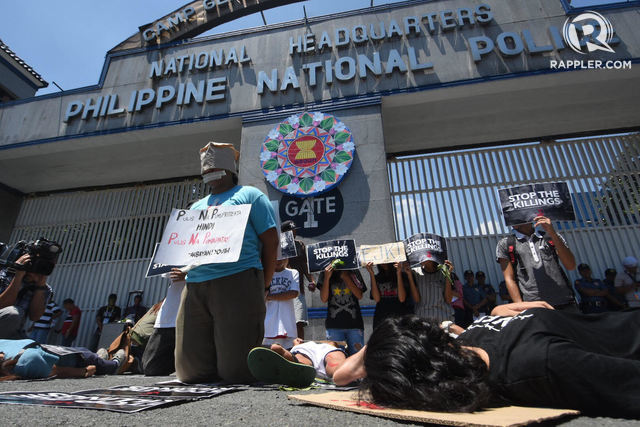 MANILA, Philippines – Human Rights Watch (HRW) on Tuesday, November 6, urged the government to create an indepent commission to investigate the reported involvement of Philippine National Police (PNP) officers in extrajudicial killings under President Rodrigo Duterte's war on drugs.
The New York-based organization's call for an independent probe comes after Central Visayas police chief Debold Sinas said in an interview with Cebu Daily News on October 31 that hitmen might be retired or active cops. (READ: Crime City? Killings in Cebu rise as mayor, cops feud)
According to HRW Asia director Brad Adams, Sinas' "admission" again further shows the government's "complicity in drug war killings." (READ: In the PH drug war, it's likely EJK when…)
"Given the total failure of the police to stop these abuses, it's clear that any serious investigation of the police role in the war on drugs needs full independence," he said. "It's time for an independent commission to be created to officially identify those responsible and begin the process of accountability for mass murder."
The investigation, the group added, should be "completely independent" from the PNP and the Office of the President, with members coming from the Commission on Human Rights (CHR) and non-governmental organizations "with recognized expertise." 
Duterte's anti-illegal drug campaign has been widely criticized for the high number of killings. According to latest data from PNP, almost 5,000 people have been killed in anti-drug operations. Human rights group, meanwhile, peg the number around 20,000 to include victims of vigilantes. (READ: The Impunity Series)
Several reports in the past highlighted the involvement of police in killings outside police operations, including the 7-part Murder in Manila series by Rappler.
The 6-month investigation shows strong indications that local police were outsourcing extrajudicial killings to a vigilante group in Tondo, Manila. Sources told Rappler that officials from PNP "coordinated with vigilantes, selected targets, took credit for murders, and on occasion paid for assassinations in the name of the war against drugs." – Rappler.com