Sen Lacson says he has referred to the Office of the Ombudsman documents to prove that Santiago used Senate funds for personal purposes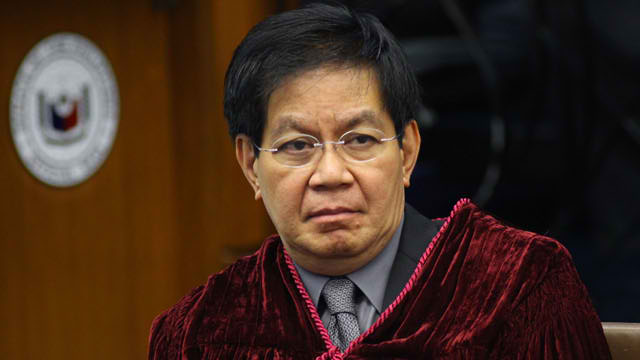 MANILA, Philippines – Sen Miriam Santiago called him "Pinky" Lacson and threatened to expose his "sins." Sen Panfilo Lacson retaliates to say she can't invoke "immunity by insanity."

Lacson said Santiago's insinuation that he is gay is "below the belt."

"Unang-una, hindi totoo. Kasi kung totoo, uso naman ngayon ang aminan. Bakit ako aamin kung hindi totoo. Kung ako bakla, baka wala nang macho sa mundo," he told reporters in a phone interview on Thursday, February 14. (First of all, it's not true. Otherwise, I would have admitted it. If I'm gay, then the world would run out of macho men.) 
He said Santiago's insinuation is coming from "thin air." Lacson had planned to hold a press conference on Thursday, February 14, apparently to respond to Santiago's tirades. But he cancelled it last minute and granted reporters a phone interview instead.
Citing Supreme Court decision Osmeña vs Pedantun, Lacson also told Santiago that "parliamentary immunity" is not absolute. Santigo told Radyo Inquirer on Wednesday, February 13, that she will use the protection of the "parliamentary immunity" to expose Lacson's "sins" and "sexuality" in the next Congress.


Congress is on a long break, but the long-running dispute among senators continues in the media — despite surveys showing the Senate as an institution is already suffering.

While the public spats affect the Senate, Lacson said somebody must stand up to Santiago. Other senators have chosen to keep quiet. "May kaniya-kaniya kaming pananaw. Yung iba pinili nila manahimik. Ako kapag honor na at dignidad – pati buong senado, I cannot take this sitting down."
He said: "This is really embarrassing, but someone has to speak up to defend the honor of the Senate." Lacson recalled how Santiago supposedly mistreated witnesses against removed Chief Justice Renato Corona in the historic impeachment trial in 2012.
"She should not be allowed to get away with it. Because she tends to abuse it. She thinks she can always invoke immunity by insanity," Lacson added. 
The latest squabble comes following Lacson's defense of Senate President Juan Ponce Enrile, who has also been the subject of Santiago tirades. She has threatened to sue Enrile for the supposed lies he peddled in his memoir published last year.
Lacson submits docs vs Santiago to Ombudsman
Lacson revealed he has sent documents to the Office of the Ombudsman showing supposed proof that she misused funds allocated to her office. Lacson said Santiago has been using Senate funds to pay rental fees for a satellite office located in a building that her family owns.
"Complete documents. I referred everything [to the Ombudsman]," he said. These include documents from the Securities and Exchange Commission to show that her family owns a building. It also includes Santiago's Statement of Assets, Liabilities, and Networth, and the lease contract.
Santiago defended her use of these funds, saying it had the approval of the Senate Secretary. Lacson said it's not an excuse.

Lacson is not afraid of Santiago's threat that she will expose his sins in the next Congress. And he vowed to retaliate against Santiago if she attacks him even if he's no longer senator then. His term expires in June.  

"Everytime she opens her mouth, I will gather evidence to expose her misdeeds and corruption," he said.
Aside from the documents he already reffered to the Office of the Ombudsman, Lacson said she is also investigating alleged misuse of Santiago's pork barrel.
He said her pork barrel was used to construct a cockpit arena in Pasig City. Santiago's husband Narciso is a known cockfighting aficionado.

"If you claim to be honest and clean, then you should also be honest and clean. But if you're not, then don't attack other people," said Lacson. "Kung dumura ka sa harap ng elevator, 'yung dura mo sa mukha mo tatama," he added. – Rappler.com