This is AI generated summarization, which may have errors. For context, always refer to the full article.
The majority decision acquitting Bong Revilla of plunder only says it has not been proven beyond reasonable doubt that his unexplained bank deposits are kickbacks from Janet Napoles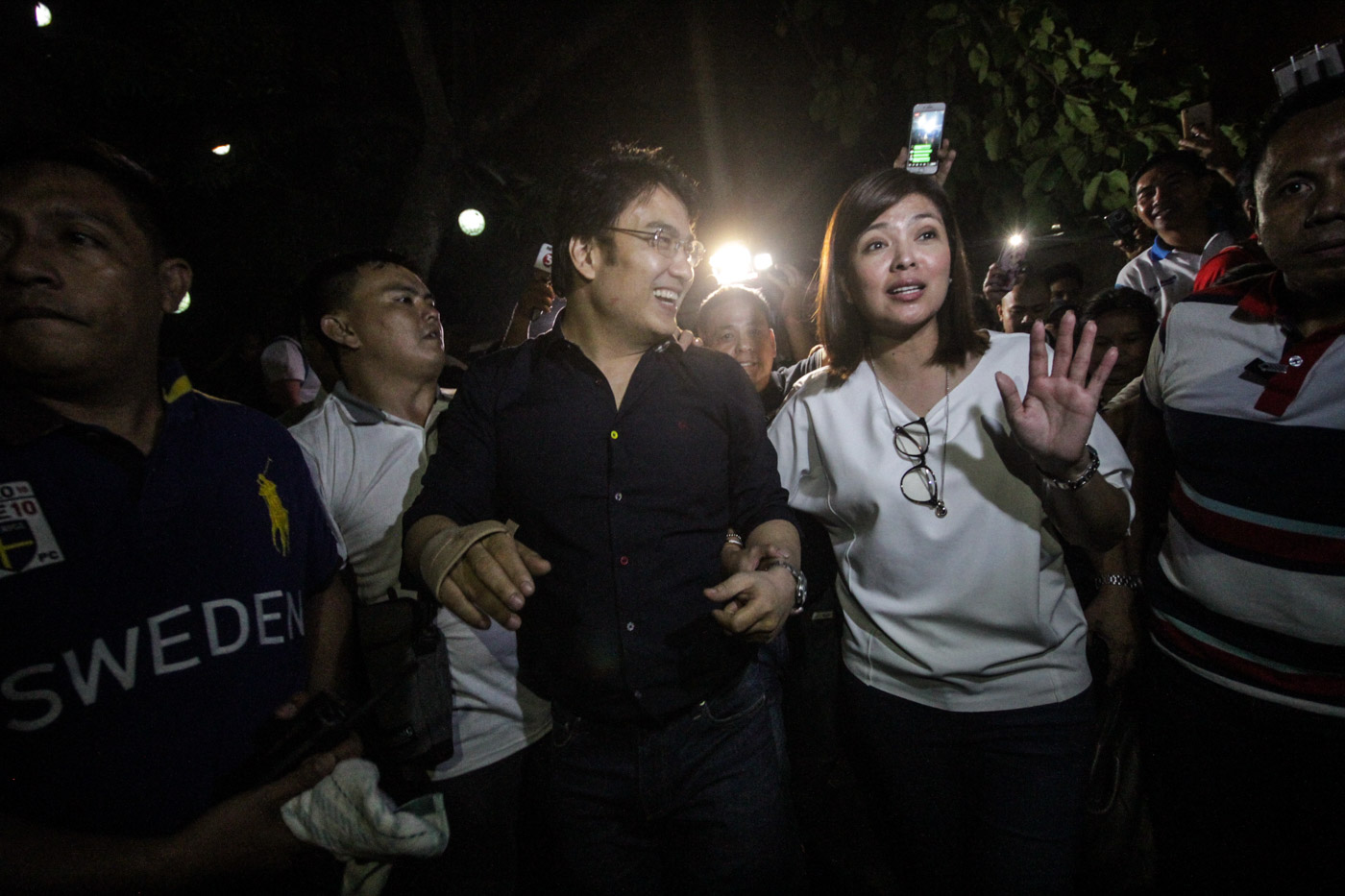 MANILA, Philippines – Where did the money come from?
This is the lingering question of Sandiganbayan Associate Justice Ma Theresa Dolores Gomez Estoesta, one of two justices of the anti-graft court who wanted to convict former senator Ramon "Bong" Revilla Jr of plunder. He was acquitted.
In her dissenting opinion, Estoesta highlighted the unexplained deposits to Revilla's bank accounts from 2004 to 2010, cash assets not declared in his Statements of Assets, Liabilities and Net Worth (SALN).
Citing a report from the Anti-Money Laundering Council (AMLC), Estoesta noted that by 2010, the Revilla bank accounts accumulated a total of P170.9 million when he only declared P81.16 million in cash and investments in his SALN for that year.
"In line between Sections 7 and 8 of RA No. 3019 or the Anti-Graft and Corrupt Practices Act, the foregoing may serve as indication of concealment and unexplained wealth," Estoesta said in her dissenting opinion.
The Sandiganbayan Special First Division voted 3-2 to acquit Revilla of plunder, with the majority decision saying that the prosecution failed to establish beyond reasonable doubt that he received kickbacks from Janet Napoles through the pork barrel scam.
The majority decision ruled as only circumstantial the AMLC report which showed that from 2007 to 2010, a total of P87 million was deposited to Revilla accounts, with each deposit made within 30 days of when star witness Benhur Luy gave the kickbacks to former Revilla staff Richard Cambe.
Cambe was convicted of plunder and sentenced to a maximum of 40 years in prison.
"From the report, we could not deduce with certainty that the monies deposited from 2006 to 2010 solely comes from accused Revilla alone. The court could not even draw a conclusion that the money deposited in the accounts examined came from Napoles through Cambe," said the majority decision penned by Associate Justice Geraldine Faith Econg, with concurrences from Associate Justices Edgardo Caldona and Georgina Hidalgo.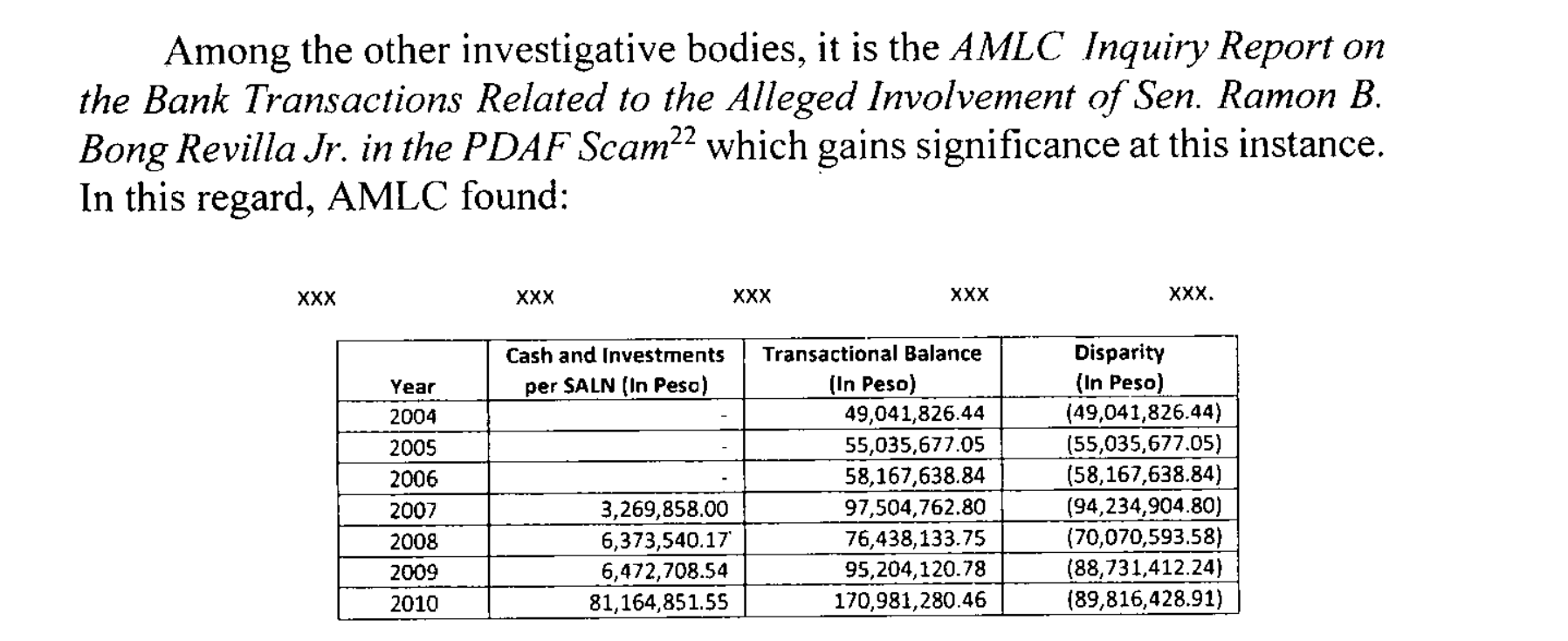 Still unaddressed
Revilla stands charged of 16 counts of graft, with Estoesta pointing out that the unexplained wealth is considered a concealment which violates SALN rules.
The acquittal only said that there is no direct evidence that the deposits were kickbacks from Napoles.
But where the money came from remained unaddressed.
"As a whole, the unexplained wealth of Senator Revilla is one glaring fact, left unrelated, to gloss over. If this should not be considered as the end-all to the PDAF conspiracy, where should this lead to instead?" said Estoesta.
The Revilla camp never addressed the AMLC report during trial. (READ: 'Forged signatures' theory acquits Revilla in plunder case)
Another dissenting justice, Associate Justice Efren de la Cruz, also questioned how P27.75 million was deposited to the account of Nature Concepts Development and Realty Corporation controlled by Revilla's wife Lani Mercado, when at the time, the company "had no operations."
"Revilla met the evidence against him with nothing more than either denial or silence. The defense of denial assumes significance only when the prosecution's evidence is such that it does not prove guilt beyond reasonable doubt," said De la Cruz.
The majority decision said the deposits could have just been transferred from other accounts. 
Both dissenting justices slammed the majority decision for making the explanation when the former senator had none to offer himself.
"The accused never even attempted to debunk the findings of AMLC in his own defense. He simply wallowed in his own defense of denial and forgery. Why should the majority opinion now take the cudgels for him?" Estoesta said.
During the trial, Revilla claimed that his wealth came from being a movie and television actor.
"The court cannot engage in guesswork and conjecture that Revilla was monetarily capable to make such deposits and investments out of his income from being a senator, producer, and actor. He did not present an iota of evidence of his financial capacity," said De la Cruz. 
The majority decision ordered the return of P124.5 million, but did not categorically state who should return it.
According to former Supreme Court spokesperson Ted Te, "it would have been quite simple to simply name Cambe and Napoles, as it did in the first paragraph; that it did not, creates a presumption that it meant to include all the accused," including Revilla. 
The majority decision also did not say Revilla was "not guilty."
Is he innocent? "The Sandiganbayan never said so," said Te.
– Rappler.com
READ related stories: