In a rare statement, retired military and police officials urge voters to choose candidates with 'manifest competence, honesty, dedication, morality, and patriotism'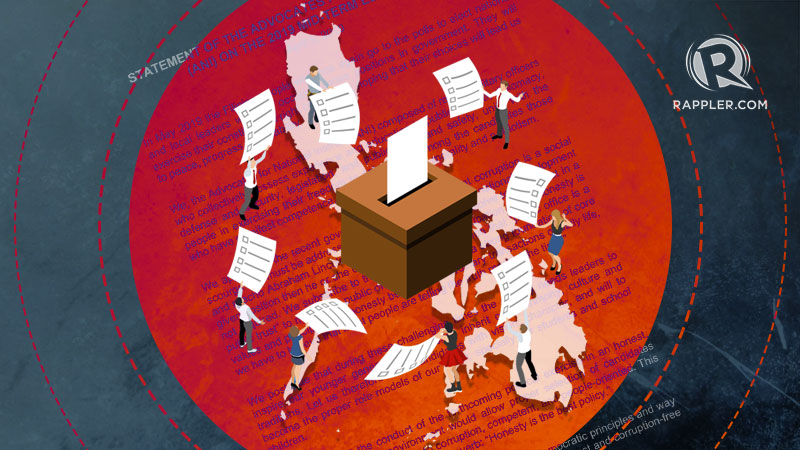 MANILA, Philippines – In a rare move, a group of retired military and police officials – many of whom have been out of the public eye for years – have banded together to call on voters to choose candidates who will protect Philippine democracy and serve as role models for the FIlipino youth.
The 18 retired officers, collectively called the Advocates for National Interest (ANI), made the appeal in a statement on Friday, April 5, over a month before the May 13 national and local elections. They include a former defense secretary, a former senator, former military chiefs, a former  top cop, and a former army chief.
"We, the Advocates for National Interest (ANI) composed of retired military officers who collectively possess experience and education in public service, diplomacy, defense and security, legislation, and public order and safety, unite with the people in exercising their freedom to select from among the candidates those who have manifest competence, honesty, dedication, morality, and patriotism," they said.
"We postulate that during these challenging times the country needs leaders to inspire our younger generations who shall inherit our patrimony, culture, and traditions. Let us therefore elect candidates with vision, character, and will to become the proper role models of our youth, specially our students and school children," the added.
The statement is the first of its kind since the Arroyo administration, which was hounded by corruption allegations.  
The signatories include former Armed Forces chiefs Renato de Villa who is also a former defense secretary, Rodolfo Biazon who is also a former senator, Victor Ibrado, and Alexander Yano; former Philippine National Police chief Recaredo Sarmiento II; and former Philippine Army chief Raul Urgello.
The others are retired Lieutenent General Edilberto Adan, retired Vice Admiral Emilio Marayag, retired Commodores Carlos Agustin, retired Commodore Plaridel Garcia, retired Major General Ramon Farolan, retired Major General Melchor Rosales, retired Brigadier General Ricardo Morales, and retired Colonels Plaridel Abaya, Niceto Festin, Mariano Santiago, Alejandro Flores Jr, and Guillermo Cunanan.
They said Filipinos, "if democratic principles and way of life were to reign and flourish, deserve no less than honest and corruption-free elections, leaders with integrity, and credible institutions.
Effort to 'reach out'
Asked what prompted him to speak up, De Villa told Rappler, "For myself, I believe we want to reach out to our citizens and collectively convey our ideas as to the conduct of the coming elections and the qualities of persons we wish to be elected and hold public office." 
De Villa was military chief during the Cory administration and defense secretary in the Ramos administration. He had been mostly out of the public eye since he lost his presidential bid in 1998, but had surfaced from time to time, such as when he played a role in the ouster of then-president Joseph Estrada, who was accused of corruption; and amid election fraud allegations against then-president Gloria Arroyo in 2005.
ANI issued the statement as the election campaign shifted to high gear, and amid debates on the importance of "honesty" among candidates.  Part of their statement touched on the issue of honesty among aspirants, as they said that there is no space for dishonest people in elective posts.
"We appreciate the recent government announcement that corruption is a social scourge that must be addressed squarely to effect a lasting national development and reecho Abraham Lincoln's view that if one cannot resolve to be honest in a given position then he or she could look for another occupation where honesty is not required," they said.
The retired officials added, "We subscribe to the constitutional provision that 'public office is a public trust' to mean that public officials should have a strong foundation of core values and principles like honesty because 'for ordinary transactions of daily life, we have to believe that most people are telling the truth most of the time.'" 
Read the full statement below: 
 – Rappler.com