De Lima gives the clearance after she was informed that Sandiganbayan will issue a travel authority on same day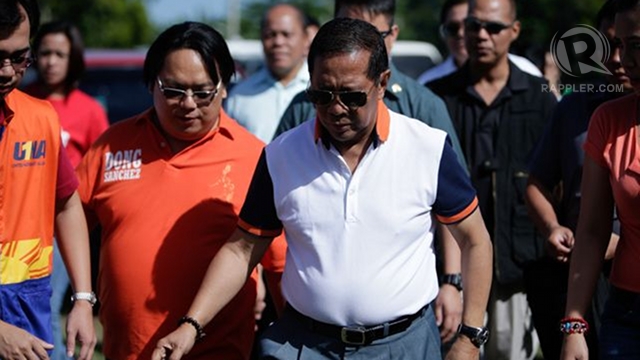 MANILA, Philippines – Justice Secretary Leila de Lima confirmed on Monday, March 18 that she issued a travel clearance to the wife of Vice President Jejomar Binay. 
De Lima said she ordered the Bureau of Immigration – which is under the Department of Justice – to allow Mrs. Elenita Binay to leave for Rome after the latter was earlier stopped by the BI from leaving the country due to a hold departure order issued against her by the Sandiganbayan.
Mrs Binay, a former Makati mayor, has two graft cases pending with the Sandiganbayan.
Mrs. Binay was to accompany her husband, son Makati Mayor Jejomar Binay Jr. and, according to media reports, 9 other members of their family to witness the installation of Pope Francis. (Read: Binay heads to Vatican for Pope's installation). 
De Lima said she gave the clearance after she was informed that the Sandiganbayan would be issuing a travel authority on the same day.
"I was informed that such authority was in fact issued by Sandiganbayan today," she told Rappler.
Only the courts can issue and lift a hold departure order.
De Lima, as justice secretary, previously had this authority but the Supreme Court – granting a petition filed by former President Gloria Macapagal Arroyo – stopped her from enforcing this power in November 2011. 
De Lima nonetheless blocked Arroyo and her husband, lawyer Jose Miguel Arroyo, from leaving the country in 2011 for a medical trip abroad because they faced preliminary investigation for an electoral sabotage case. 
The official travel authority for Mrs. Binay came 6 hours after the Binays had left for Rome already. 
The Sandiganbayan 5th division was not able to immediately act on Mrs. Binay's Very Urgent Motion for Authority to Travel because the court received the request at 4pm last Friday, March 15. Clerk of Court Renato Bocar said the justices were also in Cagayan de Oro for out-of-court hearings.
The Sandiganbayan 4th division, on the other hand, was able to issue a travel authority to Mrs. Binay right away.
Mrs. Binay has pending cases in both courts.
A graft case was filed against her in connection with the alleged anomalous purchase of P13.25 million worth of office furniture in December 1999 and February 2000. The purchase was allegedly made without public bidding. 
Mrs. Binay also faces another graft case for the acquisition of P72-million worth of office furniture and fixtures, which was allegedly overpriced by P21 million.
Both transactions were done under her term as Makati mayor. She served as mayor of the city from 1999-2001. – Rappler.com