The maps and the docs will help determine the cause of the Tubbataha grounding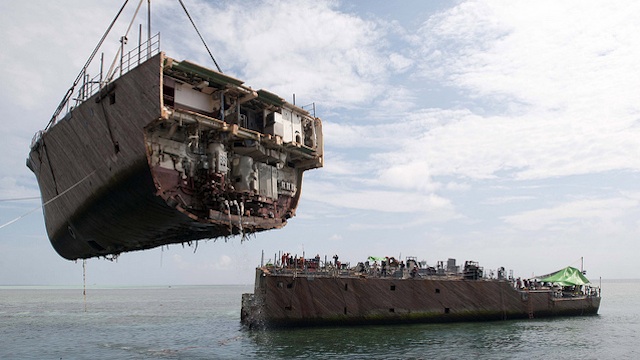 MANILA, Philippines – The US Navy on Thursday, April 4, turned over to the Philippine Maritime Casualty Investigating Team (MCIT) documents, such as digital navigation charts, relevant to its independent investigation of the grounding of USS Guardian on Tubbataha reef, the Department of Foreign Affairs (DFA) said Monday, April 8. 
Foreign Affairs Asst. Secretary Gilberto Asuque said the maps and the documents will serve two purposes: first, to help determine  the cause of the grounding, and second, to help identify measures that should be undertaken to prevent similar incidents. 
Upon the turnover, the MCIT also conducted a "safety inquiry" on the US Navy. Asuque said the MCIT posed "technical and substantive queries" to US Navy officials as part of the investigation. 
The US Navy is facing a P58 million fine after the USS Guardian damaged about 2,345.67 square meters of the Tubbataha reef, a UNESCO World Heritage site. The amount is based on fines stipulated in Republic Act 10067, or the Tubbataha Reefs Natural Park Act of 2009. 
Despite criticisms from certain camps, Palace officials said the Philippine government has no plans of filing a case against the US Navy. 
After being stuck in the reef since January 17, salvage teams removed the last piece of the ship on Saturday, March 30. 
A separate investigation carried out by the US Navy has led to the sacking of 4 USS Guardian officials for failing to "adhere to standard US Navy navigation procedures."  – with reports from Angela Casauay/Rappler.com