(9th UPDATE) The explosion in a posh enclave also leaves at least two tenants injured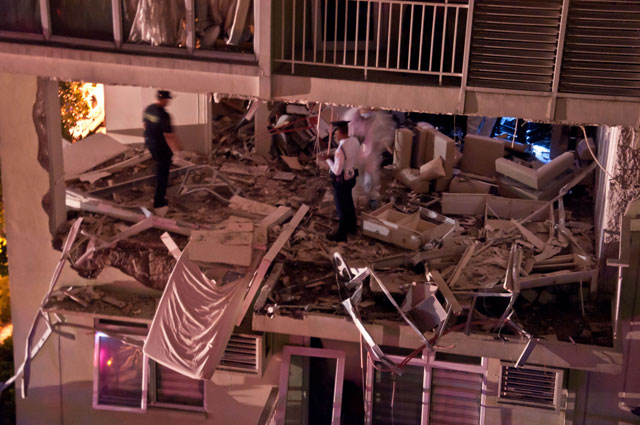 MANILA, Philippines (9th UPDATE) – Taguig police on Friday evening, May 31, confirmed that a strong explosion rocked the posh Serendra in Taguig and sent shockwaves to different parts of the city.
In an official statement, the residential project's developer Ayala Land Inc. (ALI) said the blast happened around 8pm in Unit 501B of Two Serendra, killing 3 people aboard a truck that was pinned down by a falling wall.
The incident also damaged 10 units in the condominium and injured 4 residents. The 4 were taken to the nearby St. Luke's Medical Center to receive treatments.
As of 9:45 pm, the 3 in the truck were still pinned down, according to one eyewitness.
According to city officials, the affected unit was owned by a foreigner. ALI said the building has been evacuated and the residents are being treated and accommodated while the incident is being investigated.
Department of the Interior and Local Government (DILG) Secretary Mar Roxas said Taguig police and the Bureau of Fire Protection (BFP) are currently conducting further investigation and asked the public to hold off any speculation until a scientific analysis could be made.
Floi Pablo, who said she was 30 meters away from the site of the explosion, said it happened at around 8:05 pm "from the corner of the stoplight until the rotunda between Market! Market! and Serendra."
"We heard loud explosions, malakas na hangin talaga. The windows of establishments were shattered," Pablo, who was hanging out with friends, told Rappler. "Nung lumapit kami, first thing we saw was a cargo van (near) entrance ng parking ng Market! Market! Totally destroyed cargo van didn't look like a van anymore."
Pablo said she saw two injured people walking out of the building, bleeding. They went straight to a waiting ambulance.
Pablo however said that the people who heard the explosion did not panic. "There was no chaos after the explosion. In a few minutes people started walking towards the direction of the explosion."
She said: "Everyone was strangely calm…I actually cried after." The 28-year-old Pablo works at a call center.
Mayor Lani Cayetano appealed for calm "to allow investigating authorities to do their work so that we can get to the bottom of the incident as soon as possible."
In an interview on dzMM, building tenant Rene Boy Suredo said the explosion produced thick smoke. "Nagulat ako. Gumalaw 'yung building," he said. (I was shocked. The building moved.)
 
Twitter users posted photos and videos of the explosion.
A photo of the explosion in front of Two Serendra and Market! Market! a few minutes ago. c/o @tamponriot twitter.com/enricobayani/s…

— Eric Sanchez (@enricobayani) May 31, 2013
 cript>[storify.com/rappler/explosion-near-serenda" target="_blank">View the story "Explosion near Serenda" on Storify]oscript>
More to follow. – with reports from Michael Josh Villanueva, Zak Yuson, and Marga Deona/Rappler.com
---
Related stories on Serendra blast :