Investigators are now gathering evidence from the Two Serendra unit where the deadly May 31 blast occurred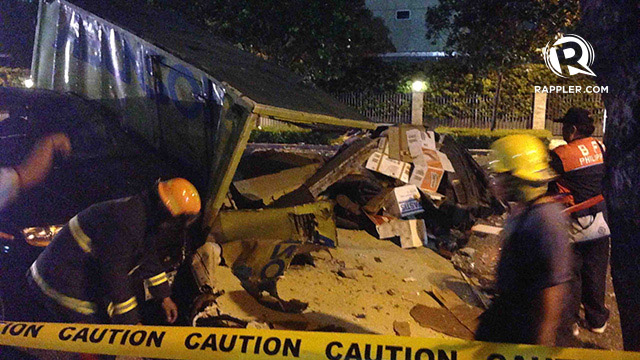 MANILA, Philippines – Interior Secretary Mar Roxas said Sunday, June 2, authorities have focused their efforts on gathering evidence from the Two Serendra condominium unit in Global City, Taguig, where a deadly blast occurred on May 31.
He said investigation is now centered on Unit 501B – the "blast site" – as authorities finished scouring through the street portion of the "crime scene."
He said investigators are also interviewing residents to uncover the cause of the incident.
Three were killed, while 5 others were hurt in the explosion that occurred shortly past 8 pm on Friday, May 31.
The explosion knocked out the wall of the Serendra unit, sending a huge chunk of rubble that pinned down a delivery truck.
The blast site remains sealed, according to Roxas.
Interviews
Roxas said investigators asked the building administrator to allow them to interview third- and fifth-floor condominium occupants, whose statements would establish a "narrative timeline" of events that led to the incident.
Investigators are particularly interested in Angelito San Juan, occupant of Unit 501B.
San Juan was on his way out of the unit, which he was renting, when the explosion happened. Though in stable condition, he remains in intensive care at St. Luke's Medical Center in Global City.
He had complained to the building administrator that he was "suffocating" inside the apartment despite having the air-conditioning on.
Police evacuated residents of building "B" and two adjacent buildings, and turned off their power, water and gas utilities.
CCTV footage
Police are also analyzing the closed-circuit television (CCTV) footage of the blast.
The findings would help in the investigation, which hasn't determined the cause of the explosion.
Roxas said a day after the blast that the cause was still unclear as 3 teams of bomb-sniffing dogs initially found no residue of bombs or explosive devices in the area.
Despite having no leads yet, Malacañang said the investigation has had progress.
"I understand from Secretary Roxas that the unit has been turned over to the Bureau of Fire Protection investigators from SOCO, so there's progress in the investigation," deputy spokesperson Abigail Valte said in a radio interview.
Business goes on as usual in other areas of Global City. – Rappler.com
---
Related Stories: