As the probe on the cause of the Two Serendra blast continues, residents raise concerns about gas detectors and lack of safety procedures during emergencies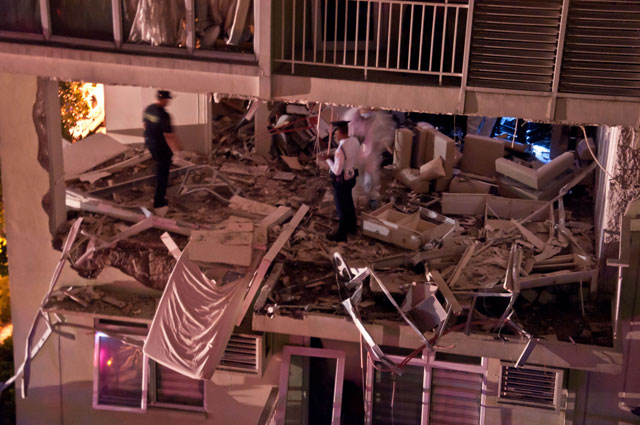 MANILA, Philippines – Whether or not the deadly explosion at Unit 501B in a posh enclave in Taguig was caused by a gas leak, a bomb, or another source, residents are still concerned about what they perceive to be lapses in safety protocol days after the May 31 blast.
Serendra residents told Rappler that electrical supply was cut off from some Two Serendra buildings on the day of the blast, including building B where the explosion took place on Friday. The power interruption consequently turned off the units' gas detectors, which were attached to electric outlets.
That day, a scheduled annual preventive maintenance of electric facilities cut off electricity from 8 am-5 pm, according to a Serendra circular. During the maintenance, the building provided emergency power from the property's generator. 
One resident, who was cooking and using the gas stove before the electricity was cut off, told Rappler the gas-lit burner on his stove continued to work despite the electricity interruption. This confirmed that gas continued to flow.
This, despite the gas detector (which detects leaks and comes with a shut-off valve that automatically stops the flow of gas when the sensors beep) not working, said the resident. 
Serendra's maintenance office, however, said that while detectors are not plugged into an uninterrupted power source (UPS), they should have continued to work. They should be powered by the generator during preventive maintenance, because they require only low voltage.
But the resident insisted not a single outlet or appliance was working in his apartment during that time, and expressed concern about the detector and safety valve not being connected to a UPS – a must, he said, so they would continue to work despite any power interruption. 
Serendra uses a centralized, piped-in Liquid Petroleum Gas (LPG) system, rather than individual gas sources in units.
The investigation into the cause of the blast that killed 3 and injured 5 is ongoing, although Interior Secretary Mar Roxas said the likelihood it was a bomb that triggered the blast is getting slimmer.
Gas has been turned off in all buildings as the probe continues.
Residents' responsibility
Rappler also learned that since the gas detectors are located inside the units, residents have control over them, whether or not they are plugged.
Residents said the detectors are sensitive – they beep even when they detect chemicals from insecticide or cleaners. Once they beep, residents are asked to call maintenance to check if there's a leak, and to reset the detector.
At least one resident told Rappler that rather than calling maintenance, he resets the detector himself when it beeps, because insecticide often sets off the sensor. Maintenance is only alerted about a possible gas leak if residents, whose detectors start to beep, call their attention.
While the gas detectors are effective in sensing chemicals, they should be watched too by residents.  In Serendra, however, it is not unlikely that residents leave their units for months at a time – like the owner of Unit 501B.
George Cayton, the listed owner of the unit, is said to have bought the apartment only to have a place to stay in when he is in Manila. Cayton and his family are based in California.
For unit owners like Cayton, who do not live in their Serendra apartments or are away for an extended amount of time, Serendra expects them to ask maintenance to turn their gas off, through a service valve controlled by maintenance and attached to the meter.
This way, when a gas leak occurs while the resident is gone, the shut-off valve attached to the gas detector can stop the gas flow itself once the sensors beep.
Serendra's requirement to install gas detectors when purchasing a stove is their main safety measure against gas leaks.
Despite a beeping gas detector, however, maintenance men are not allowed to enter the unit unless called by the resident. It is assumed that residents keep the detectors plugged when they are away from their unit.
Lack of information
Units in Serendra are also often leased out by real owners, contributing to occupants' lack of knowledge on what to do in the event of gas leaks.
Cayton's unit, for instance, was being rented for 9 days by a family friend, Angelito San Juan, at the time of the blast. Cayton's family lawyer, Raymond Fortun, told Rappler that the unit was still awaiting clearance for leasing, after renovations were made from April to May.
Despite this, Serendra accepted the written request of the Cayton family to allow San Juan to use the unit temporarily.
Robin Leonard, a lessee in Building A of Two Serendra for over a year, told Rappler he was unaware of whether the unit he is renting has a gas detector or not. He said he never noticed it before, and is unsure whether his unit even has one installed.
While he was briefed on the location of fire exits, he said he was not informed of the safety protocol, if any, in the event of gas leaks.
Leonard is one of those whose apartment was damaged in the blast, and who has been relocated to Seda Hotel by Ayala Land Inc (ALI), developer of Two Serendra, while the probe is ongoing.
Evacuation woes
But besides these concerns, another Serendra resident, who lives in a unit in the same building where the blast took place, identified yet another problem. She said she was disappointed about the lack of assistance from management immediately after the incident.
"There were no marshals or emergency committee that came to guide us to safety. We were completely alone and clueless on where to go. It made us more afraid and unsafe," said the resident. She and her young daughter fled their badly damaged unit barefoot.
"As we arrived at the garden, no one approached us to ask if we were okay or hurt. We were on our own not knowing what to do," she added.
Leonard, whose doors to the unit were jammed by the blast's impact, said he was stuck inside his apartment after the explosion. The phone line was cut off as well.
He said help came about 15-20 minutes later, after he notified his house help, who was outside of the unit when the blast happened. Leonard expressed relief there was no fire or other effects of the blast, which could have endangered him.
He said he knew of about 3 other units that had their door locks jammed as well.
Second blast
On Tuesday, June 4, ALI released a statement giving assurances they "continue to look into the condition and welfare of those who were affected."
"As safety is a primary concern, residents of the affected Serendra buildings continue to be provided with temporary lodging," it said.
Leonard attested that while the event had brought "massive inconveniences," he has been well taken care of at Seda since the blast, and is fed 3 meals a day by management.
This is the second time in 6 years that an ALI property fell victim to a deadly explosion.
In 2007, a blast in Glorietta 2 shopping center, also owned by ALI, killed 11 and injured hundreds. The police and a special fact-finding panel by the Department of Justice concluded the explosion was caused by methane buildup, but foreign experts commissioned by Ayala pointed to a bomb as the cause.
The cause of the blast, to this day, remains unclear.
Tony Aquino, the president of ALI, also defended Serendra's use of a centralized gas system. In an interview with ABS-CBN News Channel, he said this universal and environment-friendly system "is being used by many companies here and abroad without any consequences."
The investigation is expected to conclude on Friday, June 8. – Rappler.com