'You never close the door in Philippine politics,' says Jack Enrile right after his father resigned as Senate President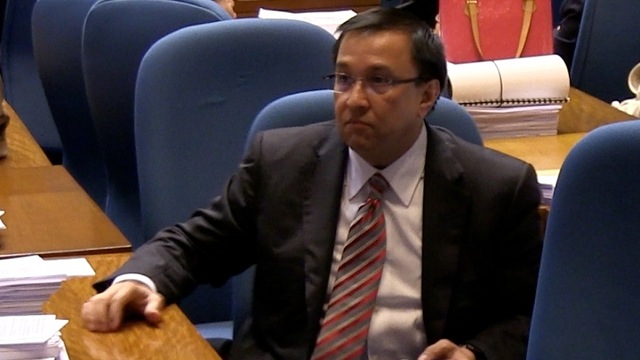 MANILA, Philippines – Defeated senatorial candidate Cagayan Rep Juan "Jack" Ponce Enrile Jr is not closing his doors on another senatorial bid in 2016.
"I hope that we will be in a position to try again in the future. But who knows? We will see that and we will probably make that decision at least a year or so down the road," Enrile told ABS-CBN anchor Pinky Webb in an exclusive interview on Wednesday, June 5. 
"You never close the door in Philippine politics," Enrile added.
The interview happened right after Enrile's father, Juan "Johnny" Ponce Enrile, resigned his position as Senate President. (READ: Enrile resigns Senate presidency)
The older Enrile made the move weeks before the 16th Congress convenes. He is expected to lose his position to Senator Franklin Drilon of the Liberal Party following the change in the Senate dynamics after the polls. 
During his privilege speech, Enrile took the time to speak about the defeat of his son. He said his fellow senators used the funds controversy in the Senate to destroy his name and sabotage the candidacy of his son. 
"Jack faced accusations without uttering words against his detractors. As father, I saw my son carry the weight of all the mud thrown against me. My heart bled for him," he said.
Jack Enrile reached as high as 3rd most preferred senatorial candidate in the pre-election surveys. But his numbers fell right after the Senate drama. 
He finished 15th in the final tally of the Commissio on Elections (Comelec), with a of total 11.4 million votes. 
"It's never been easy to be the son of Juan Ponce Enrile. Whether my candidacy was affected or not, we ran a good race. We did the best that we could," the congressman told Webb.
"We did the best that we can. Unfortunately we did not make it this time," he added.
The father and son had a difficult relationship. "We had a checkered relationship. We have had our ups and down. He is my father and I am his son. We love each other dearly. It's good that at this point of our lives, both of us, that we can see how much of a champion my father truly is," Jack said.
Jack said his father can now "set the tone of his legacy." Without the burden and problems of leadership, his father is now in a better position to stand for what he believes in, Jack said. – Carmela Fonbuena/Rappler.com