Without mercaptan, a chemical usually added to commercialized gas, it is virtually impossible to detect gas leaks by smell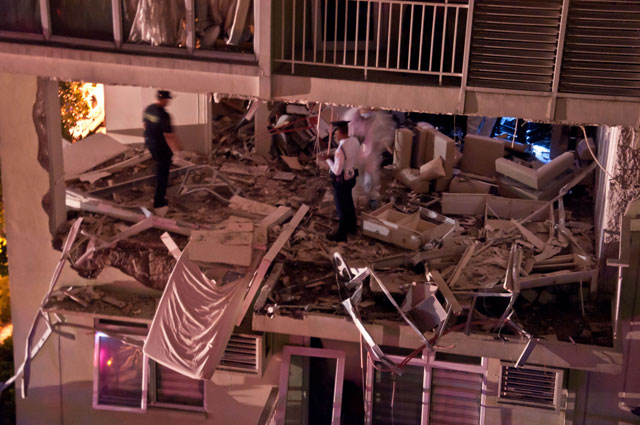 MANILA, Philippines – The centralized gas used in Two Serendra is odorless, a source familiar with the investigation told Rappler.
The source added the liquefied petroleum gas (LPG) used by the building does not contain a chemical usually added to commercialized gas.
The most commonly used chemical additive, mercaptan, is added to LPG to provide a distinctive smell so that in the event of a gas leak, residents are alerted by the foul odor.
Without mercaptan or an odorant, it is virtually impossible to detect gas leaks by smell.
In its website, Bonifacio Gas Corp (BGC), Two Serendra's supplier for its centralized piped-in gas system, informs residents that BGC "supplies Liquefied Petroleum Gas (LPG)… from a central storage facility that is distributed through a pipeline network." LPG, it says, is "colorless and odorless," but "for your safety… a special odor has been added so you can detect it easily in case of leaks."
Two Serendra residents whom Rappler talked to from the same building, however, did not report any gas odor before the blast. 
Besides Serendra, BGC provides a centralized gas distribution system within the Bonifacio Global City, through its partner, Pilipinas Shell Petroleum Corp.
Government has asked BGC to explain the blast. Gas in Serendra has been shut off since the explosion.
'Not yet established'
Another source part of the crime scene team said, however, it's "not yet established" the LPG of Serendra has no smell.  He said, "right now, we haven't ruled on that conclusively."
In a press conference on Friday, June 7, Interior Secretary Mar Roxas told reporters the deadly Two Serendra blast from a week ago was caused by a gas leak, likely by LPG. But he said the investigation on the cause of the leak continues, and that they are still unable to determine who will be held liable.
Angelito San Juan, the man renting Unit 501B, the site of the explosion, also did not report any unusual smell when he talked to his friend, Herminia Ochoa, before the explosion, said San Juan's lawyer Raymond Fortun.
When Ochoa visited the apartment to see San Juan, she reportedly did not smell any gas from the doorway.
But San Juan told Ochoa he was feeling suffocated. He later fell asleep.
The BGC website says LPG is "non poisonous" and may have no effect on a person if inhaled in small amounts, but that "exposure to large amounts can cause nausea and drowsiness."
On Friday, May 31, a deadly explosion in the posh Taguig enclave killed 3 and injured 4, including San Juan. He remains in the Intensive Care Unit of St Luke's Medical Center.
Lack of detectors?
Rappler tried to contact BGC to ask whether the LPG they provide Serendra is odorless or not, but they directed all calls to Jorge Marco of Ayala Land Inc (ALI). ALI has a stake claim on BGC and is the developer of Serendra.
Calls and text messages to Marco, however, went unanswered.
Since the blast, Serendra residents have also raised concerns about perceived safety lapses by management in detecting gas leaks. Serendra management requires residents to install detectors with automatic safety valves that shut off gas when a leak is detected, but these are plug-ins inside the unit controlled by residents.
Residents have the power to unplug or detach gas detectors. Because they are electronic, residents also informed Rappler they shut off during power outages, even when gas continues to flow.
Additionally, residents Rappler talked to are unaware of other safety measures Serendra has on gas leaks, with one tenant even saying he was unsure if the apartment he is renting in Two Serendra has a gas detector.
Fortun could not immediately say whether Unit 501B had a gas detector, but he told Rappler, Serendra did not clear the apartment for leasing after it had undergone renovations from April-May.
Fortun said management also did not perform any spot checks on the unit during the course of the renovation.
While Roxas did not say who is liable for the blast, he said the actions of San Juan and Ochoa appear to be above board. – Rappler.com