Medina's resignation ends a 25-year run of his popular Pugad Baboy (Nest of Pigs) strip in the Inquirer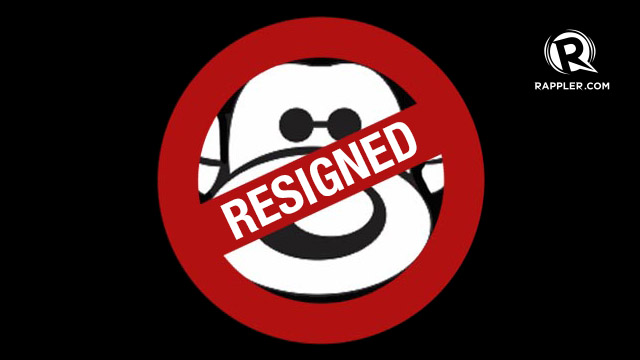 MANILA, Philippines – Pugad Baboy's cartoonist Apolonio "Pol" Medina Jr. has quit after a controversial joke about homosexuality in his popular comic strip angered some quarters in the country.
"Sorry I dishonored you. I resign," Medina told Philippine Daily Inquirer editor-in-chief Letty Jimenez Magsanoc in a letter, a copy of which was obtained by Rappler.
Medina's resignation ends a 25-year run of his popular Pugad Baboy (Nest of Pigs) strip in the Inquirer, one of the Philippines' most widely circulated and influential broadsheets.
An embarrassed Inquirer apologized last week for what it said was an "offensive" June 4 issue that criticized the hypocrisy of homophobic Christians.
The strip also suggested that all the "beautiful" students and some nuns at a leading Catholic school for girls were lesbians.
The school, St. Scholastica's College, had threatened to sue the paper and demanded an explanation as to how editors allowed the joke to go to print.
The paper said the strip was originally submitted in April, but was rejected. An apparent mix-up led to its publication.
Medina could not be immediately reached for comment Sunday, but in an interview with ABS-CBN television, he said he was hurt when his strip was axed despite a sincere apology.
"My resignation is the ultimate expression of regret," he said.
More than 80% of Filipinos are Catholics, and while homosexuality is tolerated in the democratic country, the church remains a powerful force.
The Pugad Baboy comic strip has been offering stinging commentaries on life in the Philippines through the eyes of a community composed of obese characters since 1988.
The Concerned Artists of the Philippines in a statement said it regretted Medina's treatment by the Inquirer and warned it was a "threat to freedom of expression."
"This can set a dangerous precedent for other publications and media institutions under similar situations," group spokesman Renan Ortiz said.
The group noted that the strip "served not only as a source of humor but also satire and relevant social commentary" that even poked fun at the late dictator Ferdinand Marcos. – with reports from Agence France-Presse/Rappler.com
---
Related Stories: