An hour-long firefight in Bukidnon kills one and hurts another in Bukidnon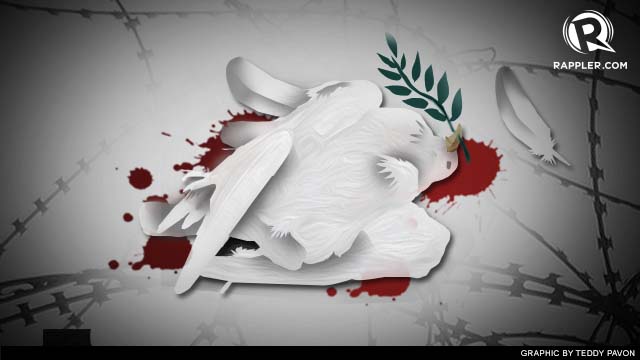 COTABATO, Philippines – A young lieutenant was killed in an encounter on Monday, June 10, with communist rebels in Bukidnon.
A member of the 58th Infantry Battalion, 2nd Lt. Dennis Avila was killed when his unit encountered around 30 New People's Army (NPA) rebels, according to the military's 4th Division spokesman Maj Leo Bongosia. 
Private First Class Aleps Andilong was also wounded.
Bongosia said Avila, Andilong and other soldiers were on patrol in the village of San Luiz in Malitbog town when they encountered the NPA. An hour-long firefight ensued. 
The NPA, the armed wing of the Communist Party of the Philippines, is said to have 4,000 fighters nationwide.
The Aquino administration has resumed peace talks with the guerrillas, but it has been rough sailing in the last two years. In April, the government said it is considering a "new approach"  and admitted it can no longer meet its original 2016 deadline to sign a peace pact with the rebels. (READ: Peace talks with NDF a failure) – with reports from Jeoffrey Maitem/Rappler.com