But witnesses did not report any unusual smell on the day of the blast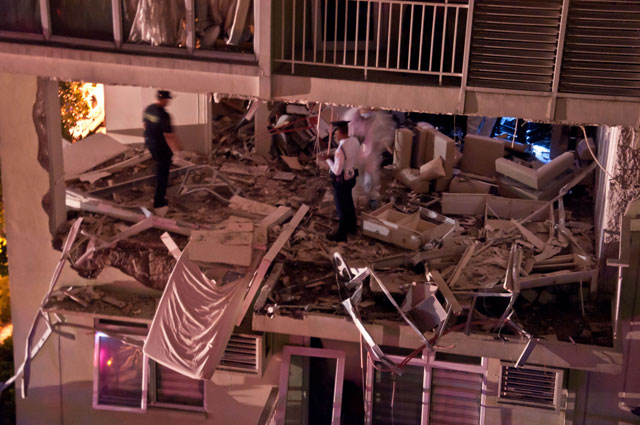 MANILA, Philippines – While Serendra's supplier of Liquefied Petroleum Gas (LPG) said it adds an odorant to their gas, witnesses in the May 31 Serendra blast claim otherwise.
In an interview with GMA News Online, Roberto Kanapi, vice president of communication for Pilipinas Shell, said Shell injects more than the required "chemical additive called ethyl mercaptan in [the gas] we supply." Pilipinas Shell Petroleum Corp is the gas supplier of Bonifacio Gas Corp (BGC), the exclusive provider of centralized piped-in gas in Bonifacio Global City.
Kanapi has not returned text messages or calls from Rappler.
The most commonly used chemical additive, mercaptan, is added to LPG to provide a distinctive smell so that in the event of a gas leak, residents are alerted by the foul odor. Without mercaptan or an odorant, it is virtually impossible to detect gas leaks by smell.
But despite Shell's claims, people who were in the blast site said they did not smell gas or anything unusual on the day of the blast. The explosion at Two Serendra in Taguig on May 31 killed 3 and injured 4.
On Friday, June 7, Interior Secretary Mar Roxas, who leads the investigation on the explosion, said the blast was caused by an LPG gas leak.
No smell
Blast victim Angelito San Juan, who was in Two Serendra's Unit 501 when it exploded, had complained of feeling suffocated in his apartment hours before the blast, but did not mention any unusual smell, according to his lawyer, Raymond Fortun.
The smell of mercaptan is often described as something similar to rotten eggs.
But according to Roxas himself, San Juan's friend Herminia Ochoa and two guards who visited the unit just minutes before the blast also did not smell any trace of gas from the doorway. Other residents of the building we interviewed said they didn't smell anything either.
A source familiar with the investigation has since told Rappler the gas may have been odorless. Gas has been shut off from Two Serendra since the explosion.
While Serendra requires units to have a gas detector before connecting to the gas pipe, mercaptan serves as another layer of protection —since gas detectors are under each unit owner's control, and not the management's.
It's been 3 weeks since the deadly Two Serendra blast, but probers have yet to pinpoint the cause of the gas leak. – Rappler.com