If it withdraws its peacekeepers, the Philippines 'will create a vacuum' in Golan Heights, US Secretary of State John Kerry reportedly says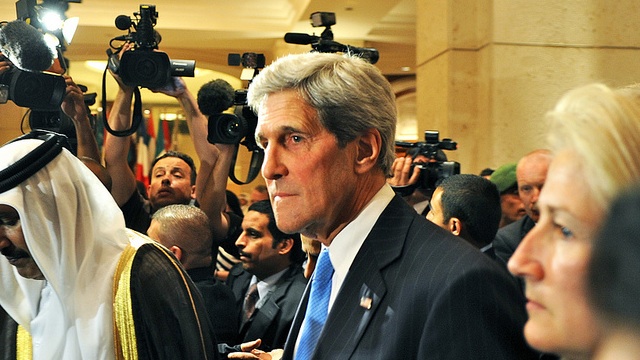 MANILA, Philippines – Worried about the plight of Golan Heights, US Secretary of State John Kerry has appealed to the Philippines not to withdraw its peacekeepers from there, even as most of their counterparts from other countries have left.
Foreign Affairs Secretary Albert del Rosario disclosed Kerry's appeal on Wednesday, June 19, as the Philippines studies whether to withdraw its 341 peacekeepers from the strife-torn area.
In a press conference, Del Rosario said Kerry called him to say that if Philippine peacekeepers leave, "this of course would create a vacuum in the Golan Heights."
"They're saying that that situation, if that occurs, will create maximum volatility in the area," the foreign affairs chief explained.
Without divulging details, he said United Nations Secretary General Ban Ki-Moon also spoke with him twice about Golan Heights. 
On Kerry's fears, Del Rosario said the Philippines believes "this is possibly the case."
He said President Benigno Aquino III discussed this with the DFA, and the DFA had recommended sending an assessment team to Golan Heights. The assessment team left last Friday, June 14.
The Philippines commits to keeping its troops in Golan Heights until August 3, Del Rosario said. Whether it will remain there beyond that date, according to him, will depend on the assessment team's findings.
"Depending on the environment there, if there's no appreciable increase in the risk exposures by that time, we may even consider adding to our contingent," Del Rosario explained.
'We want to help,' but…
Earlier, Aquino urged the UN to provide more security to its Golan Heights peacekeeping force.
"We want to help. But if we are asked to perform something that is impossible, what is the use of staying there? Our assessment is that we can no longer accomplish the mission," Aquino said in an interview on June 11.
The Filipino peacekeepers belong to the United Nations Disengagement Observers Force (UNDOF), which has monitored the Syrian side of the armistice line since 1974.
Syrian rebels have targeted peacekeepers in recent months, raising fears that countries with UNDOF peacekeepers will bring their forces home. 
One of the biggest incidents involving Filipino peacekeepers happened in March, when rebels kidnapped 21 of them. Last June 6, a Filipino peacekeeper was wounded, prompting the Philippine government to reconsider its troops' presence in Golan Heights. – Rappler.com