Close to a month after the blast that killed 3 and injured 4, Serendra management says it will replace gas ranges with electric stoves on a 'like-for-like' basis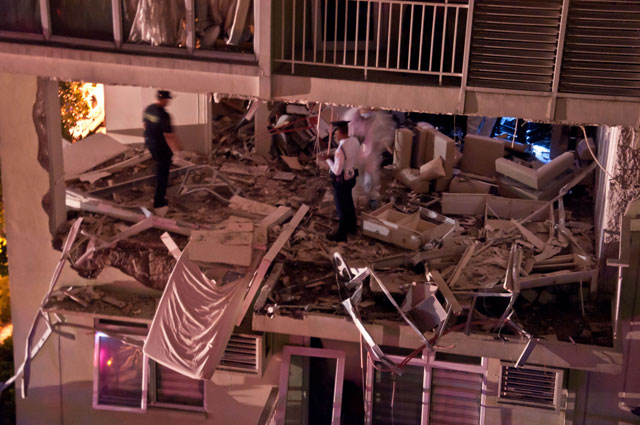 MANILA, Philippines – About a month after the gas blast that rocked the posh Serendra complex in Taguig City, the condominum's management has decided to shut off the centralized liquefied petroleum gas (LPG) system in residential units for good. 
In a memo distributed to residents on Friday, June 28, Serendra Inc announced it is permanently stopping the supply of LPG to both One and Two Serendra. In exchange, Serendra promised to replace unit owners' gas ranges with electric stoves. 
Serendra said it arrived at the decision "due to the difficulty to control and ensure the continuing compliance of individual unit owners to the required safety measures within their units."
On the evening of May 31, an explosion occured at Unit 501B of Two Serendra, killing 3 people and injuring 4. The cause of the blast was later identified as a gas leak. But a month since the incident, questions still remain over the source of the leak. 
READ: Serendra revisited: Facts, more questions. 
Serendra residents earlier revealed apparent lapses in safety protocols at the building, including malfunctioning gas detectors and lax regulations over who can reset them.
The legal counsel of the owners of Unit 501B also admitted the apartment was still awaiting final inspection following renovations on the unit. 
Questions also persist over the nature of the gas used in the buildings. The Serendra investigation led by the government found that the tenant of Unit 501B, Angelito San Juan, did not report any unusual odor before the blast, raising questions over whether Serendra used odorless gas for its units.  

Pilipinas Shell Petroleum Corp has however said it injected more than the required amount of the odorant ethyl mercaptan in the LPG supplied to the building — a vital safety measure that allows residents to be alerted by a foul odor in the event of a gas leak. 
Pilipinas Shell is the gas supplier of Bonifacio Gas Corp (BGC), the exclusive provider of centralized piped-in gas in Bonifacio Global City. Ayala Land Inc (ALI), the main developer of the Global City in Taguig, has a stake in Bonifacio Gas.
By ALI's estimates, it would take up to 5 more months before life returns back to normal for residents. – Angela Casauay/Rappler.com