Akbayan Rep Walden Bello brings the case to Justice Sec Leila de Lima, who suspects the alleged prostitution in the embassies is a case of human trafficking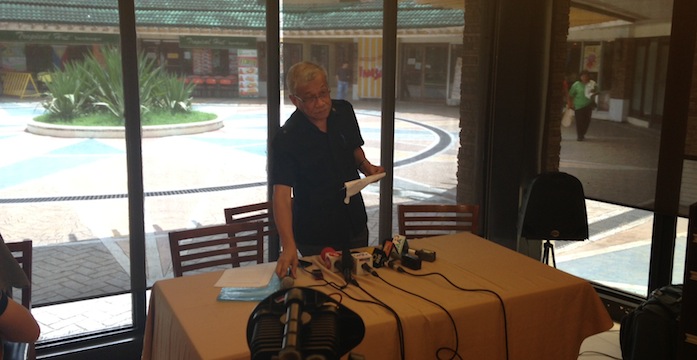 MANILA, Philippines – Akbayan Rep Walden Bello wouldn't wait for the foreign affairs and labor departments to finish their probes into alleged prostitution of overseas Filipino workers (OFWs) in Philippine embassies in the Middle East.
Bello, who exposed the sex-for-flight scheme, brought the case to the Department of Justice (DOJ) on Monday, July 1, and got an audience with Secretary Leila de Lima.
"What we have uncovered is the systematic exploitation and abuse of OFWs by Filipino officials – from Jordan, to Kuwait, to Riyadh and Al Khobar in Saudi Arabia. More and more women are coming out with their stories, and they are asking for justice. And this is why we brought the issue to the DOJ," Bello said in a statement. 
But De Lima said she will wait for the results of the independent probes conducted by the two involved departments. 
Bello said De Lima told him about her suspicion that the alleged prostitution in the embassies are cases of human trafficking. The justice secretary, he said, vowed to formulate recommendations to the Inter-Agency Council Against Trafficking (IACAT). 
"Secretary De Lima gave her commitment that the DOJ and IACAT will be involved. And if it is indeed a case of trafficking, they will investigate not only our embassies, but will coordinate with the national government agencies in the countries mentioned to investigate the bigger half of the problem which happens outside the premises of our embassies," Bello said.
Bello raised concerns over the objectivity of the probes, particularly by the labor department. He accused Jordan-based assistant labor attaché Mario Antonio and Kuwait-based local hire Blas Marquez of running "prostitution rings."
(READ: Embassy staff prostituting OFWs — Bello and Bello, DOLE in heated meeting over exposé)
Bello ealier called for Malacañang intervention in the probes.
Bello said the meeting with Secretary De Lima "moved the issue a crucial step toward its resolution."
"What we have emerging is a very alarming picture of trafficking and exploitation. It takes away the dignity of the women and men who are left with little choice but to participate in such a system, it casts a dubious character to our diplomatic missions and to the reputation of Filipinos abroad," Bello said. 
"The DOJ is best equipped to get to the root of the problem and bring the perpetrators of abuse to account. Only then will we be able to say that we have ensured the dignity and welfare of Filipinos who leave the country in search of a better life for their families," Bello added. – Carmela Fonbuena/Rappler.com