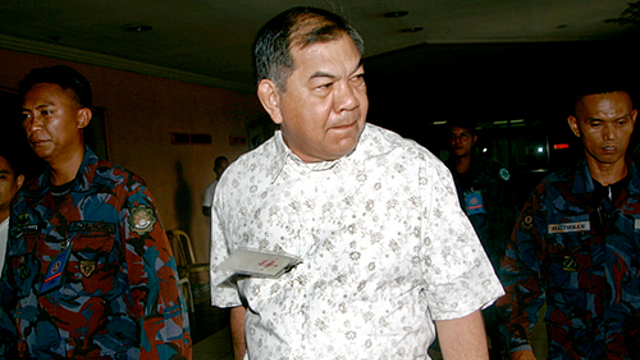 MANILA, Philippines – Former Armed Forces of the Philippines comptroller Carlos F. Garcia will remain behind bars at the National Bilibid Prisons (NBP) even if he has completed a two-year sentence he started serving in September 2011.
This is due to the recall by the Sandiganbayan Second Division of his P60,000 bail bond on charges of direct bribery and facilitating money laundering to which he pleaded guilty in lieu of undergoing trial for plunder.
In a two-page ruling released Tuesday, July 9, Associate Justices Teresita Diaz-Baldos, Samuel Martires, and Oscar Herrera Jr recalled the graft court's December 16, 2010, resolution that allowed Garcia to post bail.
The Sandiganbayan likewise directed NBP "not to release the accused after his prescribed detention" on his conviction on violations of Articles of War 96 (conduct unbecoming of an officer and a gentleman) and 97 (conduct prejudicial to good order and military discipline).
Both cases involved allegations that Garcia lied about his real net worth in 2002 and 2003, and about holding  a US immigrant status while still in active service as a military officer.
Garcia was allowed to post bail after he entered into a plea bargaining agreement with the Office of the Ombudsman. It reduced his cases to direct bribery and facilitating money laundering instead of plunder and money laundering.
Also because of the same agreement, prosecutors agreed to drop charges against Garcia's wife Clarita and children Ian Carl, Juan Paulo, and Timothy Mark, who were named his co-accused in plunder and money laundering.
In return, Garcia admitted guilt on the lesser charges and surrendered P150 million worth of cash, motor vehicles, and real estate assets.
The bond followed the grant of the anti-graft court for his temporary release when the plunder charge against him was lowered to bribery and facilitating money laundering in lieu of Garcia's transfer of P150 million in assets and properties.
The order signed by the associate justices "recalls and sets aside" the December 16 resolution that granted Garcia to post bail when he moved for one.
The plea bargain deal drew howls of protest from anti-corruption groups and the administration of President Benigno Aquino III. It indirectly resulted in the impeachment of then Ombudsman Ma. Merceditas Gutierrez and her eventual resignation.
Ruth Ferrer, Sandiganbayan legal section head, said the recall of Garcia's bail was a necessary offshoot of the injunction issued last week by the Supreme Court enjoining the continuation of proceedings in the Garcia cases.
The temporary restraining order was secured by the Office of the Solicitor General, which assailed the rulings of the Sandiganbayan approving the plea bargaining agreement and barring the OSG from pursuing Garcia's prosecution for plunder and money laundering. – Rappler.com