An anti-RH law counsel faces tough questioning from Supreme Court justices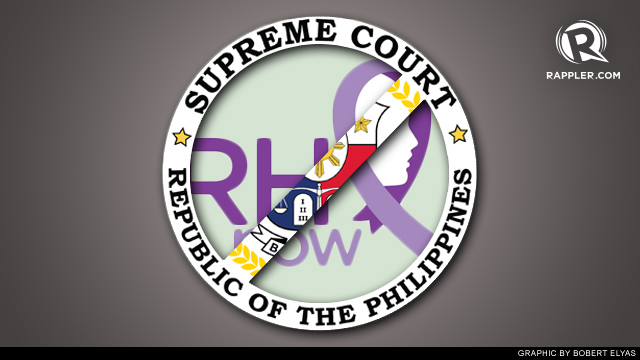 MANILA, Philippines – Chief Justice Maria Lourdes Sereno said the Supreme Court "may not be the best forum" for questions on the Reproductive Law (RH law), suggesting the Court might exercise "judicial restraint" in this case.
Sereno made these remarks while grilling Maria Concepcion Noche, one of the lawyers of the 15 petitioners who are questioning the constitutionality of the law before the High Tribunal. Without mincing words, the Chief Justice noted how Noche "grappled" with answers to "difficult questions" at the start of oral arguments on Tuesday, July 9.
"The reason why I am posting these difficult questions to you is because we, the justices of the Supreme Court, do not decide in a vacuum, we try to anticipate for the future," Sereno said.
Sereno, together with 13 justices of the Supreme Court, grilled Noche for more than 5 hours as she defended the basis of her opposition to the law: that life begins at conception. (Associate Justice Arturo Brion is on sick leave.)
Noche argued that the law violates the constitutional right to life and that contraceptives are abortifacient. She pleaded, "Let the voice of the unborn be heard in the august halls of this tribunal. Let their voice be yours."
But other justices told her they are not in the best position to decide on matters of faith and medical science.
The RH law, or Republic Act 10354, requires government health centers to hand out free condoms and birth control pills, benefiting tens of millions of the country's poor who would not otherwise be able to afford or have access to them.
Read: #RHLaw: We're not doctors, justices say
Read: AS IT HAPPENED: #RHLaw Oral Arguments
Stumped by Sereno
Sereno asked Noche if, following her arguments, she would be violating the Constitution and committing an impeachable offense in case she suggests to her clerk to practice family planning.
Noche answered Sereno with a vague "yes," prompting a series of tougher questions from the Chief Justice.
Sereno then asked, "Is a person using contraceptives committing a violation of the Constitution?" Noche again answered, "Yes."
Sereno continued narrating the situation of her clerk. "Basically you are saying that the woman who is receiving only P10,000 a month and whose husband probably doesn't earn so much is required to put her life in peril in order to ensure that any fertilized ovum that results from a sexual act…is not prevented from being implanted in her womb even if it endangers her life and even if an additional child will effectively prevent her from exercising her right and duty?"
Noche answered that "the presumption is that there is no additional family planning available except contraceptives but there are other family planning methods, which will not harm the life of unborn, and in that case, both of their lives will be equally protected."
But Sereno wasn't satisfied with Noche's answer.
"Many of our employees have this situation. She [the clerk] lives in Fairview. When she gets to Fairview it's already 8 pm. The only time that she can see her husband will be a few hours and then in order to follow the natural family planning she uses the 'tulak system.' You push your husband away."
As as a result, Sereno asked, would the clerk be violating the constitutional provision on preserving the family? "You have set a very high bar for every woman to grapple with her conscience under such economical conditions without giving her a way out of this situation," Sereno said, adding her advice to her clerk "is the kind of advice that many of us would be giving to our employees."
Abortifacient?
Justices Estela Perlas-Bernabe and Jose P. Perez further asked Noche about her claim that contraceptives are abortifacient.
Associate Justice Marvic Leonen suggested that Noche should first go to the Food and Drug Administration (FDA) and have the drugs tested for being abortifacient.
Associate Justice Antonio Carpio reminded Noche that the Supreme Court is not the proper forum for discussions on whether a contraceptive is an abortifacient.
"If you are asking us to decide on the abortive capabilities of Intrauterine device (IUDs), then you are admitting that you came to this Court prematurely," Carpio added. "Why are you here," Carpio asked.
It was only Noche who was able to present the petitioner's arguments on the RH law on Tuesday. The High Court will resume oral arguments on Tuesday, July 23.
The SC stopped the implementation of the law in March following petitions questioning its constitutionality. – Rappler.com