The Alliance of Concerned Teachers demands an apology from DepEd Assistant Secretary Jesus Manuel, who said teachers tend not to perform without bonuses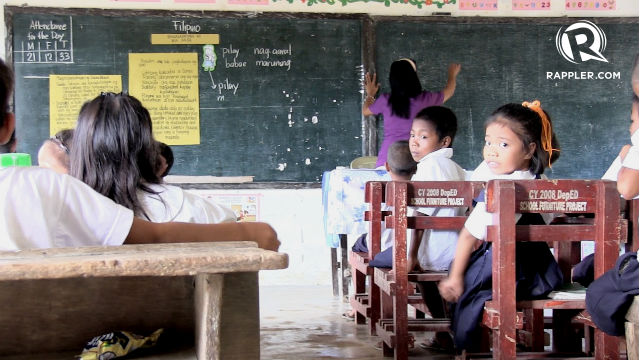 MANILA, Philippines – A day after the Department of Education (DepEd) announced the July release of teachers' bonuses, the Alliance for Concerned Teachers (ACT) reiterated on Wednesday, July 17, that what public teachers need is an increase in their basic pay. 
"We deserve more through an increase in our basic pay," said ACT chairperson Benjamin Valbuena said in a statement. He called the department's performance-based bonus (PBB) "deceptive and divisive," meant to "pacify" the other public school teachers to settle for incentives than demand salary increases.
The group said bonuses will only worsen discrimination among teaching ranks due to "unequal benefits based on subjective evaluation of school performance."
Executive Order 80, signed by President Benigno Aquino III last year, has put in place a new system of incentives for government employees comprised of the PBB and the Productivity Enhancement Incentive (PEI).
ACT also asked for a public apology from DepEd Assistant Secretary Jesus Mateo for his statement that they say cast doubts on the teachers' dedication to their jobs.
Mateo earlier said: "It's just fitting to reward teachers who perform, because in the past, without the PBB, teachers tend not to perform. Unlike now, when you perform, you will be rewarded."
"We are angered by his statement. Is Assistant Secretary Mateo saying that, we teachers are not performing well? That we, teachers, tend not to perform our duties? That the P5,000 cut on our Christmas bonus last year is because we do not deserve it due to our poor output and performance? This is a clear underestimation of our vocation as teachers. We demand a public apology from Asec Mateo on this matter," Valbuena said.
Mateo, however, clarified that the quote was in the context of the PEI.
"I said it in the context of the PEI, where everyone, not only the teachers, gets the same amount," Mateo told Rappler in a text message.
The group said they will re-launch their campaign for a salary increase during the president's State of the Nation Address on July 22. – Rappler.com